Lacklustre Chelsea add to the agony for Villas-Boas
Bayer Leverkusen 2 Chelsea 1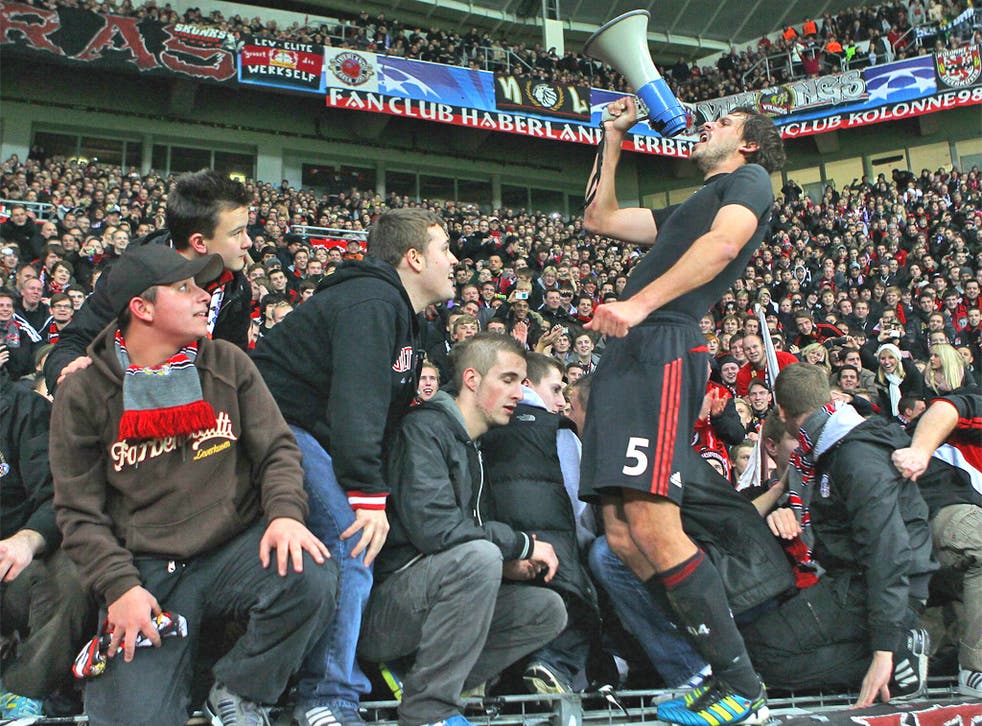 And so the hangman tightens his noose. Andre Villas-Boas's talk of execution before his side's domestic nightmare infested their European dreams might have seemed premature, almost paranoid, testament to how the spectres of his predecessors, each of them destined to feel the breath hot on their neck and the dreaded touch on their shoulder, loom over the post of Chelsea manager. Now, for the Portuguese too, the shadows lengthen.
Once again, it is Villas-Boas's devotion to the high line which has placed him on the high wire. Against Bayer Leverkusen Chelsea looked safe, he looked safe, thanks to Didier Drogba's ability to summon the spirit of the past even as the power fades. Then his defence, that shimmering chimera, disappeared again. The trapdoor opened.
There is no taste for pointing fingers at Cobham; on that, and almost that alone, Villas-Boas and his players stand in a unison borne of self-protection, of self-delusion. The manager, of course, is responsible; Roman Abramovich will make sure his young charge understands that should, as is eminently possible, Chelsea fail to secure the victory or goalless draw against Valencia in the final group game they require to qualify.
But so, too, are his players. Daniel Sturridge: he is to blame, for allowing Sidney Sam to ghost into space down Chelsea's right, with 20 yards radius of space around him before the nearest blue shirt as he collected Gonzalo Castro's pass, miscontrolled by Eren Derdiyok.
Branislav Ivanovic and Alex: them too, for disappearing as the winger raced towards goal. Petr Cech: him as well, for standing, frozen, on his six-yard box, neither closing down the advancing attacker nor back-tracking towards his line. It was as though he was sinking, weighed down by his own indecision. Sam acted unilaterally, delicately floating a cross past the stranded, marooned goalkeeper and to Derdiyok, who headed home.
There was more: with Chelsea, there is always the sensation that there will be more. Castro floated in a corner and Arne Friedrich, a moment before fortunate not to be punished for clearly tripping Drogba in his penalty area, rose far above any of the blue shirts around him to head home. Chelsea sank to their knees. Chelsea are on their knees.
This was their fourth defeat in seven games. With every loss, the fear which engulfs them, consumes them, becomes more and more apparent. Panic runs among Villas-Boas's players, each of them tortured by self-doubt.
That is how this game started, and how it ended. David Luiz, a player with an unmatched genius for making sure he is the centre of attention, gave the ball away with his first touch. Ninety minutes later, his team-mates – by that stage, he was off the field with sickness – gave the game away.
In between, Chelsea managed to highlight the scale of their identity crisis. Their defensive line, a matter of such scrutiny, ebbed and flowed like the tide, one moment high, the next deep. The Germans took full advantage: Castro, electric, harried Jose Bosingwa, employed at left-back in the absence of the injured Ashley Cole. Lars Bender and Simon Rolfes hared into tackles. A pace ahead, even his face mask could not conceal Michael Ballack's identity. The cocksure strut, the languid, arrogant grace is still unmistakable.
At 35, Ballack remains the sort of presence his former club so plainly lack. He might have given Robin Dutt's side the lead in the first half, heading Castro's corner on to the bar, and he might have had a hat-trick after the break, denied first by Cech's flailing arm, then by his charging shins.
In between, Drogba had scored, Chelsea had rallied, and the German side had wilted. The Ivorian, like Juan Mata and Sturridge, had missed a chance before the interval, rounding Bernd Leno but finding only the side-netting; after the break, he was rather more ruthless, holding up Sturridge's pass, holding off Friedrich, twisting, spinning and rifling a low, fizzing shot into the bottom corner. It was the Drogba of old; squint, and you might have glimpsed the Chelsea of old, too.
That was an illusion, too. The guests' confidence evaporated almost as soon as Frank Lampard, an irrelevance on the night, and Ivanovic has stung Leno's palms. Ballack offered them a warning. As Drogba appealed for a penalty, and Florent Malouda strolled through the Germans' defence only to allow Leno to smother his effort, it seemed irrelevant. Chelsea looked to have survived. The blade, though, was being sharpened. The night was just beginning.
Now, Villas-Boas would be forgiven for allowing his mind to wander the to idea of severance. The severance package, of course, the one he almost seemed to dare Abramovich to offer him after the 2-1 defeat to Liverpool on Sunday extended their point deficit to Premier League leaders Manchester City to 12 points. The Russian billionaire, he insisted, would not shell out yet another fortune simply to be rid of his precocious protégé.
As Derdiyok and then Friedrich headed in, as his players collapsed on the turf, as the shadows lengthened, that boast, that gambit, seemed rash. Now, there is another sort of severance to consider, the sort brought about by the hangman who stands guard by the seat of the Chelsea manager. Villas-Boas's next game is against Wolves. How fitting.
Valencia thrash dismal Genk
Roberto Soldado scored a first-half hat-trick as Valencia warmed up for their decisive game in Group E with Chelsea in two weeks' time by thrashing Genk 7-0. The game was virtually over as the home side raced into a 2-0 lead by the 13th minute in the Mestalla, Jonas opening the scoring with a header, then setting up Soldado for his first. As well as Soldado, Pablo Hernandez, Aritz Aduriz and Tino Costa scored for the Spanish side.
Join our new commenting forum
Join thought-provoking conversations, follow other Independent readers and see their replies