Lifting the lid on Leo Messi, Barça's reluctant superstar
'Normal' off the pitch, a genius on it, club's new record scorer has changed little from the shy 12-year-old who first arrived. But will it always be this rosy?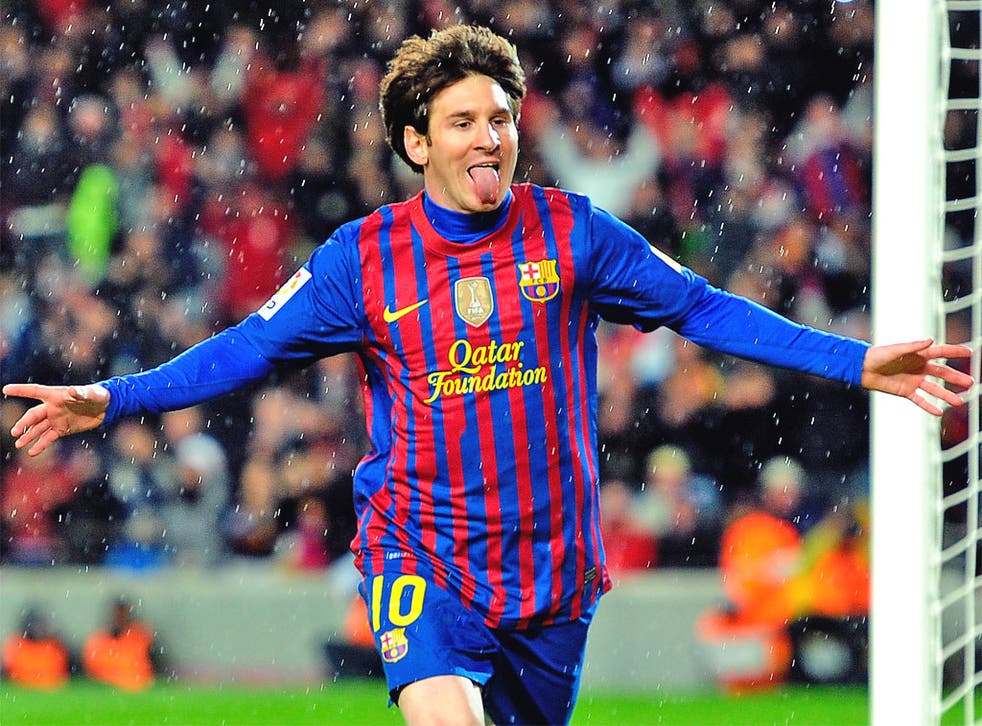 Lionel Messi didn't hang around on Tuesday night. There were no post-match interviews after his record- breaking 233rd goal, just as there had been no vest underneath his shirt with the magic number printed across the chest. With the match ball in the boot of his car, he made for home.
It was the ordinary-guy alter ego clocking on as the super-hero clocked off. Short of getting changed in a phone box before each game Messi couldn't be any more like Superman on the pitch but, according to team-mates who have known him since he was 12, he couldn't be any more Clark Kent off it.
"Ridiculously normal" is how Gerard Piqué describes the 24-year-old who has now scored more goals for Barça than anyone else in the club's 113 years. Piqué, the most eloquent of the Nou Camp players, is always good value when asked about the man whom he first shared a dressing room with 12 years ago.
"I remember his first day at the club, we thought maybe he couldn't speak," Piqué recalled in a recent El Pais interview in which he also portrayed Messi as the occasional butt of dressing-room practical jokes, adding: "Today I changed the battery on his mobile phone and he never even realised. He was wandering around the dressing room asking for a charger saying: 'I've only just charged this and it's already flat'."
On Tuesday night Piqué was asked again: what is Messi like? Has he changed from that introverted adolescent whom team-mates were advised not to tackle in training in case they hurt him? "As a person he is exactly the same," says Piqué. "If you put the 13-year-old Leo next to the 24-year-old one you would see that he has not changed at all."
The contrast with the brashness of Diego Maradona is sharp. Two playground players, but while Maradona found recreation outside of football during his time at Barcelona, to the huge detriment of his brief spell at the club, for Messi the games stop when the final whistle blows.
He retreats to the home he has made for himself with girlfriend Antonella in Castelldefels, a small city just down the coast from Barcelona. His older brother Rodrigo lives in the same complex with his wife and their two children, Agustin and Morena. And Messi's friend and team-mate Javier Mascherano lives close by.
Messi's parents and another older brother Matias, plus his younger sister Maria-Sol, live in Rosario, Argentina, where Messi goes every summer and every Christmas, driving the 250 miles from Buenos Aires to be home again and to have a kickabout with his brother's son, his nephew Tomas.
His father – who remains the closest thing Messi will ever have to an agent – travels back and forth regularly to Barcelona, and his mother makes the trip when she can, indulging her boy with his typically Argentinian favourite dish, home-cooked Milanesa (thinly sliced steak covered in breadcrumbs and grilled or fried).
In Rosario and in Castelldefels, Messi can live a normal life. He rarely goes out, and doesn't drink or smoke. He sleeps the siesta, he walks his dogs along the beach; he occasionally goes to the cinema with Antonella.
His girlfriend is the sister of one of his childhood friends and there are plans to one day start a family, but no plans for a wedding – certainly not one that might appear in the pages of a glossy magazine.
That aversion to the idea of being the centre of attention without a ball at his feet reveals another side of Messi's character – preferring not to be seen. "He gets embarrassed when people look at him," the former Argentina captain Juan Sebastian Veron told Messi's biographer, Leonardo Faccio. The former Manchester United midfielder recalled how Messi would stay in his room at the South African World Cup when Argentina's hotel was full of visiting relatives.
As well as not having changed off the pitch, Piqué says Messi is still the same player on it as when he first joined the club. "You could see he was far better than everyone else, but you never knew if once he got into the senior side he would be able to do everything he was doing in the youth team. But it is exactly the same as when he was 13 years old playing against other local boys' teams. He plays exactly the same way only now he is doing it in La Liga and the Champions League."
How long can such perfection last? At some point during the next two years Pep Guardiola will leave and the Brazilian Neymar will probably arrive. If only by millimetres, the stars will need realigning, the Barça machine will need recalibrating.
"Guardiola is more important to this club than me," Messi said recently. The 41-year-old coach – who joked on Tuesday that if Messi was Michael Jordan, then he was the American basketball legend's former Chicago Bulls coach Phil Jackson – has certainly played his part in the history being made by Messi so early in his career.
In Messi's last season before Guardiola arrived he scored 16 goals in 40 games. He had never topped 20 goals. In his first term under Guardiola he scored 38 in 51 matches in all competitions. The next season he ended up with 34 goals in the league alone. This season he has 34 league goals with 10 matches still to play.
Guardiola chose to play Messi through the middle towards the end of the 2008-09 season despite having two of recent history's greatest centre-forwards at his disposal. Most impressively in a 6-2 win at the Santiago Bernabeu over Real Madrid, Samuel Eto'o and Thierry Henry played either side of Messi who operated as a withdrawn centre-forward.
It was the idea that the most talented players need to play wide in order to find space turned on its head, with wide players opening up the space for the talented player to play through the middle. Zlatan Ibrahimovic stayed for just one season because he didn't buy into the idea; his replacement David Villa has been more selfless.
Without Guardiola, who says he has still not decided about staying beyond the end of the season, and with the eventual arrival of Neymar, the present ideal conditions might be slightly altered (Neymar may be a player Barcelona need about as much as the Real Madrid side that boasted Luis Figo needed David Beckham in 2003, but the Catalan club, as Real did, will reap huge commercial rewards for his acquisition). But none of that mattered on Tuesday.
In conditions not unlike those he might find on a cold night in Stoke, Messi, who as one Spanish journalist wrote two seasons ago, can play in the rain without getting wet, got the goals to take him past Cesar Rodriguez. He had originally thought that he needed four for the record but a recount of Cesar's statistics showed he had scored three fewer and left Messi in touching distance – no numbers on shirts in Spain until 1948 being the reason for the error.
Yesterday as headline writers hailed the new Cesar, lunchtime news bulletins showed footage of Messi shouting at the 19-year-old Isaac Cuenca during the game "Lift your head, lift your head" after he had failed to pick him out in the area.
Therein lies perhaps the biggest difference between Messi the player and Messi the star. On the pitch it's head-up; off it he keeps his head well down.
Watch Messi's goal against Getafe below...
Join our new commenting forum
Join thought-provoking conversations, follow other Independent readers and see their replies