Lionel Messi awarded Golden Shoe for third time after 46 La Liga goals for Barcelona
The Argentina international, who is currently out injured, was presented with the award today
Wednesday 20 November 2013 13:45 Comments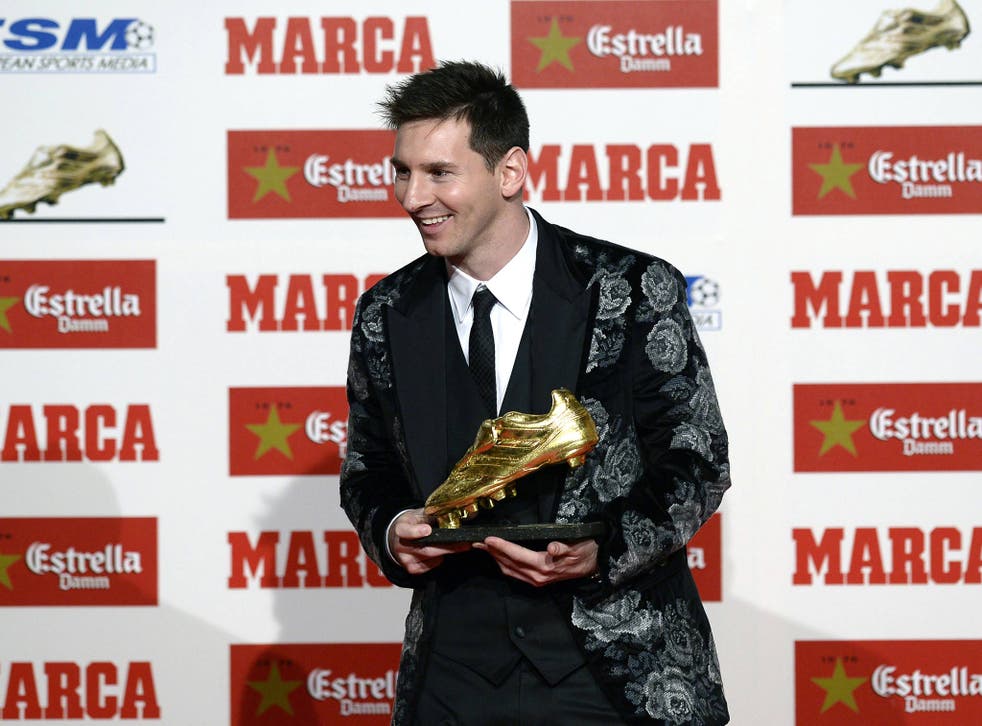 Barcelona star Lionel Messi has been awarded a record third Golden Shoe trophy after finishing with the most league goals in Europe last season.
The Argentina ace netted 46 times in La Liga as the Catalan giants reclaimed their title back from Real Madrid and he was presented with the trophy in Barcelona on Wednesday.
Messi, 26, also won the award following the 2009/10 season, when he scored 34 goals, and again after the 2011/12 campaign when he found the back of the net 50 times.
He scored 31 times in the 2010/11 season but that was not enough to win the Golden Shoe with Cristiano Ronaldo taking the honours after notching 40 times for Madrid.
Messi, who is currently sidelined for eight weeks with a hamstring injury, is the only player to win the trophy three times.
A modest Messi said after being presented with the trophy by former Barca and Bulgaria forward Hristo Stoichkov, who was joint-winner in 1990: "I dedicate this award to my family, to the people who are there in the toughest times, and my team-mates.
"I want to thank them because without them I wouldn't have achieved anything. It's a prize for the squad."
Regarding his injury and the possibility of being back in action by 2014, Messi said: "I'm better, improving little by little, I'm nearly without any pain and starting to do little things.
"I haven't put a return date, if everything goes well this will be the date (first game of next year) to return, but we'll see how the recovery goes. It will happen when it has to happen."
Messi enjoyed a typically successful start to the season with eight goals in 11 Primera Divison appearances before tearing his hamstring against Real Betis earlier this month.
However, his chances of winning a fourth Golden Shoe this season will have been badly hit by that injury, with Ronaldo already having notched 16 times in La Liga this term, with two hat-tricks in his last three matches.
Not that Messi is overly concerned about that, saying: "It's not my objective to win a fourth. It wasn't even when I was fit, much less now.
"I have to strengthen my body so that nothing else happens, so that I can play with calm and without injury."
PA
Register for free to continue reading
Registration is a free and easy way to support our truly independent journalism
By registering, you will also enjoy limited access to Premium articles, exclusive newsletters, commenting, and virtual events with our leading journalists
Already have an account? sign in
Join our new commenting forum
Join thought-provoking conversations, follow other Independent readers and see their replies