Lionel Messi's Barcelona outmuscled by Chelsea's defensive master plan at Stamford Bridge
Chelsea 1 Barcelona 0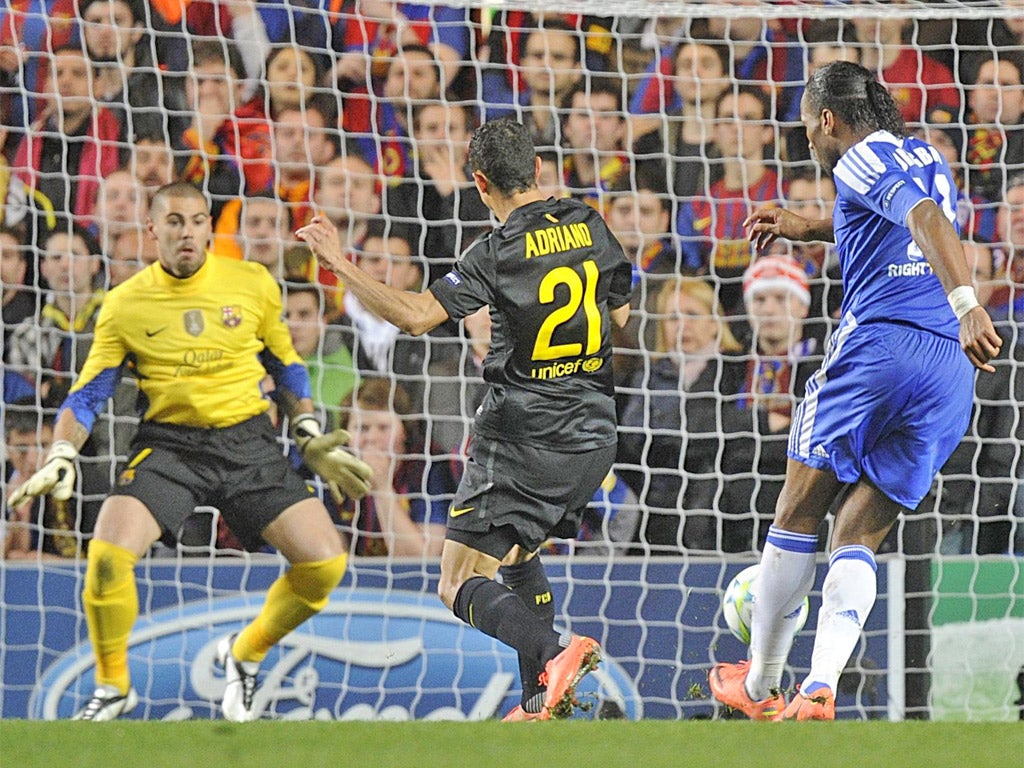 If parking the bus is a crime, then lock Chelsea up and throw away the key. Meanwhile, back in the real world, Roberto Di Matteo's team have a precious one-goal lead to take to the Nou Camp on Tuesday and moreover they have beaten the European champions.
Disciplined, hard-working stubborn and, yes, at times a touch lucky, but any team that is to beat Barcelona will need some good fortune. Did Chelsea try to play Barça at their own game? Of course not. That would have been suicidal and while Chelsea can be difficult to love at times, there was so much about them to admire last night.
Facing Barcelona can be a daunting experience, especially when they have 73 per cent possession away from home as they did last night, but this is a Chelsea side that have seen it all. They have lost the Champions League final on penalties, they have lost a semi-final with virtually the last kick of the game and so when they stared down the magnificent ensemble that is Barcelona's attacking force this was one team that was not about to flinch.
You would expect that of John Terry, Ashley Cole and Didier Drogba who were all, in their own way, excellent last night. Drogba's play-acting can be infuriating but Barça are never truly comfortable when he is on the pitch. The next generation also gave a good account of themselves: Gary Cahill, Ramires and Branislav Ivanovic all looked like they could live with the best team on the planet.
In an ideal world, you would try to match Barcelona pass for pass and goal for goal. Chelsea never attempted to do that and by the end of the game they had been an out-passed an eye-watering 782 to 192. They stole away on the counter-attack seconds before half-time to score, the only one of their five attempts on goal that was on target and they held on grimly for dear life right to the moment when substitute Pedro's shot clipped Petr Cech's post late on.
Cesc Fabregas captured Chelsea's counter-attacking style best when he described them as like a group of motorbikes surging forward. Chelsea's goal was exactly that, a moment of opportunism when Frank Lampard robbed Lionel Messi in midfield and set Ramires free on the left. His cross was slightly scuffed by Drogba but his shot was still good enough to beat Victor Valdes.
That was the Chelsea way: do not stop to admire the ball and size up your options. Instead get it forward and do so quickly and hope that a Barça defence that featured Carles Puyol and Javier Mascherano at its centre – and not Gerard Pique – would struggle to contain Drogba.
That Messi's failure to hold onto the ball in midfield should decide the game was one of those remarkable twists in the tale. He has still not scored against Chelsea in seven games against them and while he was captivating at times you would be hard pushed to argue that he was in the match anything like as much as he would want.
Yesterday was five years to the day that he scored his most famous solo goal for Barca against Getafe that came to define his brilliance. He opened up Chelsea on 43 minutes and slipped in Fabregas whose dink over Cech was scooped out the goalmouth by Cole. Earlier, Messi had drifted past three players and laid the ball off to Andres Iniesta whose cut back was badly shanked by Fabregas.
If it was not a good night for Messi then it was worse for Fabregas who was a marginalised figure for much of the game. This was not a day when Barcelona were simply allowed to play the way in which they wished. Afterwards, Pep Guardiola made plenty of allusions to Chelsea's defensive approach but mercifully stopped short of demanding they play the way Barcelona would prefer.
While the passing carousel of Barça folklore spun and spun, Chelsea never became disorientated. Di Matteo's team were officially 4-3-3 but in reality it was 4-5-1 with even Drogba dropping back at times to help out the midfield. Alexis Sanchez chipped one against the bar on 10 minutes. Soon after, Cahill almost scored with a sliding tackle after a throw-in caused unexpected problems in the Barcelona penalty area.
Above all, Chelsea coped. They never stopped the Barcelona attacks but by the time Drogba scored at the end of the first half they had certainly slowed them down. They also had to ride their luck at times. On 56 minutes Sanchez got the ball back from Fabregas in the right channel of the area but somehow managed to put his scuffed shot the wrong side of the post. On 65 minutes, Messi jinked around Raul Meireles and left John Obi Mikel in a tangle. His shot was blocked. Cech made a good save from Puyol's header with three minutes of the game left.
Playing on his own in attack and isolated for long periods of the game, Drogba worked hard – he also bought a few fouls. At times it was not edifying to watch, and he did roll around rather too much, but the sight of Sergio Busquets berating Drogba for play-acting was arguably the most laughable moment of the night.
On as a substitute, Salomon Kalou volleyed over with six minutes of the game left. It was not as close as Pedro's shot against the post in injury-time after a fine tackle by Ivanovic on Messi. The loose ball was crashed over the bar by Busquets. At the final whistle, the same player booted the ball away in frustration. It was the first time Barça had gone long all night. It showed just how far Chelsea had got under their skin.
Man of the match Drogba.
Match rating 7/10.
Referee F Brych (Ger).
Attendance 38,039.
Join our commenting forum
Join thought-provoking conversations, follow other Independent readers and see their replies