Lionel Messi vs Cristiano Ronaldo: Real Madrid's superstar heads into El Clasico in the shadow of the Barcelona magician
Ronaldo's form has taken an alarming downturn just as Messi hit his latest purple patch
Nicholas Rigg
Friday 20 March 2015 15:28 Comments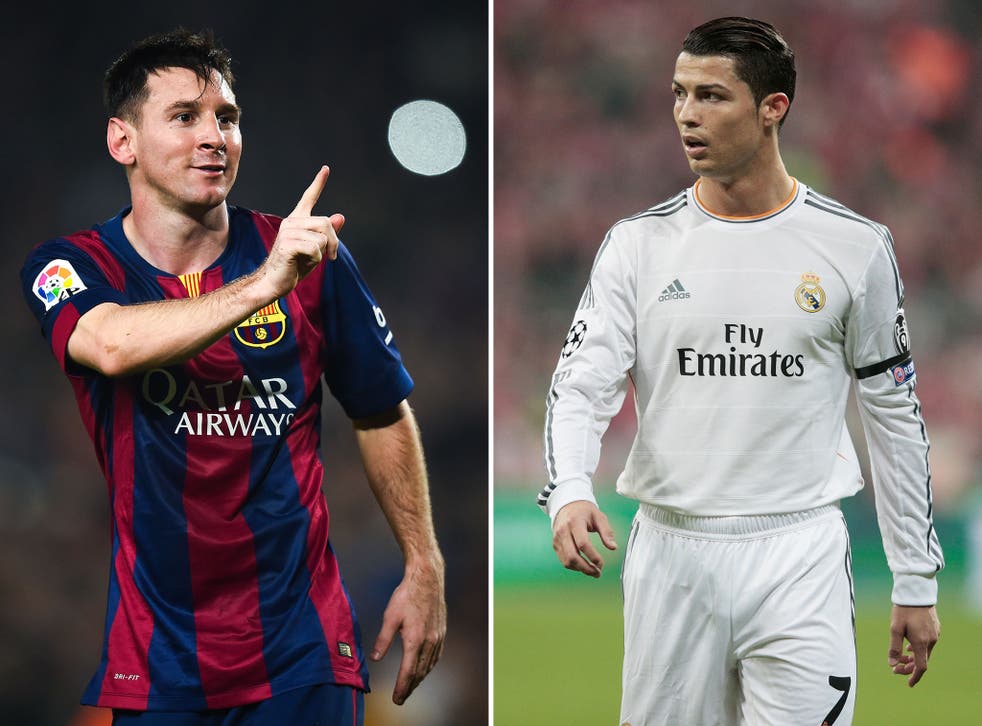 El Clasico is never just any ordinary game. On top of the three points and the bragging rights there are leagues and trophies at stake, momentums to be shifted, political agendas to be fulfilled. There are jobs on the line, presidential positions in the frame and there are sub-plots, lots of sub-plots.
Since 2009 there has been the sub-plot to end all sub-plots. Cristiano Ronaldo's arrival in the Spanish capital from Manchester United brought with it an individual battle as big as any that has gone before. When Barcelona play Real Madrid, Lionel Messi plays Cristiano Ronaldo. It is not just about arguably the two biggest clubs on the planet, it is also about the two biggest players.
The pair go into Sunday night's Clasico at the Camp Nou with 62 league goals between them so far this term. That's more goals than every Liga club have managed this season with the exception of their own. Individually, Messi, with 32, has scored as many or more than eleven teams in La Liga. Ronaldo, with 30, has scored more than nine and as many as David Moyes's Real Sociedad – half of the competition.
Champions League: Guide to the quarter-finalists

Show all 8
The tale has very much been one of before and after the winter break, however. Ronaldo was acclaimed to be the best player in the world before Christmas, and received his second straight Ballon d'Or to prove it in January, while Messi was apparently a shadow of his former self, struggling to click in a star-studded attack that also included Neymar and Luis Suarez.
Barcelona's 0-0 stalemate in the Spanish capital against Getafe in December left the Spanish press, or rather the Madrid press, declaring Ronaldo as being single-handedly better than Barca's embarrassment of riches in attack. Messi, Neymar and Suarez had scored 24 goals between them while Ronaldo, who had notched a brace in a 4-1 win at Almeria the day before, was ahead on 25, more than double that of Messi's 12.
Within that 12 Messi had scored two Liga hat-tricks and another in the Champions League, making it a staggering three trebles in four matches. The Argentinian's statistics were still impressive but the standard Ronaldo had set simply blew everything else away. Madrid's talisman was in arguably the form of his life just months after knee problems saw him slug his way through the World Cup in Brazil.
Things have not been so perfect for the 30-year-old since the turn of the year, however. Messi has not only cut his goalscoring rival's advantage in La Liga's 'Pichichi' scoring charts but he has surpassed him in double-quick time. Since the reported problems between Messi and boss Luis Enrique after the player was left on the bench in the 1-0 loss at Real Sociedad, the Argentine has scored 20 goals in 18 appearances. In the league, he has responded with 17 goals in just eleven outings.
Ronaldo's return has been nine goals in 14 outings and only five goals have come in league matches. He saw red at Cordoba, has been on the periphery of matches, and has been the subject of whistles from his own fans just weeks after they celebrated his Ballon d'Or success with a gold mosaic around the Bernabeu ahead of the Cup loss against Atletico. A birthday party held just hours after Madrid's 4-0 derby defeat at Atletico in the league did not help to get the fans and the media onside.
The difference a few months can, and has made has been staggering going into Sunday's crucial battle. Messi heads in having wowed the Camp Nou and bamboozled Manchester City in Barcelona's midweek Champions League triumph over the Premier League champions. Madrid's talisman heads in on the back of video footage emerging of the frustrated forward seemingly telling the Madrid fans to "Go f*** themselves" during the 2-0 win against Levante last Sunday. He has also vowed not to speak to the media until the end of the campaign.
The pair will both be crucial in their side's success this weekend and form often goes out of the window in games of such magnitude but Messi, backed by over 90,000 home supporters, is the man of the moment.
In an era where statistics rule the roost and are often seen as the be-all and end-all in comparing star players, Messi produced arguably one of his performances of the season against City but did not get a goal to show for it as Joe Hart did everything in his powers to keep his side in the last-16 Champions League tie. After the doubts surrounding his future arose in January, the Argentine seems to be enjoying his football as much as he ever has.
Fernandinho and James Milner know that more than most after both were nut-megged by Barca's magician. The roars of appreciation from the fans of the Catalan club were almost as loud as Ivan Rakitic's first-half winner. The Barcelona fans watch Messi weave his majesty week after week but they never get tired of his brilliance, they never get used to it. The surprise, delight and energy that greets each trick seems to be as genuine as it was when he first broke through into the first team.
That Pep Guardiola, the man with whom Messi enjoyed his greatest moments, is still taken aback by his qualities, is enough. The Bayern Munich boss, who was pictured in the stands showing his excitement towards the player's packed box of tricks, won everything with the Argentine leading the way but the Rosario born forward, at 27, shows no signs of slowing down.
That was the fear at the start of the campaign. There was fear of burnout, not only due to his efforts in helping his country to the World Cup final last summer, but of the fact that Messi wants to play in every game and that he does not want rest. He is not a fan of being stuck on the bench and a niggling injury will not keep him away from the action. He is kicked, pushed and sometimes near-on assaulted as his opponents try to thwart his advances but he still gets back up on his feet.
Those doubts have been put to bed since Christmas with Messi leading Barcelona to the top of the table and into the quarter-finals of the Champions League. His link-up with Neymar has improved three-fold this season after a tricky opening campaign together and Luis Suarez had blended beautifully into a mix many thought would struggle to click. Barca's front three are living up to their reputation and are out-performing Madrid's 'BBC' of Bale, Benzema and Cristiano.
All is still to play for, however, on a team front and an individual one. The title is still in Madrid's hands if they win in Catalonia and Ronaldo will see the game as the chance to silence his recent critics. After initial claims that he hid in big games, Ronaldo has shown that he enjoys the spotlight of the Camp Nou. He has scored in six of his last seven visits there and will look to make that seven in eight on Sunday. He also scored the winner in the Copa del Rey final between the teams in Valencia in 2011.
El Clasico is set to be as enthralling as ever on Sunday night, with Messi and Ronaldo set to take the leading roles.
Register for free to continue reading
Registration is a free and easy way to support our truly independent journalism
By registering, you will also enjoy limited access to Premium articles, exclusive newsletters, commenting, and virtual events with our leading journalists
Already have an account? sign in
Join our new commenting forum
Join thought-provoking conversations, follow other Independent readers and see their replies