Liverpool 1 Standard Liege 0 <i>(aet. Liv. win 1-0 on agg)</i>: Gerrard injury overshadows Liverpool's extra-time escape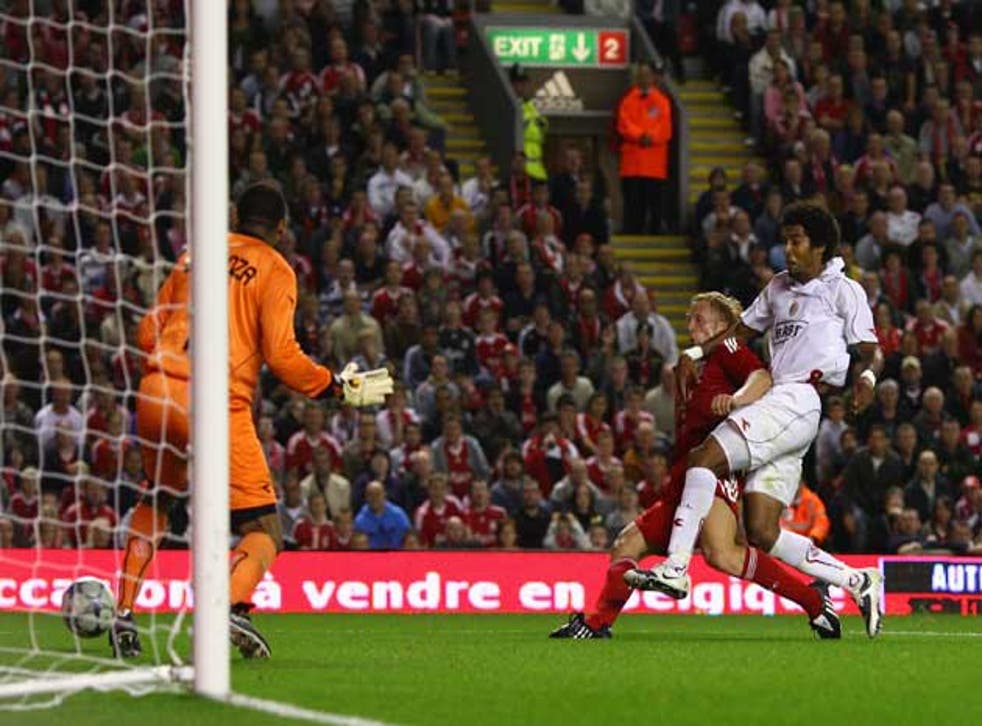 Steven Gerrard is a patriot, but his heart belongs to Liverpool. That was underlined last night as he put his club's European ambitions ahead of his country's World Cup hopes.
The inspirational midfielder will miss England's forthcoming World Cup qualifying double-header after entering hospital today for a groin operation. Gerrard agreed to play in pain against Standard Liège last night and go under the knife this morning. Rafael Benitez, the Liverpool manager, said he will be out for "10-15 days". England play Croatia in Zagreb, their key qualifier, in 13 days.
Gerrard knew how disastrous it would be for Liverpool to fail to reach the group stages of the Champions League. He thus played all 120 minutes of last night's third round qualifier and was rewarded as Liverpool scraped a 1-0 win, Dirk Kuyt breaking the deadlock three minutes from the end of extra time. Gerrard had also played in the first leg a fortnight ago despite his groin already troubling him, coming on as substitute as Liverpool struggled to a goalless draw.
Benitez did not say whether, had he been rested, Gerrard could have avoided the operation but the fact he was used only in extremis in Belgium suggests rest would have been in order.
Gerrard has continued playing in the Premier League because there is little alternative. With Javier Mascherano and Lucas in China at the Olympics, and Benitez unable to lure Gareth Barry from Aston Villa, Liverpool have been short of central midfielders. "Yesterday he, the doctor and I were talking about the situation," said Benitez. "Steven said 'I will play with pain, and after the [Liège] match have the operation'. He needs to do it."
Benitez's main emotion last night was relief. In his programme notes last night he recalled how Liverpool had struggled to dispatch Maccabi Haifa in the qualifying round two years ago. "When we reached the final in Athens no one remembered these qualifying games," he observed.
Should Liverpool reach Rome, where they have twice won the European Cup, in May, few will recall their desperate performances in this tie. Appalling in Liège, poor at Anfield, Liverpool are fortunate to take their place in this afternoon's draw in Monaco.
That they do will bring great comfort to the American owners, but also a few questions. Such as "How can Liverpool hope to progress playing like this?" Benitez's response is that they will improve, as they did in 2007; as they did last year when they reached the semi-final despite losing their first three group matches. He will have to be right.
"I am relieved," admitted Benitez. "The positive thing is we played a little bit better [than we have been doing so] against a good team. We scored at the end which means the team was working really hard, really pleased Dirk Kuyt scored the winning goal, his effort is amazing."
Another question Messrs Tom Hicks and George Gillet might pose, were they speaking to each other, is: "Does this mean Benitez needs more money for players – or that maybe someone else should be spending it?"
Benitez will argue the former. He has managed to prise £8m from the pair, which is earmarked for Albert Riera, the Espanyol winger. Chief executive Rick Parry was understood to be in Barcelona last night tying up the deal. This leaden display highlighted the need for a winger. The goal did admittedly follow a cross from Ryan Babel, but that was a rare instance.
"I feel very sad," said László Bölöni, Standard's manager. "Over the two games I can say that the team with more luck, and the bigger name won, but they were not the best team."
The Hungarian evoked a familiar and unloved name in these parts: Jose Mourinho. In a reference to the first-leg "goal" which Standard Liège believe crossed the line before Pepe Reina clawed it away, and to Luis Garcia's goal – the "ghost goal" in Mourinho parlance – with which Liverpool beat Chelsea in the 2005 Champions League semi-final, he said: "In two times 90 minutes we did not concede a goal. We score one goal. And we are out. I have worked with Mourinho. I know him. It is the Mourinho story."
He did, though, admit, "We had chances. We had a penalty [in the first leg] and did not score. It is our fault."
Liège were far from overawed by Anfield or their opponents. In the seventh minute Dieumerci Mbokani brought a fine, diving save from Reina with a volley on the turn. Eleven minutes later Igor de Camargo, who missed so many chances in the first leg, miskicked when presented with another opportunity. He recovered to cross the loose ball and Marouane Fellaini brought another good save form Reina.
Liverpool's response was weak. Aragon Espinoza was stretched seriously only once, from Fabio Aurelio's eighth-minute free-kick. The only chance created in first-half open play followed a long hoof by Jamie Carragher.
Torres, reacquainting himself with such service after the joys of leading Spain's attack in Euro2008, headed down for Robbie Keane who laid the ball off to Gerrard. His through ball found Yossi Benyoun but the Israeli lost his footing and then shot weakly.
Whatever Benitez said at half-time it was ineffective, the visitors holding Liverpool at bay with relative ease, occasionally threatening themselves. Keane, after miskicking in front of goal, was again withdrawn to be replaced by Nobil El Zahr, the rookie winger whose arrival had presaged Liverpool's late winners against both Sunderland and Middlesbrough. He nearly did the trick again.
With seven minutes left in extra time the French-Moroccan tricked his way into the box and was brought down by Onyewu. To the fury of El Zahr and Benitez, the officials waved play on. The only penalties were to be in the shoot-out.
It never came to that. Finally Babel swung in a cross and, as Bonfim Dante hesitated at the far post, Kuyt beat him to the ball and stabbed it past Espinoza. Anfield erupted with relief with a huge roar which may well have been echoed in Colorado and Texas.
Liverpool (4-4-2): Reina; Arbeloa, Skrtel, Carragher, Aurelio; Kuyt, Gerrard, Alonso, Benayoun (Babel, 61); Keane (El Zahr, 83), Torres. Substitutes not used: Cavalieri (gk), Dossena, Agger, Spearing, Plessis.
Standard Liège (4-4-2): Espinoza; Marcos, Onyewu, Sarr, Dante; Dalmat (Jovanovic, 86), Defour, Fellaini, Witsel; Mbokani, De Camargo. Substitutes not used: De Vriendt (gk), Goreux, Toama, Mikulic, Nicaise, Ingrao.
Referee: M Busacca (Switzerland).
Register for free to continue reading
Registration is a free and easy way to support our truly independent journalism
By registering, you will also enjoy limited access to Premium articles, exclusive newsletters, commenting, and virtual events with our leading journalists
Already have an account? sign in
Register for free to continue reading
Registration is a free and easy way to support our truly independent journalism
By registering, you will also enjoy limited access to Premium articles, exclusive newsletters, commenting, and virtual events with our leading journalists
Already have an account? sign in
Join our new commenting forum
Join thought-provoking conversations, follow other Independent readers and see their replies