Liverpool are missing Luis Suarez – but not the toxic damage to their name
COMMENT: Suarez will return to football after his four-month ban
Ian Herbert
Saturday 25 October 2014 10:21 Comments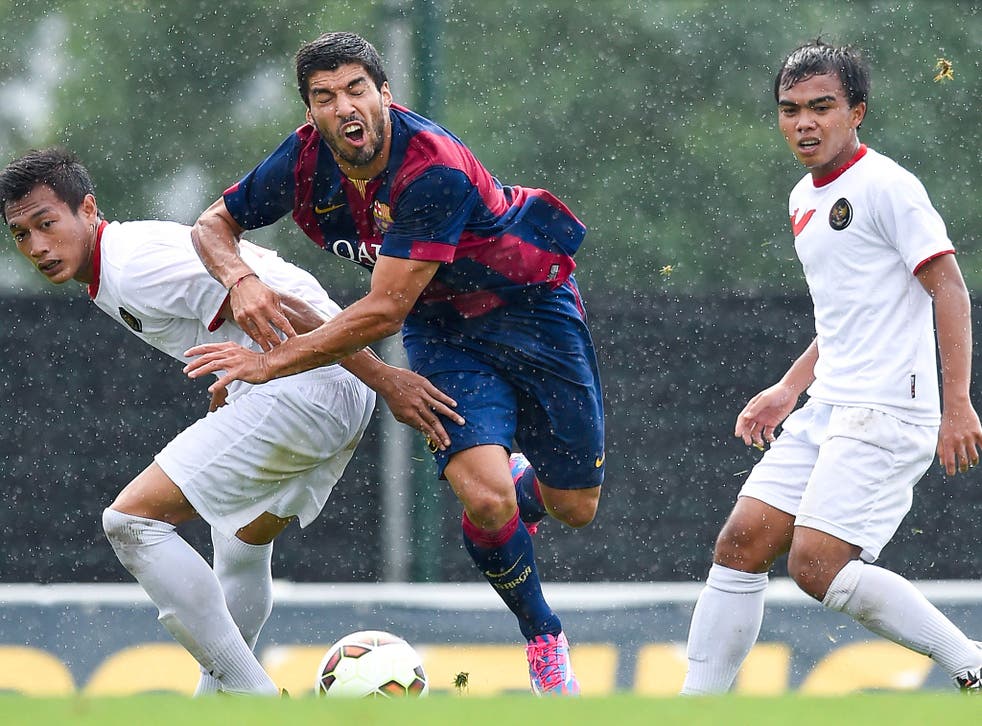 He will return to the arena tonight in the way he always does: like a middleweight boxer, stretching his neck muscles left and right and making that toothy grimace of his which has been missing from the game for 123 days.
"Champing at the bit," as Brendan Rodgers so unfortunately put it, in the week before Luis Suarez last returned from a biting incident, for Liverpool at Old Trafford last autumn.
And football being the punishing game it is, Suarez will probably demonstrate to Liverpool precisely what they were missing against Real Madrid three days ago, in the fixture which revealed them to be at the wrong end of a gulf in class.
Suarez never did need more than a minute to acclimatise when he came racing back into the game. "Por fin llego el dia" ("finally the day has come"), he said nearly three years ago after returning from his first Premier League ban, as a substitute against Tottenham Hotspur at Anfield. His arrival was preceded by a cat walking onto the pitch. "We're not racist, we only hate cats," the Kop sang. Happy days.
But however brutal the realisation of what Liverpool have lost, there should be no recriminations around Anfield about the decision to let the man leave.
Gary Neville questioned during Wednesday's match commentary why Liverpool had spent a summer fighting to keep Suarez, subject to them attaining Champions League football, only to secure that status and still let him go. It was tempting to be swept up by that argument as you watched Real brush Liverpool aside.
But the next disaster was always just around the corner with Suarez: the kind of incident which was capable of besmirching the name of Liverpool around the world. The omens were good as he buzzed around in that Spurs game and the Kop welcomed him as an emblem of resistance to an unjust establishment which had found him guilty of racially abusing Patrice Evra. The then manager Kenny Dalglish talked of it seeming like "two Januaries running we've signed Luis".
It was a mere five days later that he refused to shake Evra's hand on the Old Trafford pitch and the club found itself vilified across continents. "Another ugly incident mars Liverpool's good name," was the New York Times headline. Ask some of the commercial staff who have sought to make up for lost time and build a business to match Manchester United's how they feel about Suarez. They will tell you he was toxic.
Don't forget how indiscriminate he was about doing his damnedest, either.
His biting of Chelsea's Branislav Ivanovic last year came in the week of the preliminary legal hearing which set out parameters for new inquests into the deaths of the 96 Liverpool fans who died at Hillsborough. The Chelsea game that Sunday afternoon was to acknowledge the moment and to remember Anne Williams, whose fight for life ended days after she had forced the re-examination of why her son died in South Yorkshire. Those qualities of dignity and unyielding resolve which Liverpool FC has always been wedded to – they call them "the Liverpool way" – were just drowned out by another Suarez controversy.
It was left to one of Rodgers' predecessors, Graeme Souness, to tell of the real collateral damage he had inflicted. "It is about safeguarding the name of the football club," he said.
Liverpool do carry a culpability about what has befallen them, as they have slipped this season. It was reasonable to assume that Suarez might seek to leave. New contracts like the one he was tied to last winter often reflect that threat and presage departure to another club who pay top dollar. But Liverpool laid no meaningful plans to replace him. Once Alexis Sanchez had gone to Arsenal and Loïc Rémy had proved unfit, their desperation sent them diving into the mad world of Mario Balotelli.
They are reaping the whirlwind now. Their elevation to Europe's elite class may last only one season because of this. But the departure of Suarez has restored principles the club has always subscribed to. Results can lift you and they can bury you, but they are temporary. A club's reputation is permanent.
Register for free to continue reading
Registration is a free and easy way to support our truly independent journalism
By registering, you will also enjoy limited access to Premium articles, exclusive newsletters, commenting, and virtual events with our leading journalists
Already have an account? sign in
Join our new commenting forum
Join thought-provoking conversations, follow other Independent readers and see their replies