Real Madrid vs Liverpool: Dejan Lovren on the message that inspired him to Champions League final
The Croatian always believed he had what it takes to reach the top of world football
Mark Critchley
Northern Football Correspondent
Wednesday 23 May 2018 09:18 Comments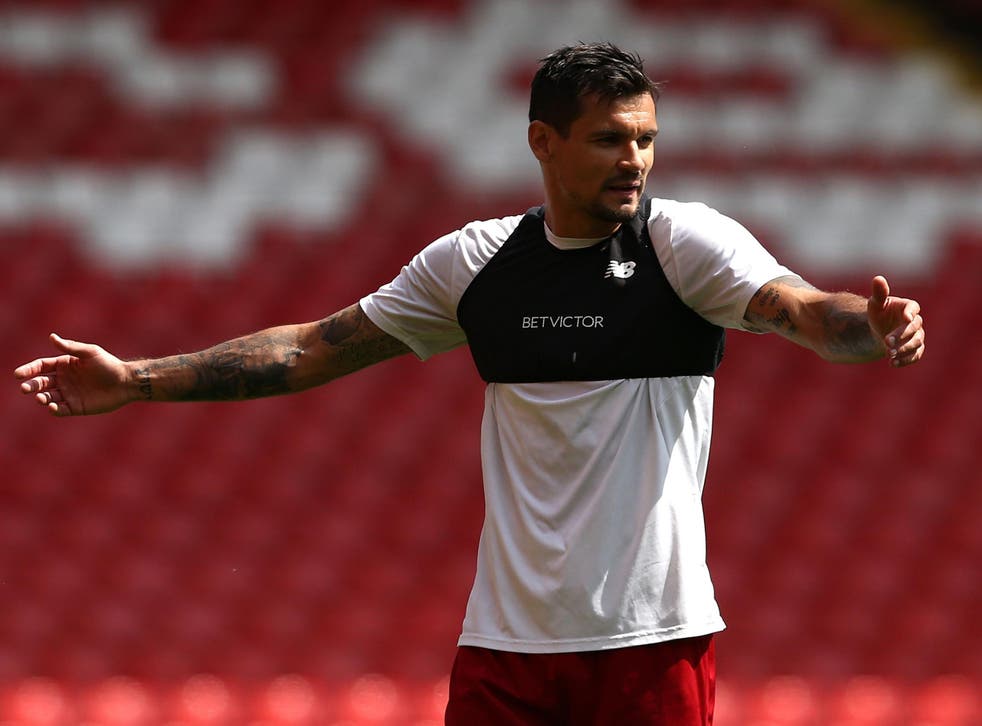 Liverpool centre-half Dejan Lovren always believed he would reach the top of world football, as demonstrated by a note he wrote as a 12-year-old boy.
Lovren has been forced to cope with much criticism since joining Liverpool from Southampton four years ago, with his errors poured over by journalists and supporters alike and his place at the club constantly questioned.
The Croatian is currently enjoying the best form of his Anfield career, however, and has played his part in the remarkable Champions League campaign that has led to Saturday's final against Real Madrid in Kiev.
"When you say I am not good enough, I will just show you I am good enough, simple as that," Lovren said while previewing the final, after being asked about the criticism he has faced over recent years.
Liverpool's route to the Champions League final

Show all 14
"I like when people talk bad about me, but they don't know the behind the scenes. When I have the confidence of the manager I don't need anything more."
Lovren has always had an unerring confidence in his own abilities too, even in his youth when others doubted he had the ability to become a professional footballer.
"From day one when I started to play football, I write it down – at 12 years of age I wrote it down: 'One day I will be one of the best defenders in the world.'
"[I wrote it] underneath my table, out of sight, in my apartment back in Croatia where I grew up, the table where I would sit and do my homework.
"There are some people still living there and the table was part of the room so I hope it is still there. I need to go and buy the table back!"
Liverpool train at Anfield ahead of Champions League final
Lovren is one of the longest-serving members of the Liverpool dressing room now and played the last time the club came up against Real Madrid - in the 2014-15 Champions League group stages, during his debut season.
Then under the stewardship of Brendan Rodgers, Liverpool lost the Anfield meeting 3-0 and a heavily-weakened side went down 1-0 at the Santiago Bernabeu.
Lovren looks back on that Liverpool team of late 2014, making its first Champions League appearance in five years, and sees next to no similarities between the one that will compete Saturday's final in Kiev.
"The only thing that is similar to that night is the name, Liverpool," he said.
"When you look at the players and everything we have changed a lot. I think me and [Jordan] Henderson are the only players left who played against them that night [as well as Alberto Moreno]. I am so much more confident in the team now than I was then. I feel the team is ready to battle against every team in the world.
"We showed that against Manchester City [in this season's quarter-finals]. Manchester City showed all throughout this season that they are one of the best teams in the world but they came up against Liverpool.
"I wouldn't say they play a similar style to Real Madrid but we are a totally different team and nobody played a team like us. Real Madrid didn't play against us [in 2014] like we play today. Maybe they are used to this team and they look at images from this game but we are totally different now."
Lovren now sees a group of players that can compete with the established elite of European football, one that is not daunted by any opponent.
"If I see fear in a team-mate's eyes I will slap him and say: 'Come on!' But when I look in their eyes now, the young lads and the experienced lads, they are full of confidence. We are not in the final without a reason."
Register for free to continue reading
Registration is a free and easy way to support our truly independent journalism
By registering, you will also enjoy limited access to Premium articles, exclusive newsletters, commenting, and virtual events with our leading journalists
Already have an account? sign in
Join our new commenting forum
Join thought-provoking conversations, follow other Independent readers and see their replies