Liverpool's forgotten man: Divock Origi enjoying Wolfsburg challenge as he considers life after Anfield
Exclusive interview: The forward opens up to The Independent about life in Germany, his time at Liverpool and what the future holds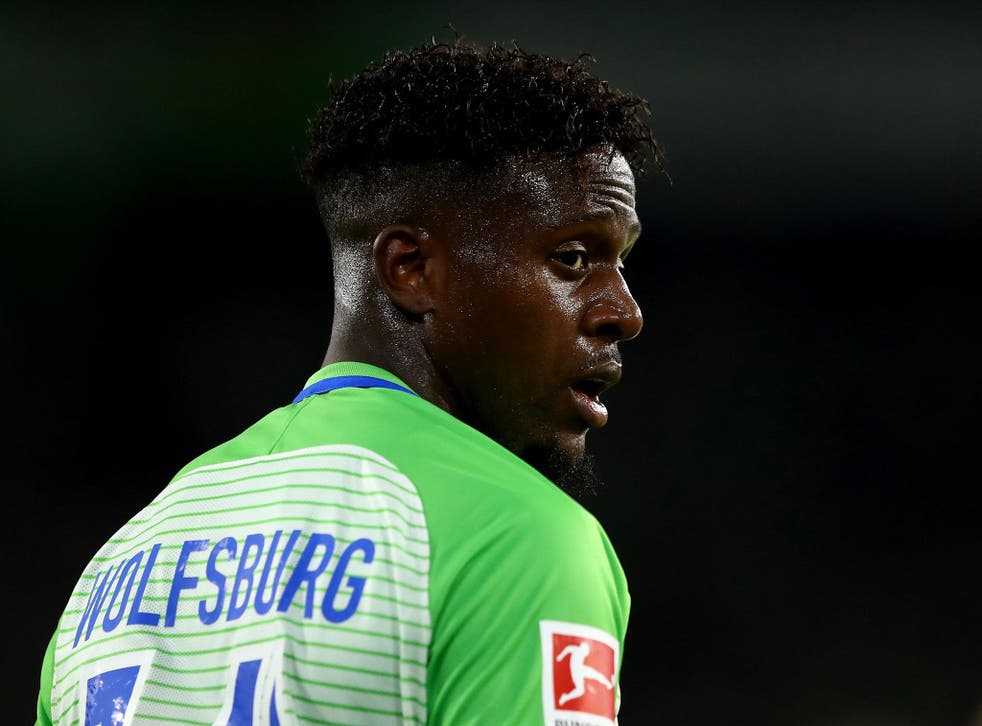 Divock Origi can remember watching lots of YouTube clips when he was a youngster. Specifically, he would spend hours observing the best forwards in the game. He admired the attackers who were "technical, brave and strong players, who made a difference in the football world": Ronaldo, Cristiano Ronaldo, Zlatan Ibrahimovic and Belgium's assistant coach, Thierry Henry, who is now tasked with nurturing Origi's talent. "He is all about, 'Divock you have to make the runs behind and you have to stretch the play,'" says the 22-year-old at Wolfsburg's training ground.
"You have to play with your qualities. In the last game that we played, he was talking about this. That's the most important thing for me, that when I use my qualities in this way and coming to the ball, it creates more space to be creative. I need to make these runs and be generous."
The forward, who is on-loan at Wolfsburg from Liverpool, is relaxed and composed as he sits in the media area, which overlooks the training pitch at the VFL-Center. He seems happy and content with his start to life in the Bundesliga, which came about after a deadline day move in the summer.
"It's a different way of living, a different culture," he tells The Independent. "It's a great club. We visited the Volkswagen factory and you see how they work. You see more of the city and you understand where they come from. The supporters have always been supportive of us. They have always been a helping hand and I think that I am in a nice environment here."
Wolfsburg generate a family atmosphere which is incomparable to other football clubs. They have play areas around the Volkswagen Arena, table-tennis facilities and the Wolficlub for children. There's even part of a stand inside the ground, where the kids can play and watch their idols simultaneously. "That's nice. They think of everything. There's a slide. It's a different culture and it's nice."
Origi has only been at the club for three months, but he has already made a significant impact. He has scored four goals in his last eight starts for the Wolves. "I think basically it has been me being focused and wanting to improve in every game. I have been analysing my game a lot. I have been working on a lot of stuff on the pitch and off the pitch. Just paying attention to detail and in the beginning, I needed to adapt, but the results have come and I'm happy about that."
He has also received praise from sporting director Olaf Rebbe. "It's complimenting because it's always nice that people appreciate what you do. At this age, it's a compliment that somebody like Olaf can value you at this point."
Wolfsburg ended a run of seven consecutive draws with a 3-1 win over Freiburg earlier this month, but then lost at the weekend to Augsburg 2-1. Origi has been used on the right-wing by new manager Martin Schmidt having previously played more centrally under former coach Andries Jonker. It's a position he is familiar with after learning his trade out on the flanks when still in France at Lille.
"There are a lot of things you learn from playing wide," adds Origi. "You also understand the way that you can coordinate with the front three or front two. When you come in from the wide position you don't feel awkward, but at the same time playing as a striker for a while now at Liverpool made me learn more about the striker position, so it's about combining it.
"There are not a lot of strikers that play this way. I am lucky for example that I have someone like Henry at the national team, who also played on the wing and then as a striker."
Origi revealed that it was his decision to seek a loan move, with the striker falling down the pecking order at Anfield. Liverpool signed Mohamed Salah, Dominke Solanke and Alex Oxlade-Chamberlain in the last transfer window to add to the already impressive attacking options at Jurgen Klopp's disposal.
So, what did the German manager say to the Belgian forward about the move? "When I made my choice, whatever choice I make, if the club is ok with it they will agree with it. I think he was behind my choice and he wished me good luck."
Origi was very complimentary of Klopp and believes that what the public see is exactly what you get with the coach. "I think most people know how he is - energetic, passionate, loves football and a leader, a real leader. He is very personable, warm person. A real leader that you need to identify yourself with and people can identify with."
The striker enjoyed his time on Merseyside, but is unsure where his long-term future will be. "It's difficult to say, what I can say is that I want to one day show my talent at a constant level. That comes from playing, learning, expressing yourself and going through good and difficult moments.
"That's what I am experiencing now at Wolfsburg. It can come quickly or it can take some more time. Everything can happen, I can have injuries or whatever, but of course I try to make the most of it. One thing for sure is that I believe in my ability and we will see where it goes."
Origi admits that he has been distracted by what has been said or written about him in the past, but has now found a way to concentrate on his development and ignore the negative press. He is now relishing his time in a new country and league.
"I'm happy. I'm in a place that I can grow, I can play and I can learn a lot. It's a very big league, with interesting games. I can only see it in a positive way and I'm just trying to take the maximum out of it."
Register for free to continue reading
Registration is a free and easy way to support our truly independent journalism
By registering, you will also enjoy limited access to Premium articles, exclusive newsletters, commenting, and virtual events with our leading journalists
Already have an account? sign in
Register for free to continue reading
Registration is a free and easy way to support our truly independent journalism
By registering, you will also enjoy limited access to Premium articles, exclusive newsletters, commenting, and virtual events with our leading journalists
Already have an account? sign in
Join our new commenting forum
Join thought-provoking conversations, follow other Independent readers and see their replies