Liverpool vs Napoli: Jurgen Klopp wants to harness power of Anfield for Champions League decider
'If something special is possible, it's here. That's why we should try it,' Klopp said on Monday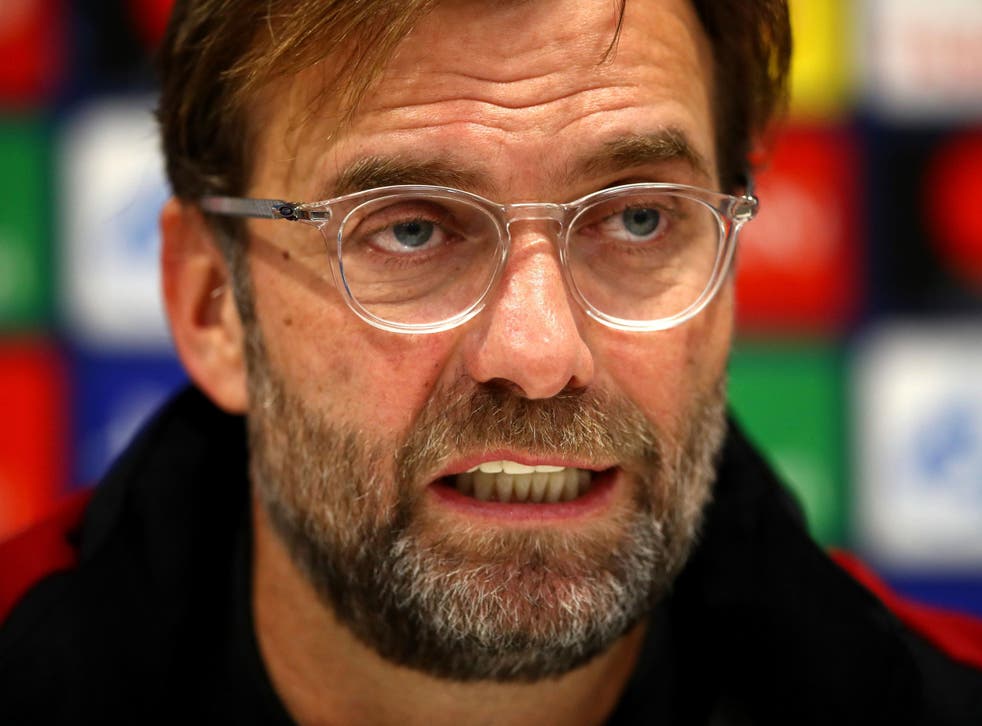 Jürgen Klopp wants Liverpool to harness the power of Anfield to help them through the Champions League group stages, telling his players: "If something special is possible, it's here."
After suffering defeat in all three of their away matches in Group C, Klopp's side welcome Napoli to Anfield on Tuesday night knowing that only a particular type of victory will see them through to the last-16.
Liverpool will be sure of progression if they beat Carlo Ancelotti's side 1-0 or by at least two clear goals. A victory of any sort will only be enough if Paris Saint-Germain fail to beat Red Star Belgrade.
If the night ends in a draw or a defeat, last year's Champions League runners-up will either find themselves playing Thursday night Europa League football come February or perhaps out of European competition altogether.
"We all know the result – or results – we need, and it's quite difficult," Klopp admitted on Monday, having studied the various permutations. "If something special is possible, it's here. That's why we should try it.
Bournemouth vs Liverpool player ratings

Show all 22
"You don't have a situation like this 20 times in your career. That's why I think it makes sense that our approach before a game will be completely normal. We don't want to concede always, that's how it is, and we want to win, that is also how it is. The rest we will see during the game.
"We were all not 500 times in a situation where 1-0 is good but 2-1 is not, 3-1 is good again but 3-2 is not. It is a mix of being really lively, and making an emotional game of it – it must be – and on the other side being really closed at the back so nothing happens there.
"That is a big job to do but the boys have played many times and pretty good as well. We know how to be solid and be active.
"The only thing that is clear is if we go 1-0 up, then it is not like it would usually be at 1-0. If they score we then have to score a second and a third and that is a very hard job to do. We knew that already. Now we have to do the job."
When asked what his side could improve on from their meeting in October, Klopp's answer simple – "everything" – though he did not expand on his plan to prevent a repeat of that deserved 1-0 defeat, which came courtesy of Lorenzo Insigne's last-minute goal.
Liverpool manager Jurgen Klopp reacts to Premier League win against Bournemouth
"What I can say is the crowd can be really emotional from the first second," he said. "They do not have to wait for anyone else. They can start before the game if they want. Then we will see what we are doing on the pitch.
"I told the boys, I really think if nothing special happens with referee decisions, we get tomorrow night what we deserve.
"The group is a hard one, that was clear when we got the draw. Now we have the chance to go through, that is special after the campaign we played so far. We have to create a special atmosphere and use it."
Having moved clear at the top of the Premier League table this weekend, and given this club's long wait for a domestic title, there may be some Liverpool supporters wondering whether Champions League elimination would be a blessing in disguise.
Virgil van Dijk, the Liverpool centre-half, dismissed that suggestion in the clearest possible terms on Monday. "I don't think they are Liverpool fans [if they are saying that]," he said. "We want to compete on the highest level. We are top of the league now, but it could change next week. You never know.
"At Liverpool there is always a lot of pressure, but it is good pressure. You want to play in these circumstances, a night like tomorrow. You want to be getting the job done before tomorrow but now we are here.
"I definitely look at the squad and think it can compete on two fronts. We still need to show it but I think are definitely capable of competing in both competitions. Hopefully, that will be the case."
Klopp, meanwhile, is sure that even if worst comes to worst and Liverpool crash out of the group stages on Tuesday night, their domestic title push would not be affected.
Jose Mourinho's Manchester United arrive at Anfield on Sunday and would love nothing more than to make Liverpool's stay at the top of the table a short one, but Klopp is sure that his players will remain confident, no matter the result on Tuesday.
"If after the campaign in the Premier League so far, if we don't have confidence after losing one game that will be really bad. I don't think about things like that," he said.
"We will have a lot of problems in the season, 100 per cent, but maybe sometimes it does not look confident but what we have learned so far is we work really hard we are difficult to play. It is not a joy to play us and we are a constant threat. If we lose that in one game... I cannot believe that will happen."
Join our new commenting forum
Join thought-provoking conversations, follow other Independent readers and see their replies