Liverpool FC: A look back at 2018
Liverpool vs Napoli: Five things we learned as Mohamed Salah sends Jurgen Klopp's side into Champions League knockout stages
Liverpool 1-0 Napoli: The home side stretched their undefeated streak at Anfield in the Champions League to 18 games to secure European progress once again
Mohamed Salah's weaving first-half goal sent Liverpool through to the Champions League knockout stages after a nervy encounter against Napoli at Anfield.
Liverpool dominated for much of the game, spurning early opportunities until Salah's strike, fortunately, found its way past David Ospina after 34 minutes.
But after missing countless opportunities in the second-half, Liverpool allowed themselves to endure a nervy ending, as Napoli threw men forward without caution.
Yet Carlo Ancelotti's side could never find the fatal blow, as Jurgen Klopp's advanced to the last-16.
Here's five things we learned:
Champions League Week 6 Goals

Show all 18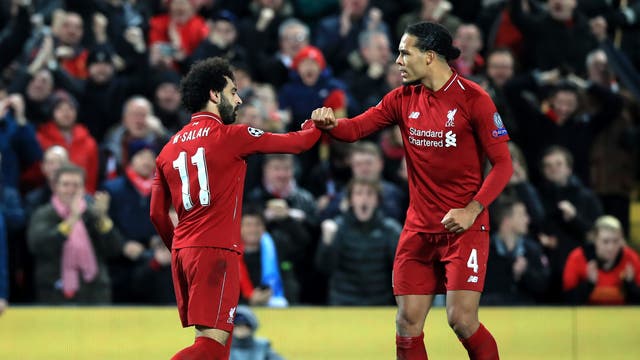 The midfield statues...
Jurgen Klopp blustered in ignominy when his midfield were accused of being too stagnant, after Liverpool were made to look Lilliputian by PSG a fortnight ago. So in delightfully stubborn
So in delightfully stubborn fashion, Klopp swapped the dynamism of Naby Keita in midfield for the heavy stepped lighthouse Jordan Henderson, to partner James Milner and Georginio Wijnaldum in a mimicry of the Champions League final six months ago.
And that bed stone trio constantly vindicated Klopp's wild finger-wagging. Liverpool dominated the possession for much of the first half, the ball arriving at the feet of the triumvirate who shuffled it out wide to Salah on the right-hand side relentlessly. A path which was trod so often in the first half that the piste became bumped, and which forged enabled Mohamed Salah's opener.
The Anfield aura...
Dries Mertens mocked Liverpool's poxy "This is Anfield" placard unwittingly ahead of tonight's fixture, much to the ire of one half of Merseyside. But Virgil van Dijk swiftly reminded the Belgian of the esteem of his coordinates with a conk to the ankle in the opening stages which left Mertens a hobbling mute, until he was finally withdrawn with 25 minutes to play.
The raucous atmosphere of the Anfield crowd oozes on nights like these in a way few English stadiums can. A well-oiled cauldron conglomerated in fever and anxiety like a cyanide cocktail seeping and supercharging its players.
There was rarely a moment in the first half when a usual conversation was audible. Just the relentless human drum of 'Mo Salah' steadily beating the fearlessness out of their opponents as they stretched their undefeated record at Anfield in the competition to 18 matches.
Salah's piste can't be overplayed...
Klopp's blueprint for the match was so blatant he could have informed Carlo Ancelotti prior to the start of the fixture. Never was there a time that a Liverpool midfielder found space without raising their head demonically in one direction, scouring for the Egyptian.
The play became so lopsided that Sadio Mane was essentially dragged into the role of striker, Firmino watching and waiting for Salah's cut-back. Yet, the Egyptian wasn't quite back to his brilliant best, like against Bournemouth on the weekend when he rowed the Cherries into the arms of Anubis with a hat-trick.
Presented a .999 pure silver platter so spick it should have been served with a white tablecloth by Andrew Robertson after just seven minutes, Salah spilled the ball straight into David Ospina's grateful arms.
Yet in that moment, Klopp's pre-orchestrated plan had already been vindicated. Marcos Rui, Napoli's right-back, already prepped for an evening of torment, waiting for the inevitable time when Salah would spring a decisive toe-poke. For that, we waited less than half an hour.
Forgotten Joel Matip shine...
Dejan Lovren turned pale like a man seeing spirits when faced by Kylian Mbappe and Neymar a fortnight ago. The startled Croatian frozen white, while the superstars danced around or straight through him. So in the wake of Joe Gomez's injury, Klopp opted for the out-of-favour Joel Matip to play sidekick to van Dijk - a role made no easier by the Dutchman's early yellow card.
But the Cameroonian fill-in was almost as imperious as his partner in defence, holding the line authoritatively and rarely allowing the sky blue of Napoli to streak beyond him throughout the 90 minutes.
It wasn't long ago that Matip was hailed as a wonder-bargain, signed on a Bosman from boyhood club Schalke two-and-a-half years ago. With Gomez's emergence, a role in Klopp's side will likely never come to fruition, but here they evidenced a strength in depth in a position against elite opposition like few other sides can muster.
Late nerves almost knock Liverpool…
Almost as if a bell sounded on the stroke of 70 minutes, suddenly the souped emotions at Anfield transformed into a united state of anguish, fists tensed so nervously the knuckles turn white and blue. Liverpool's defence dropped deed, the gegenpress wilted, and after a period of near total domination, Klopp's side turned into a type of desperate cocoon and caused the belated introduction of Keita.
In fact, almost the entirety of Napoli's team minus Ospina were playing in Liverpool's half, meaning every time the home side broke they were almost clean through on goal. Liverpool never took their chance. But thanks to a last-ditch save by Allison with just 60 seconds to go
Join our new commenting forum
Join thought-provoking conversations, follow other Independent readers and see their replies