Kevin Strootman reveals Roma's special plan for dealing with Liverpool's Mohamed Salah
Salah frustrated at Roma but is unrecognisable at Anfield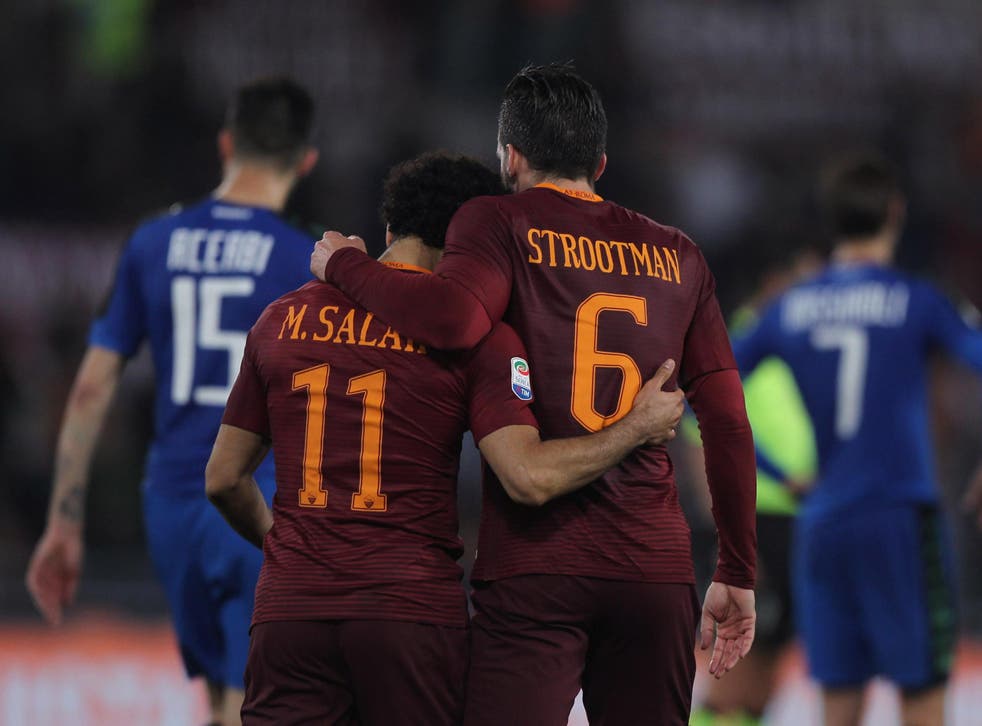 Kevin Strootman has revealed Roma's gameplan to nullify Mohamed Salah during Tuesday's Champions League first leg with Liverpool at Anfield – but it won't be obvious until the night.
The Dutchman will line up in the Roma midfield at Anfield after a stunning comeback against Barcelona in the quarter-finals saw them through into the last four of the competition.
Strootman is often handed the task of man-marking when facing players of the quality of Salah, his former teammate who left the Italian capital last summer, but insisted that while Roma do have a plan to deal with the 41-goal Egyptian, it may not necessarily involve this tactic.
"We have special tactics [for Salah] but I'm not going the share it!" he told The Independent. "Italian defence, that is what I'm hoping for!"
Salah, who won the PFA Player of the Year award on Sunday night, may terrify defences now, but he was a more frustrating presence when in Rome, with Strootman revealing he was surprised by how many goals the forward has given how wasteful he was last season.
"I'm not surprised at how well he's doing but just at how easy he scores the goals and how confident he is in front of goal with the ball," Strootman added. "Here he did a great job and did a lot of great assists and goals but he missed a lot of chances especially one-on-one with the goalkeeper.
"But now he has so much confidence and he just creates the chances himself and finds it easy in front of the goal. He is a great person outside the pitch on the pitch he just keeps going. I am surprised by how many goals he has scored so far but not how he plays. Here he was a nightmare for opponents and in England he is doing the same.
More from Kevin Strootman...

Show all 7
"I think it is confidence which is the main difference. It did a lot when he played here but now you see if he has a chance and he misses it, the next time he knows he will score. He is doing amazing also with the national team, he did a great job, I think he is the king there now and they want to vote him for president and everything. I just hope in the two games against us he loses his confidence."
Join our new commenting forum
Join thought-provoking conversations, follow other Independent readers and see their replies