Liverpool vs Villarreal match report: Daniel Sturridge excels as Reds sink Yellow Submarine to reach final
Liverpool 3 Villarreal 0 (Liverpool win 3-1 on aggregate)
Simon Hughes
Anfield
Thursday 05 May 2016 22:00 Comments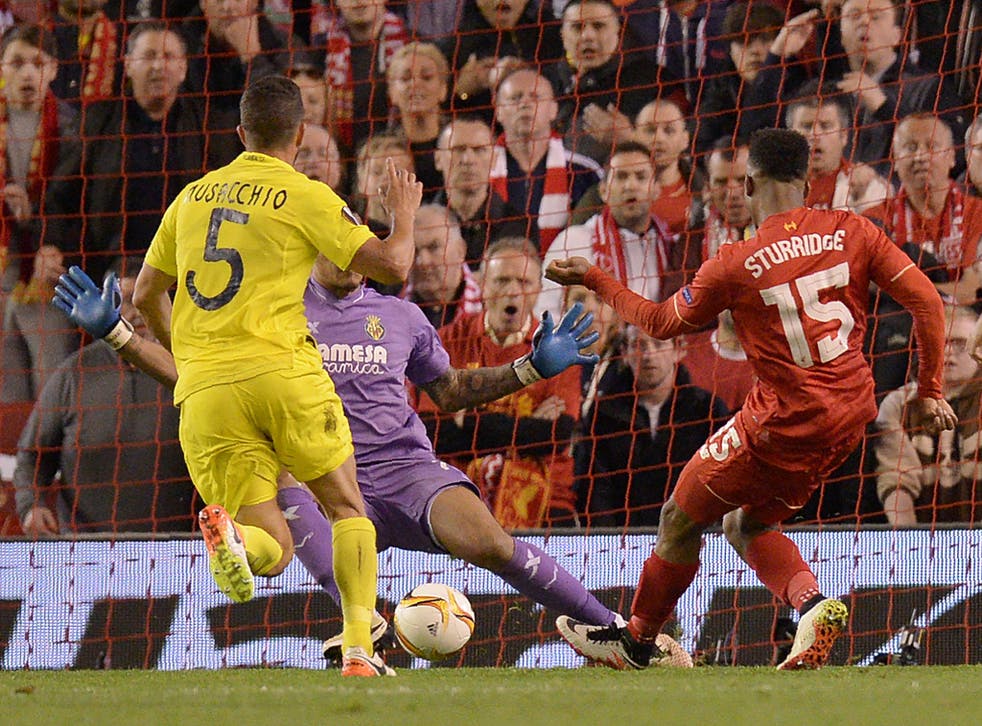 Daniel Sturridge's eyes were bulging, ecstasy seizing his face. His arms and fists were uncontrollable, driving through the night sky in unbridled celebration rather than cool, rehearsed dance.
His goal made it 2-0 to Liverpool and following the subsequent scrum, he needed treatment because someone punched him by accident on the lip. It may have been self-inflicted.
Soon, Jürgen Klopp's fury at Alberto Moreno for nearly conceding a needless penalty, which may have sent Liverpool out, had to be delivered by Lucas, the substitute, because Moreno was too far away from the technical area for the message to be heard in the surrounding noise.
Moments later, John Achterberg, who was in the process of helping with the substitution of Philippe Coutinho, leapt onto the pitch holding the LED board in the air, after Adam Lallana extended Liverpool's lead to three.
Anyone who dismisses Liverpool's run to a Europa League final with Sevilla as insignificant because it is not the Champions League is either bias or has completely forgotten what football is meant to be about. The passage to Basel has been an unexpected, emotional story of recovery.
Klopp was in his element at the final whistle. While his name was chanted systematically, he saluted each of the Anfield stands one by one and then again twice over. Players and support have had a role in Liverpool's progress but there is no doubt that he has been the architect of their charge towards a first European title in 11 years.
Liverpool player ratings vs Villarreal (second leg)

Show all 11
When Brendan Rodgers was in charge and Sion left Merseyside with a draw in October having lost to Vaduz from Liechtenstein the previous weekend, nobody would have predicted this. Klopp's mission statement at the beginning was to turn all of the doubters into believers. Should Liverpool beat Sevilla, the feat will have been achieved little over eight months – and with a set of players that were not even signed by him.
"I am not a native speaker so I do not have the right words for this performance," Klopp said. "The first half hour? Wow, what power. From there, we had to be emotional and smart."
This was the most complete performance of his reign so far. Klopp knew that he needed to win the competition for the season to be considered a success.
Liverpool were carrying a feeling of injustice, smarting from the way defeat was sealed and celebrated by Villarreal's players in Spain last week. It was also the first match at Anfield since the Hillsborough inquest reached a verdict last week. A febrile atmosphere was expected.
When the bus transporting Villarreal's players from the Hilton Hotel reached the junction where the King Harry pub meets Anfield Road, indeed, they were greeted by noise, pyrotechnic smoke, red sky and old men on scaffolding.
As it inched towards the stadium through the throngs, the size of the task in front must surely have become reality: it was not just Liverpool's team they had to beat. It was the crowd too.
There was a sense this was all about what Liverpool could do and whether Villarreal were able to resist the pressure.
The only change made by Marcelino, Villarreal's manager, that was not enforced, was a switch of goalkeepers with Paris Saint Germain loanee Alphonse Aréola preferred to Sergio Asenjo. The 23-year-old's handling in the opening minutes contributed towards the spread of fear.
It was not a surprise when Liverpool drew the tie level at 1-1 in the seventh minute. Aréola did not deal adequately with Nathaniel Clyne's sizzling cross after being released by a returning Emre Can following an ankle injury. Roberto Firmino, positioned on the other side of the box, fired it back and though Sturridge could not make the final touch, his effort to do so did enough to force captain Bruno Soriano to turn the ball into his own net.
Liverpool were kicking towards the Kop. Their lead on the night should have extended to two when a delicious sweeping pass by James Milner cut out the presence of an entire defence. Lallana, however, could not steer it in.
Sturridge was getting plenty of touches, his movement reminding that while he is high maintenance, he is worth perservering with.
Villarreal needed to do something to halt the overwhelming flow. As the first wore on, tensions began to increase. Villarreal slowly turned it into a battle. Roberto Soldado kept falling over. There were niggly fouls and flying elbows. It became very scruffy and the managers were still arguing as they headed down the tunnel at the break after Klopp's assistant Zeljko Buvac had done something to really annoy Marcelino who later claimed Liverpool – and Klopp - had sometimes operated outside of the rules. "Ultimately, though, the biggest difference was Liverpool's intensity," he admitted.
Liverpool's second came when Sturridge was spotted by Firmino, who in turn revealed must possess eyes in the back of his head to be able to execute such an exquisite flick.
When Víctor Ruiz was sent off for a second booking with nearly 20 minutes still left, Liverpool's challenge became easier and victory was confirmed when Lallana scored their third from close range.
Liverpool now go to Basel, the city in Switzerland, which does not possess a ground big enough to meet expectancy levels in terms of tickets, nor the accommodation for the number of supporters who will travel there.
The Spirit of Shankly group has already written to UEFA outlining their concerns.
The final is less than two weeks away.
Register for free to continue reading
Registration is a free and easy way to support our truly independent journalism
By registering, you will also enjoy limited access to Premium articles, exclusive newsletters, commenting, and virtual events with our leading journalists
Already have an account? sign in
Register for free to continue reading
Registration is a free and easy way to support our truly independent journalism
By registering, you will also enjoy limited access to Premium articles, exclusive newsletters, commenting, and virtual events with our leading journalists
Already have an account? sign in
Join our new commenting forum
Join thought-provoking conversations, follow other Independent readers and see their replies