Maccabi Tel Aviv fans waved a banner that said 'Refugees Not Welcome' - they play Chelsea in London on Wednesday night
The Blues play the Israeli team at Stamford Bridge in the Champions League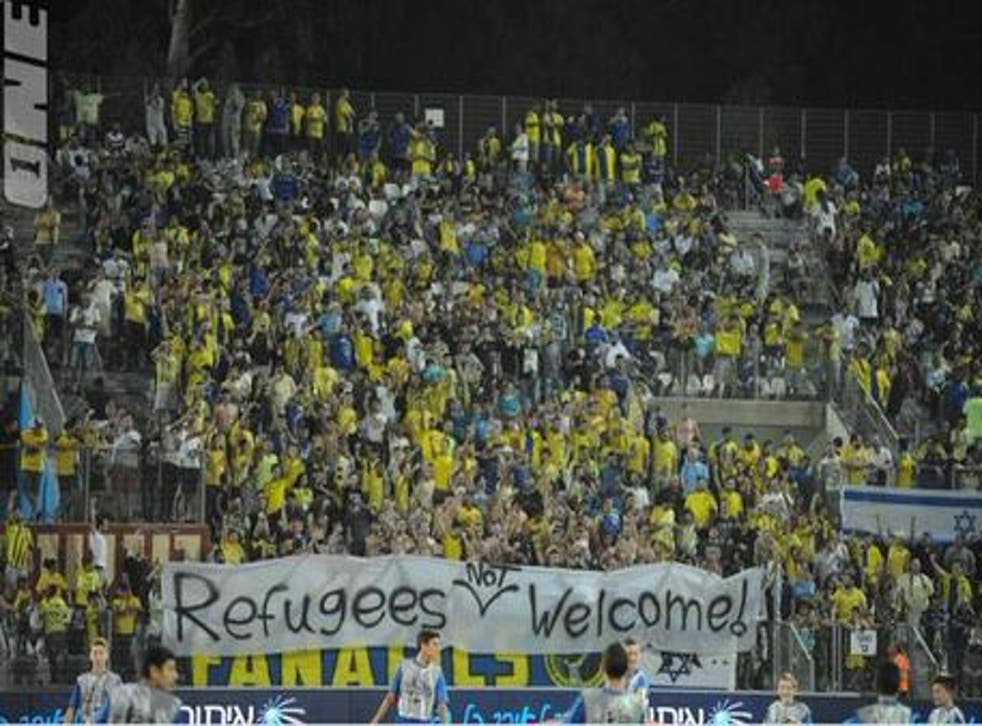 While English and German football fans were united in their message to refugees at the weekend, the message at one club in Israel was rather different.
With supporters across Europe unveiling 'Refugees Welcome' in response to the growing crisis, Maccabi Tel-Aviv decided to go the opposite route - displaying the message 'Refugees Not Welcome' against Kiryat Shmona.
The club will be in London on Wednesday night when they face Chelsea in the first group game of this season's Champions League.
Chelsea manager Jose Mourinho denied that he was under pressure after losing to Everton at the weekend, instead stating that "refugees are under big pressure".
Last week, Israeli prime minister Benjamin Netanyahu rejected calls for Israel to take in more refugees and has instead pledged to build an 18-mile border fence along the border with Jordan.
Champions League clubs, including Maccabi, have pledged to donate €1 from every ticket sold at their first home game to aid the crisis.
Real Madrid and Paris Saint-Germain donated €1million each last week.
UPDATE: This article has been updated to remove an erroneous reference to a Hapoel Tel-Aviv banner. That banner was from 2009.
Register for free to continue reading
Registration is a free and easy way to support our truly independent journalism
By registering, you will also enjoy limited access to Premium articles, exclusive newsletters, commenting, and virtual events with our leading journalists
Already have an account? sign in
Register for free to continue reading
Registration is a free and easy way to support our truly independent journalism
By registering, you will also enjoy limited access to Premium articles, exclusive newsletters, commenting, and virtual events with our leading journalists
Already have an account? sign in
Join our new commenting forum
Join thought-provoking conversations, follow other Independent readers and see their replies