An inspirational captain, furtive fans and sawn down statues: When Malmo met Copenhagen
Malmo's win, which ensured they topped Europa League Group B ahead of the more seasoned European contenders FC Copenhagen, was a story of journeys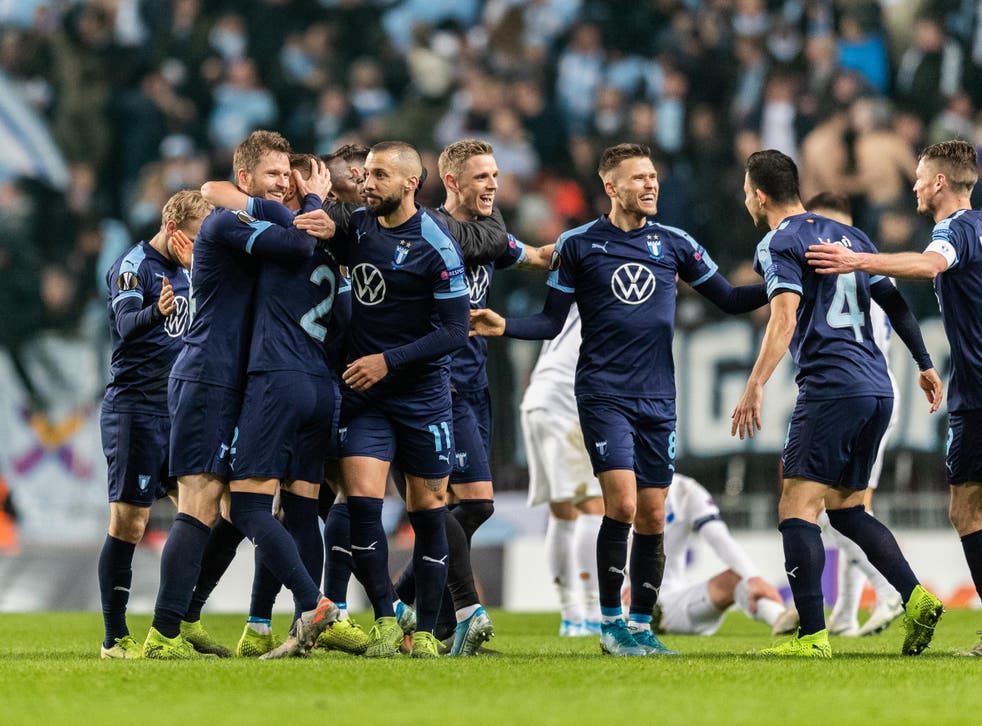 By the time the final whistle went in Copenhagen's Parken stadium on Thursday night the Malmö fans hidden throughout the home section had long since given the game away. Their 1-0 away win was a victory seen as proof they can now fight for the title of best team in Scandinavia, and was celebrated raucously. "We'll play you again, we'll beat you again, bloody easy three points," the refrain rang.
Malmö's win, which ensured they topped Europa League Group B ahead of the more seasoned European contenders FC Copenhagen, was a story of journeys. Forty minutes is all it took for the Malmö fans to travel across the Øresund bridge to the fixture, the shortest away trip in European competition, and closer than any of Malmö's domestic rivals in Allsvenskan.
By contrast, for their captain, Markus Rosenberg, his last game as a professional footballer brings to an end a journey started 32 years ago when he first joined the club. Though in England he is associated with a brief spell at West Bromwich Albion, to Malmö he is the home boy who did good. A man who went out and scored goals in the Bundesliga, LaLiga and Eredivisie before coming back to his boyhood club in 2014, elevating them to regular European competitors.
Since Rosenberg returned Malmö have seen their most successful period in Europe since their European Cup final appearance in 1979, making it through to European competition proper five times. And now, after Thursday's win, they have reached the knockout stage of the Europa League twice in the last two years.
Zlatan Ibrahimovic may be the name associated with the Swedish club abroad, but in the eyes of the fans there is no doubt over who is king. Hammering that message home, in the late hours of Wednesday night, an attempt was made to saw down the huge statue of Ibrahimovic outside Malmö's stadium. That same night a statue paying tribute to Rosenberg's career was placed outside Malmö Central Station ahead of his last game by his club.
In Malmö on Thursday afternoon there was a palpable sense of anticipation as fans boarded buses or descended to the Øresund train to make what for many of them is their regular workday commute to the Danish capital. This time it was for something far more exciting – the chance to make a statement by getting the better of a team whose European consistency they have envied for some years. Better still, it was a chance to do it in their hero's last match, the club's first ever official European away trip to Copenhagen.
"This would be a big occasion for us if we win, a big day for the club," Kaveh Hosseinpour, Vice Chairperson for Malmö's official fan organisation MFF Support told The Independent just after stepping off the train and arriving at the the official away fan zone – two bars packed full of travelling supporters. "It would be a big day in Scandinavian football too, where Copenhagen have been the lone rulers on the throne for some time. But we've been challenging them now for a while."
Three Copenhagen fans The Independent spoke to ahead of the match were keen to note their confidence, yet even then a hint of doubt was evident. "We're going to win," they began. "No, actually we are a little concerned. Our captain is suspended and it's an odd game playing a European match against a side who can just hop across the bridge. But we're pretty confident we will send them home unhappy on Rosenberg's last match."
The home fans may have hoped to give the impression of cool but there were nonetheless queues around the stadium two hours before kick-off, hordes gathering for pre-match drinks. Nobody wanted to miss this unique occasion, Parken long sold out.
The opening pyrotechnics from the colour coordinated home fans were spectacular and befitting of the event: huge banners boasting of how "with the lion on our proud chest we follow you from coast to coast". The Malmö end on the other hand took some time to fill out, many of the estimated three to four thousand travelling fans delayed after trouble broke out between them and Danish police on the way to the stadium.
Like their supporters it took Malmö a while to turn up, Copenhagen starting the stronger team and dominating possession. Yet gradually the Swedes grew in confidence, eventually pinning the Danes back for a barrage of late first half corners as more and more visiting fans dripped in.
It was a sign of things to come, and in the second half Mamö came out all guns blazing. As always, captain Rosenberg led the charge, looking closer to 27 than 37 as he chased a nothing ball and turned it into a throw-in for his team deep in Copenhagen's third. That lit a fire under his support and under his team, who started to find more space on the flanks and combine more frequently in the opposition half. The icing on the cake for Rosenberg would have been to score, a good chance with 15 minutes to go saved by Karl-Johan Johnsson. Yet for the ultimate team player it didn't matter: Malmö's late winner through a Sotirios Papagiannopoulos own goal more than satisfied their retiring club legend. "This means everything, I couldn't have dreamt of a better ending," he told Sweden's Kanal 9.
When the final whistle went, chants of "Markus Rosenberg, Markus Rosenberg" rang out, swathes of the home sections revealing themselves to be Malmö fans as scarves flew up. Coach Uwe Rösler even allowed himself to get caught up in it all and punched the air. "In the Group Stage twice, getting out of the Group Stage twice. In Malmö's history, since the new model of European competitions was brought in, that has never been done," the former Man City man told The Independent.
"I thank the players that I could be part of this fantastic adventure, wonderful night and achievement. Winning the group is phenomenal for the club, but it's not something to rest on and they have to move on," Rösler concluded, foreshadowing Friday's announcement that he will now depart as coach.
With so many people from Malmö working in Copenhagen, and so many from Copenhagen living in the cheaper Malmö, the reaction to this victory in the battle for Scandinavia will be instant. "I have a really close friend who is a Copenhagen fan, and there are many Malmö fans living in Copenhagen. So Friday will be a fun day for one of the teams," Malmö fan Hosseinpour predicted. Copenhagen fans may find it to be less entertaining.
Join our new commenting forum
Join thought-provoking conversations, follow other Independent readers and see their replies