Manchester City 0 Barcelona 2 - comment: Not the worst Barcelona side, but despite Lionel Messi inspired victory, they are not the team they once were
Mourinho's comments that this is the worst Barcelona side in recent memory are exaggerated, but they are not the side of three years ago
Pete Jenson
Wednesday 19 February 2014 02:00 Comments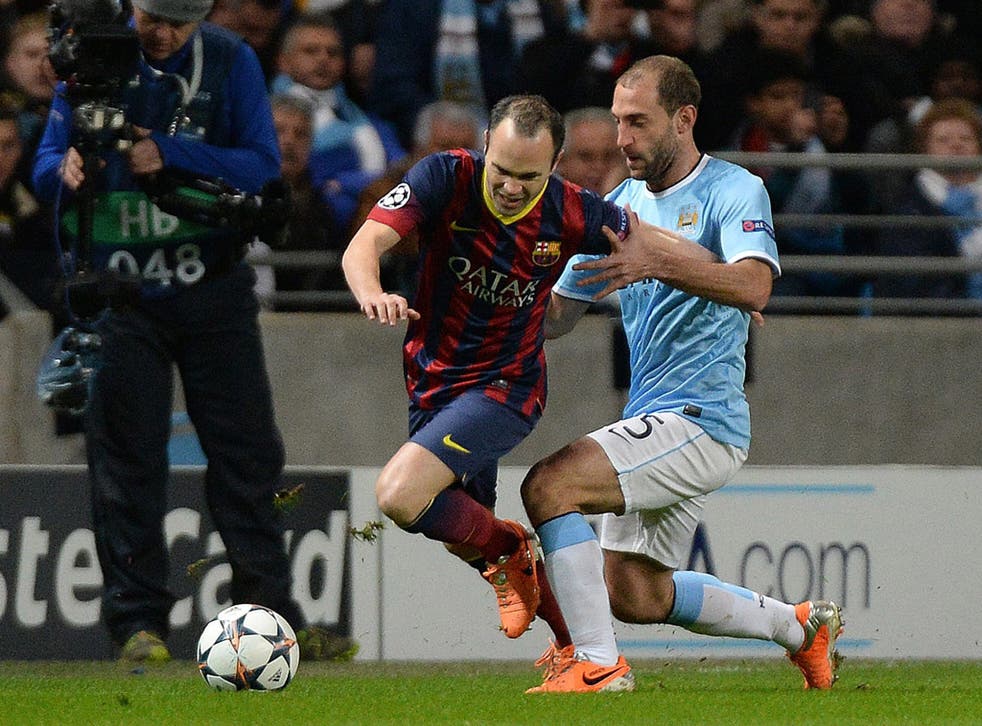 The carousel still spins but it doesn't make the opposition as dizzy as it used to. At times this was more like the magic roundabout than the fairground Waltzer Barcelona used to get their rivals on – and that will make City even more frustrated about having failed to stay in this tie.
Barcelona completed played 391 passes in the first half but Xavi's early long-range effort was their only shot on target. The passing remains the same but the pressing is gone and while that matters less in La Liga, it struggles against stronger European opposition.
The first three times Leo Messi touched the ball he had it taken off his toe by one of City's two central defenders, Martin Demichelis and the outstanding Vincent Kompany. When he did finally make room for a shot he blazed it over.
Alexis found no joy down the right and Andres Iniesta bounced off Pablo Zabaleta on the left. But the reason for Barça's lost high-pressure game is not to be found in their front three but in their back four.
Under Pep Guardiola they boasted Carles Puyol and Eric Abidal, both capable of parking themselves on the half way line knowing that their pace and athleticism would get them out of trouble.
On Tuesday night Puyol looked on from the sidelines as one of the surplus squad members – his body no longer able to do what his heart and head command. And Abidal is playing out the last few seasons of his career at Monaco.
Manchester City 0 Barcelona 2 player ratings

Show all 22
Barcelona had the chance to replace those two players in the summer, but despite having money to spend – €57m (£47m) according to them; closer to €90m as it was later revealed – they spent it all on another striker and not on a defender.
On Tuesday night Neymar started on the bench alongside Pedro, a further demonstration of the abundance of wealth they have in attack, while their defence creaked at times and was unable to sit high and help the team press the opposition as they used to.
That summer money could also have been spent on replacing Dani Alves, who was outplayed in the first half by opposing full-back Aleksandar Kolarov, pushed forward to attack him from wide midfield, and more than his match. The Brazilian came into his own, scoring the second goal in the second half but only when he was freed of defensive duties.
The effectiveness of this City side for large parts of the game and the way they nullified Messi in the first half will be of little immediate consolation to Manuel Pellegrini after the Demichelis lapse cost them a goal and a player.
But as he plots the second leg he should be encouraged by how even with 10-men they rattled the team who have won the Champions League twice in the last five years.
Barcelona will have second-half substitute Neymar closer to full match fitness for the Spanish leg, but with no defensive reinforcements to return and because of Barcelona's "we only play one way" philosophy, their attacking instincts will not be inhibited so there will be chances.
There was panic on Tuesday night whenever Barcelona conceded a free-kick from a wide area. And even with 10 men City found a way behind Barça's full-backs late on as, with the man advantage, Gerardo Martino's team threw more men forward.
Jose Mourinho's comments that this is the worst Barcelona side in recent memory are exaggerated, but they are not the side of three years ago, especially if Sergio Aguero is back for the second leg.
Register for free to continue reading
Registration is a free and easy way to support our truly independent journalism
By registering, you will also enjoy limited access to Premium articles, exclusive newsletters, commenting, and virtual events with our leading journalists
Already have an account? sign in
Join our new commenting forum
Join thought-provoking conversations, follow other Independent readers and see their replies