Manchester City 0 Barcelona 2: Manuel Pellegrini launches astonishing attack on referee, claiming official lacked 'impartiality' after Lionel Messi penalty gives City uphill task
The Chilean confronted the Swedish referee after the final whistle
Ian Herbert
Wednesday 19 February 2014 02:00 Comments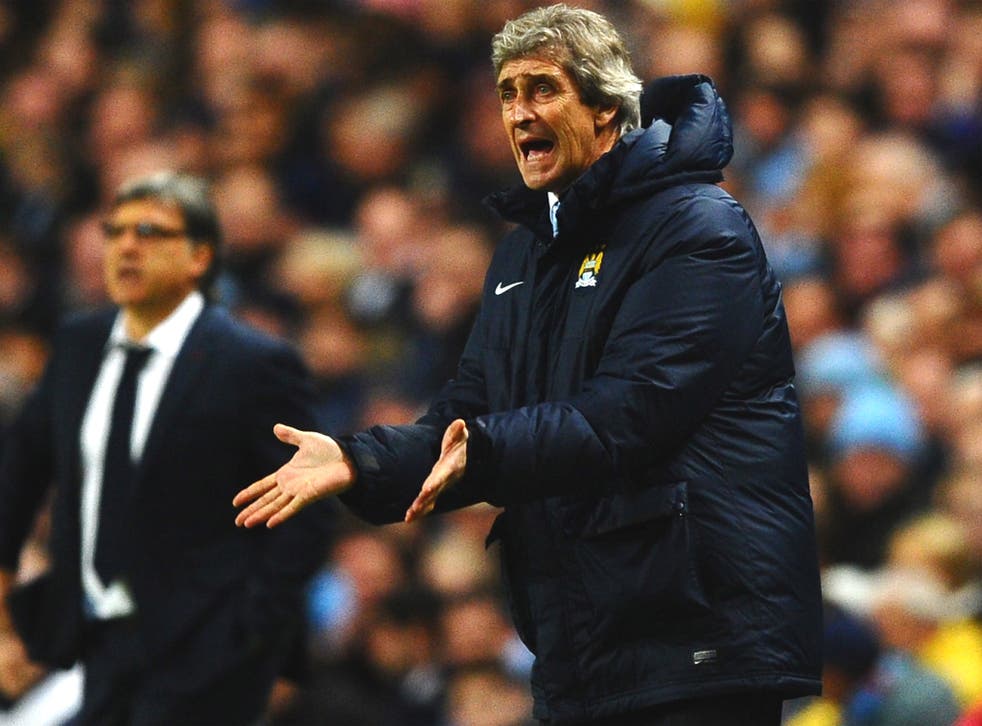 Manchester City manager Manuel Pellegrini launched an extraordinary attack last night on the Swedish referee whose decision to award Barcelona a second half penalty left his players facing a huge task to overcome a 2-0 deficit and progress to the Champions League quarter finals.
It seems inevitable that the Chilean will incur punishment from Uefa after accusing Jonas Eriksson of lacking "impartiality" and awarding the penalty, which saw Martin Demichelis dismissed, to compensate for his controversial failure to give Barcelona two penalties in the 2012 quarter-final against AC Milan at San Siro.
"He favoured Barcelona from the beginning to the end," said Pellegrini, who was visibly still fuming after his side's defeat. "I think it was not a good idea to put a referee from Sweden in charge and a referee who made a mistake against Barcelona in the group stages. Football is more important in Europe than Sweden. This referee [officiated in] the Barcelona-Milan game in the group and he made an important error against Barcelona. Today he remedied it."
Pellegrini was confusing the group stages with the first leg of the quarter-final in which penalty appeals both from Alexis Sanchez and Carles Puyol were rejected by Eriksson, prompting a furious response both by the then Barcelona manager Pep Guardiola and Puyol. The decision to hand last night's game to Eriksson, a millionaire businessman, had been characterised in the Spanish sports daily Marca as 'Barcelona v Eriksson: Round 2."
Pellegrini, for whom any kind of outburst against referees is rare, said that "a big game with two important teams… needs a referee with more experience" and insisted that his midfielder Jesus Navas had been fouled in the build-up of the move which resulted in Demichelis fouling Lionel Messi inches outside of the City area nine minutes after the interval.
"The referee decided the game," the manager said. "Before the penalty, it was a foul on Navas when he was three metres from the play so he could see it. From the beginning I felt the ref was not impartial to both teams. So he decided the game. And after it was not a penalty, it was outside the box. Playing 40 minutes with one player less is difficult against Barcelona but we played well with one player less."
The former Premier League referee Graham Poll said last night that Eriksson's decision was correct because Demichelis' contact with Messi continued "until at least the line marking the penalty area and further, meaning awarding a penalty was a correct decision." Poll argued: "If there is doubt then a referee should give it outside. You can't guess a penalty. Eriksson must have been sure and if you look at the foul from the assistant referee's position, he will have seen contact had occurred inside."
But Pellegrini rejected this. "The contact was outside the box," he said. "That was the contact. You cannot 'continue' the foul. The first foul was outside the box. But more important we were building up, the important mistake is the foul against Navas. The second mistake was the penalty. But it was from the beginning. Barcelona did not have chances before the goal. It was a pity because that important action decided the game."
Eriksson is accustomed to controversy – with other dramas involving him including the failure to send off Robert Lewandowski last October after an elbow on Laurent Koscielny in the second half of Dortmund's 2-1 win at Arsenal. Chelsea manager Jose Mourinho also accused him of killing Chelsea's hopes of winning the Uefa Super Cup last autumn. Eriksson sent off Ramires for two bookable offences, forcing Chelsea to play the last five minutes of normal time and all of extra time with 10 men.
Manchester City 0 Barcelona 2 player ratings

Show all 22
City captain Vincent Kompany, whose handling of Messi was superb, tweeted his frustrations with Eriksson's decision, minutes after the final whistle. "Not very happy tonight for many reasons but I can't fault anyone for effort. Tough task now but I'm not giving up," he declared. The Spaniards' critical second goal leaves them holding all the cards for the second leg on March 12.
Kompany insisted that the Spaniards, who by no means overwhelmed City, were subjected to too much respect by the home team. "They weren't the best team we have faced this season," he said. "Maybe we had too much respect for them. They were there for the taking but you realise the individual quality was phenomenal. Whenever we went forward we were dangerous."
Bur Barcelona's Cesc Fabregas said: "We had a great result tonight. The fans put so much pressure on and that's what makes this so win special. We had a point to prove, and we did it very well. Some people were talking a bit too much before the game and now they have to shut up for a few days.You never know in football, but in three weeks we will have to play very, very well."
Register for free to continue reading
Registration is a free and easy way to support our truly independent journalism
By registering, you will also enjoy limited access to Premium articles, exclusive newsletters, commenting, and virtual events with our leading journalists
Already have an account? sign in
Join our new commenting forum
Join thought-provoking conversations, follow other Independent readers and see their replies