Manchester City vs Monaco: Why Kevin De Bruyne's manager compared him to Johan Cruyff
Belgian midfielder has been central to City's best play this season, justifying comparisons first made as a teenager to legendary Dutch maestro Johan Cruyff
Jack Pitt-Brooke
Monday 20 February 2017 14:44 Comments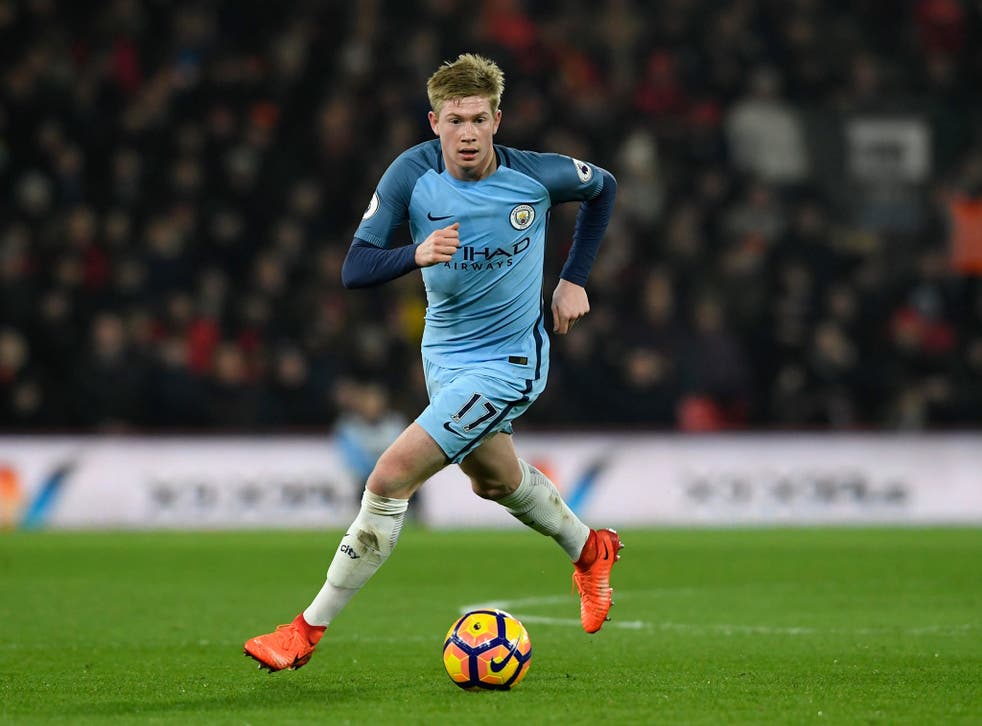 For Hein Vanhaezebrouck it was the highest possible praise. Johan Cruyff was his idol, in his mind "the best player there ever was". But he was manager of KRC Genk and he knew that his 18-year-old midfielder Kevin de Bruyne had that special touch to his game too. So he said that De Bruyne was 'the Cruyff of his generation'.
Belgium has plenty of talented players but only De Bruyne had that chessboard vision of the pitch, that technical leadership of the team, just like Holland's most legendary footballer. Vanhaezebrouck is now manager of KAA Gent, the club where De Bruyne started off, and last Thursday night, after masterminding their 1-0 defeat of Tottenham Hotspur, he explained to The Independent exactly what he meant.
"Eden Hazard is a fantastic player but he is more like Lionel Messi or Cristiano Ronaldo who individually will take out two or three players," Vanhaezebrouck said. "Kevin is the guy who will see the whole pitch, who takes the ball and hits a pass 50 metres to the opposite side, opens it up there. Kevin resembles Cruyff, who is really seeing everything."
To be able to see the whole pitch while playing on it is a rare gift. That, more than anything else, was what set Cruyff apart. He played as a catcher on the Dutch baseball team until the age of 15, valuing how that sport taught him to take what he called 'the total overview' of all the players in front of him. The lessons transferred to football. "You always play based on what you can see," Cruyff said, explaining the essence of 'Total Football', "and never on what you can't see."
De Bruyne might say the same. "Those guys see things that seem so easy, but which other guys are never going to see," Vanhaezebrouck said. "It's about vista, the view that they have of the players. Some guys only see a 'narrow street', or sees the man at 20 metres. Kevin sees the guy at 60, 70 metres."
On top of all of this De Bruyne has the technical ability to do what he wants with the ball. It is no coincidence that City have played their best football with De Bruyne and David Silva, two of the best football brains in the country, paired together in midfield. That inspired their early season run as well as their recent recovery. The quick front three create space for Silva and De Bruyne, who control the game together. City have played some of their worst football, not by coincidence, with De Bruyne stuck out on the wing.
Like all truly modern midfielders, De Bruyne can do almost anything asked of him on the pitch. "I compared him to Cruyff also for his multiple options," Vanhaezebrouck said. "He can make an individual action, he has a shot, he can give assists. But he can also distribute the game, he can take the ball from the back, play a fantastic long ball, he can play a ball in between. That is why I compared, although he is not a general like Cruyff." The one thing De Bruyne cannot do, like Cruyff, is head the ball.
The rise of De Bruyne to being one of the top midfielders in Europe has been the story of his harnessing that natural football intelligence, which is why City signed him, to the physical side of the game, which did not always come as easily. It has also been his precociously single-minded pursuit of where he wanted to go in the game, armed with his own Cruyffian frankness.
It all started when De Bruyne was playing for his home town team Drongen, and then at the age of eight he told his parents that he wanted to go and play for Gent too. "I have been training the Gent youngsters for 25 years," coach Frank de Leyn told The Independent, "and I can say that he was one of the best I ever had. I said he would reach the first team, although people said he was too young for me to say that."
Under-9 football, though, is more about individual actions than team play. De Bruyne was a brilliant soloist, winning games single-handedly, but it was when he left Gent that he showed the player he could become. Anderlecht and Club Brugge were interested but De Bruyne, even at 14 keen to mark out his own career, decided he would go to Genk, on the other side of the country, instead. He preferred their style of play.
Once De Bruyne settled at Genk, the coaches knew they had a football brain rarely even found in a teenage boy. "The first time he was with me was under-17," Genk coach Domenico Oliveri told The Independent, "already you could see he was a good player, because he was thinking and using the ball quicker than the other boys. He does not need to touch the ball two, three or four times."
The problem with this is that not every teenage player is a football genius. "He sometimes played too quick for the other players," Oliveri said. "He did things that the team-mates did not understand." Vanhaezebrouck said the same. "He had already had [that vision] when he was young, that's quite unusual," he said. "He was the smartest guy I had in training, even at 16. But he did not have the body yet."
While De Bruyne stands out for his physical power and stamina at City now, it was not always that way. He was a physically late developer who did not look like a natural athlete at Gent or even at Genk. And when he had to work on it he did not want to. At his sports school as a teenager he once objected to cross-country running, telling the coaches that his parents paid them to teach him football, not athletics.
When De Bruyne was at Genk it was the same. In the summer of 2010 the coaches took the players away to Spa for some pre-season mountain-biking. De Bruyne was not happy about it and did not mind, at the age of 19, complaining to the staff that mountain-biking had nothing to do with football. If it sounds precocious it is not unprecedented. When Cruyff was a teenager at Ajax he hated cross country and gym work that Rinus Michels made the squad do, hiding in the forest to make it look like he had run further than he had.
De Bruyne worked on the physical side of his game at Werder Bremen and Wolfsburg enough to be able to drive City forward in midfield. But he has always maintained that frank single-mindedness, lecturing senior team-mates on their responsibilities, just as Cruyff did, and that periscopic vision that marked him out from the start. "It's a natural gift, I don't think you can train it," Vanhaezebrouck said. "And you have guys who can see it, but you have to execute it too. What Kevin sees, he can execute."
Register for free to continue reading
Registration is a free and easy way to support our truly independent journalism
By registering, you will also enjoy limited access to Premium articles, exclusive newsletters, commenting, and virtual events with our leading journalists
Already have an account? sign in
Join our new commenting forum
Join thought-provoking conversations, follow other Independent readers and see their replies