Manchester City vs Sevilla: Who needs Moneyball if you have Monchi?
Sevilla's director of football could teach some British clubs how to spend their cash more sensibly after earning his own €200m in 15 years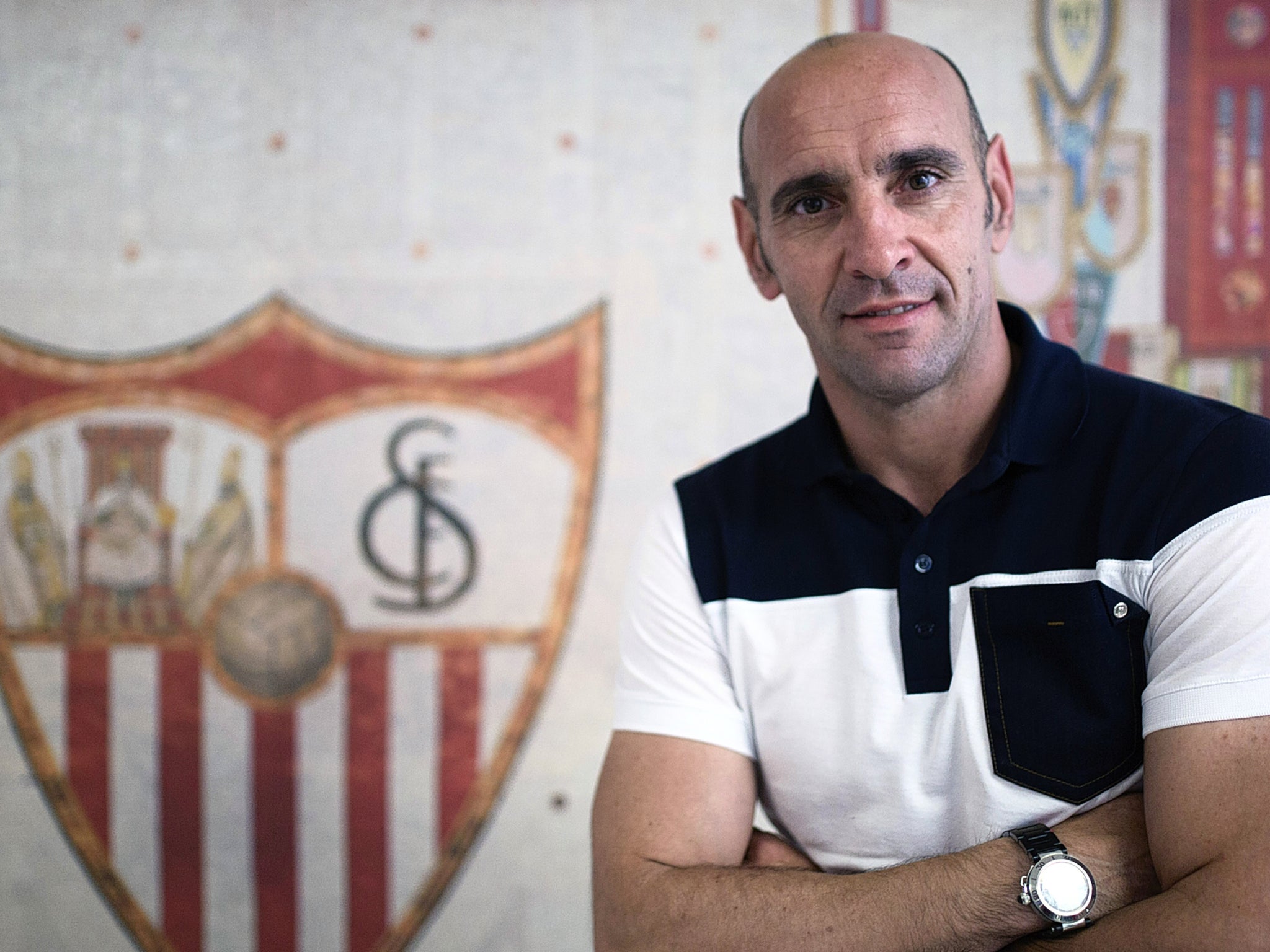 Coming from anyone else, the line: "I thought about signing Luis Suarez before Liverpool did," might seem like convenient revisionism, but when it is Sevilla's director of football Monchi saying it, the gut reaction is to believe.
Ramon Rodriguez Verdejo, better known as Monchi, has built more teams than your average analytics-embracing club owner has sacked coaches. He is Mr Moneyball taking on the wealthy by spending a lot less money, a lot more wisely. In many ways he is also the "Anti-Moneyball". "We work a lot with some very good databases but often the key lies in what cannot be measured," he told Panenka magazine this year. "When you have all the objective data at your disposal you have to add your own subjective impression of the player and ask not 'How good is he?' but 'Will he be good for Sevilla?'"
On Wednesday night, Monchi will be in Manchester as Sevilla, who spent €20m (£14.7m) on new signings this summer, face Manchester City, who spent £153m in the same transfer window.
He spoke about his Suarez near miss in an interview with Catalan paper La Vanguardia last summer while in the midst of another pre-season of rebuilding. "I spoke with Suarez when he was still playing wide in Ajax's front three," he said. 'We had a meeting but his signing depended on us selling Luis Fabiano and in the end he went to Liverpool for a lot of money."
Liverpool ended up selling Suarez for a lot of money too – most of which they subsequently spent badly. Tottenham did much the same with the profit from the sale of Gareth Bale. Little wonder that both clubs have been linked with Monchi, who says it is the sentimental attachment that keeps him at Sevilla.
He made his debut for the club as goalkeeper in 1990 but played only 85 games before retiring in 1999. He coincided with Diego Maradona, who played for Sevilla in 1992. "He was at 30 per cent of his capacity but still better than the rest of us," Monchi recalls.
The two remain good friends and he still has the Cartier watch Maradona bought for him when, sitting next to him in the dressing room, he spotted how noticeably fake Monchi's Rolex was.
When his modest playing career was over Monchi took charge of the club's youth system in 2000. It has produced Jose Antonio Reyes, Sergio Ramos, Alberto Moreno and Jesus Navas, but it is his eye for a signing that sets him apart.
Freddie Kanouté looked washed up at Spurs in 2005 but Monchi saw through the decline. He joined Sevilla aged 28 and won six cups, scoring in all but one of the finals.
Ivan Rakitic had impressed in Germany and Monchi spotted not just a top player but someone whose personality would fit the club and the city. He was not wrong. Rakitic met a local waitress, Raquel, on his first night in Seville and they are now married.
He was not wrong about him as a player either. Bought for €2.5m, Rakitic moved to Barcelona for €18m last year after captaining Sevilla to Europa League success. They remain close friends, and Monchi is godfather to Ivan and Raquel's daughter.
Monchi has also been hugely successful in spotting South American talent. Julio Baptista, Fazio and Adriano all arrived untried in Europe and were sold on for a sizeable profit. Dani Alves remains his greatest acquisition.
One of his scouts, Antonio Fernandez, spotted Alves playing for Brazil's Under-20s and when Monchi followed up the interest he saw him inspire Brazil's Under-21s to a 2-1 victory over Paraguay despite his team having gone down to nine men. He knew straight away he had found something special.
Sevilla were a rarity between 2003 and 2008 – a team led by their right-back. When "Daniel" as Monchi calls him left for Barcelona, the club's trophy run came to a temporary end and it was easy to conclude that the Brazilian had been the magic ingredient, but they won back-to-back Europa Leagues in 2014 and 2015. Monchi, not Alves, is the common thread that runs through these golden years.
He says that apart from two weeks' holiday at the start of September there is no respite from the 12-hour days. He is not someone who needs a great deal of sleep, which is an advantage when there is an important game in South America he should see kicking off at 3am European time.
The Alves signing underlines the importance of teamwork. He has 16 scouts working for him and each of those will have their own network of talent-spotters. Monchi has a list of the top 10 players in every position that the club should be following and it is updated monthly.
He has the last word on players but the relationship with the first-team coach, Unai Emery, is flexible. This summer Emery wanted Fernando Llorente from Juventus so he was signed. It will be on him, and not Monchi, if it does not work out.
In last summer's Barcelona club elections Monchi was the sporting director the presidential candidate Agusti Benedito wanted, but he politely declined the offer. He says being Sevilla's sporting director is his "passion first and job second", explaining: "I am in a place of work that makes me happy. I work for a club that has given me everything. I have autonomy and independence. Why would I want to change that?"
He went to live in London for six months during the 2013-14 season and spent his time learning English and studying the way clubs in England work. Adding English to his fluent French makes him an even more eligible proposition but he says he did it to improve the job he is doing for Sevilla, not to lay a path for himself away from the club.
It is hard to see him walking away now with Sevilla back in the Champions League, even if from the outside he does appear to be painting the proverbial Forth Bridge. No sooner had they won the Europa League last summer than Carlos Bacca moved to Milan and Aleix Vidal went to Barcelona. They were sold for a combined €48m, having only cost €10m. In 15 years at the club Monchi has made an estimated €200m in the transfer market.
Not that it's about the money – and perhaps that is the real magic of Monchi. Asked recently if his primary aim was to buy well or sell well, he replied: "Neither. The priority is to win trophies." Sevilla have won eight of them in the last nine years, so it's fair to say the methods are working.
Join our commenting forum
Join thought-provoking conversations, follow other Independent readers and see their replies