Manchester United forced to rethink Europa League ticket prices
73.5 per cent of the club's fans said it would affect their renewal of season tickets if they were charged Champions League prices for Europe's second tier competition next season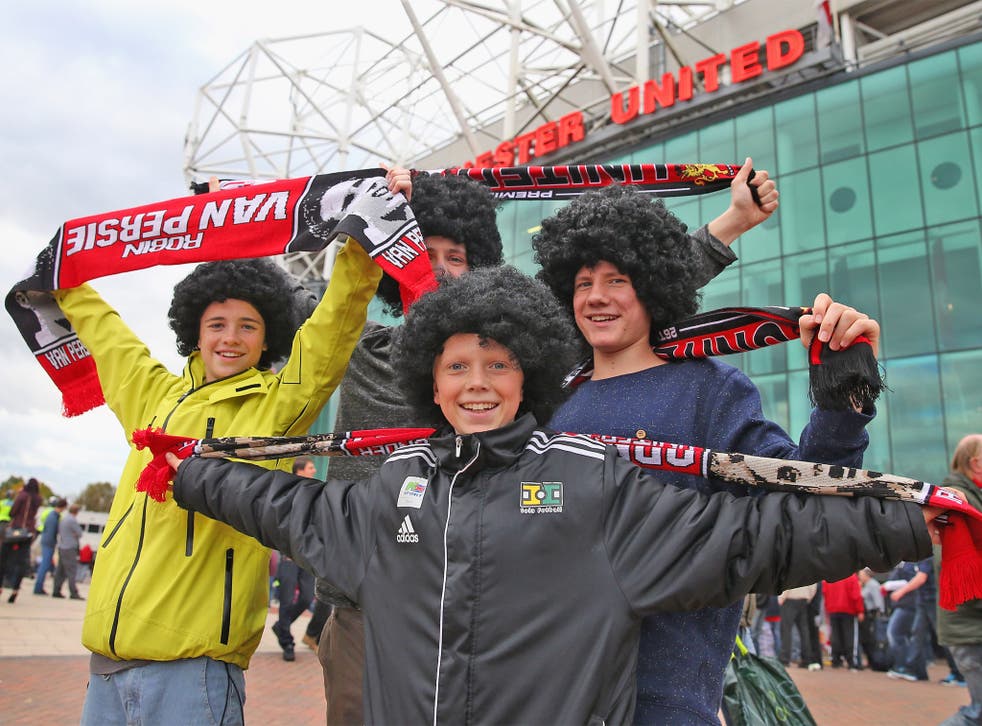 Manchester United are considering bowing to fan pressure after nearly three-quarters of those surveyed by the club's Supporters Trust declared they would consider not renewing their season tickets if they are charged Champions League prices for Europa League seats next season.
The Independent revealed last week that United had decided that Europa League games would not be excluded from season-ticket prices for 2014-15 and that they would carry the same charge as Champions League fixtures when included in the controversial Automatic Cup Scheme (ACS). This also forces season-ticket holders to buy a seat for home FA Cup matches and is one of the most resented features of the commercial regime installed at Old Trafford by the Glazer family.
But the response from supporters has been strong, with 73.5 per cent of nearly 800 surveyed by the Manchester United Supporters Trust (Must) stating that the inclusion of Europa League tickets in the ACS at full price would definitely affect their decision to renew.
A further 17.2 per cent said it may affect their decision and only 9.3 per cent maintained that it would not. The Independent understands that United are now giving serious consideration to removing Europa League games from ACS altogether and also reducing the price for games, as it did when the club were eliminated from the Champions League at the group stage two years ago and faced Ajax and Athletic Bilbao.
United's dilemma coincides with renewal notices being emailed out to fans. The issue has the potential to become incendiary at a time when supporters are being asked to show patience with manager David Moyes during the club's difficult transition period after Sir Alex Ferguson's retirement.
Manchester United 2013/14 - a season of new lows

Show all 11
Though United publicly maintain the position that they believe they can still qualify for the Champions League, the prospect is receding fast, with fourth-placed Manchester City now 12 points ahead of them with a game in hand.
The United board do view the Europa League as a competition they want to enter and win next season, with the prime incentive being the fact that the winners will quality for the 2015-16 Champions League for the first time, under new Uefa rules.
Victory in next year's Europa League final in Warsaw's National Stadium would mean United enter the play-off round of the following season's Champions League, if they have not already qualified through the Premier League.
The qualification rule change was introduced by Uefa's executive committee in an attempt to add greater importance to the Europa League amid concerns that teams from some of the major leagues do not take the competition – which replaced the Uefa Cup in 2009 – seriously enough.
Register for free to continue reading
Registration is a free and easy way to support our truly independent journalism
By registering, you will also enjoy limited access to Premium articles, exclusive newsletters, commenting, and virtual events with our leading journalists
Already have an account? sign in
Register for free to continue reading
Registration is a free and easy way to support our truly independent journalism
By registering, you will also enjoy limited access to Premium articles, exclusive newsletters, commenting, and virtual events with our leading journalists
Already have an account? sign in
Join our new commenting forum
Join thought-provoking conversations, follow other Independent readers and see their replies