Shambolic Manchester United concede embarrassing goals in Istanbul Basaksehir defeat
Istanbul Basaksehir 2-1 Manchester United: Demba Ba and Deniz Turuc took advantage of abysmal United defending to earn Champions League win
Mark Critchley
Northern Football Correspondent
Wednesday 04 November 2020 19:47 Comments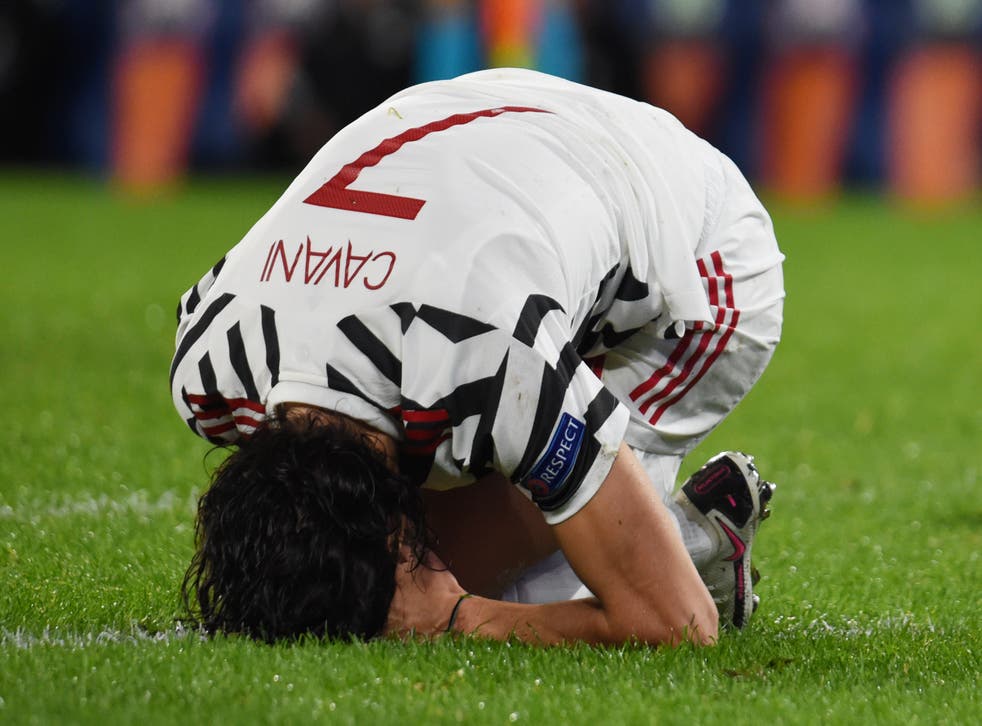 Leer en Español
As amateur football teams up and down the country prepare to go into lockdown, Manchester United paid a moving tribute to the type of ramshackle defending that will be sadly missed from park pitches on Sunday mornings this winter. It may still be a long and busy season at elite level but you will do well to see two worse examples of collective defensive organisation than Istanbul Basaksehir's two goals.  
If only there was a high-profile example of why you shouldn't let Demba Ba run through one-on-one at your goalkeeper from the halfway line. But on the banks of the Bosphorus, that is exactly what Ole Gunnar Solskjaer's side did to fall to their first Champions League win of the season and hand Turkish title winners Basaksehir the first Champions League win in their history.
Ba's goal was bad enough but Basaksehir's second through Edin Visca was not much better, with United easily dispossessed and pulled out of position. Anthony Martial's header offered a route back into the contest but United failed to take it. Their limp attempts to find a second-half equaliser were also concerning. Solskjaer's players mustered little of note until forcing one late goal-line clearance by Alexandru Epureanu.
After the brilliant victories over Paris Saint-Germain and RB Leipzig, this was a result that brought United crashing back down to earth. Their return to the rarefied level of European football's elite club tournament had previously provided Solskjaer and his players with some respite from a difficult domestic campaign but United's problems are too great to be limited to a single competition.
It is puzzling how a team capable of playing as well as they did in the 5-0 victory over Leipzig could deliver a performance like this just a week later but Solskjaer's time in charge to date has told us to expect the unexpected, with wild swings from the sublime to the ridiculous. This was a performance that not even his former team-mates now working in punditry could defend, with Paul Scholes describing the defending for Ba's goal as "under-10s football" and "embarrassing".
It began with the breakdown of a short corner and Aaron Wan-Bissaka's cross being blocked and cleared. No problem, you'd think, only Nemanja Matic was a full 20 yards inside Basaksehir's half and yet somehow United's deepest player. That left Ba perched on halfway, entirely unmarked, and with a clear run on Dean Henderson's goal. It was staggeringly bad from United and no surprise when, like when bearing down on Simon Mignolet at Anfield six years ago, Ba effortlessly converted.
And yet, the defensive calamities did not end there. Basaksehir would double their advantage through the lively Visca when Juan Mata was easily robbed of possession by Deniz Turuc to immediately spring another counter-attack. United's defence rushed to close down both Turuc and Ba but in doing so, entirely neglected Visca's late arrival on the far side of the penalty area. Turuc's pass ran through and Visca finished emphatically.
It was another astonishingly poor piece of defending and yet still only the second-worst goal that United had conceded during the evening. At least their response was immediate. One positive of recent weeks has been Luke Shaw's greater threat going forward and it was his cross which Martial converted, guiding a clever header down and into the far corner out of goalkeeper Mert Gunok's reach. It was a precious foothold to take into the break and more than United's first-half display had deserved.
Solskjaer needed to change something. Scott McTominay replaced Axel Tuanzebe and Matic dropped back into the defence - a curious decision as Victor Lindelof, United's most in-form centre-half, was left among the substitutes. Unsurprisingly, this did not elicit an improvement in United's performance and nor did the introductions of Paul Pogba and Edinson Cavani shortly after. It was unclear exactly how Solskjaer wanted this new formation to set up. United's attempts to equalise were confused and directionless.
The closest they came was through a Basaksehir player in the second minute of added-on time. Mehmet Topal's heart was in his mouth when his sliced clearance of a corner headed back towards his own goal. It was mere millimetres away from crossing the line but Epureanu's own sliced clearance sent the ball high over the crossbar. That United had barely any influence on what could easily have been an undeserved equaliser summed up their ineffective night in front of goal.
But the blame should not fall solely on the unproductive attack, the abysmal defence or the questionable management. They must all take their share of responsibility for a comprehensively abysmal United performance.
Register for free to continue reading
Registration is a free and easy way to support our truly independent journalism
By registering, you will also enjoy limited access to Premium articles, exclusive newsletters, commenting, and virtual events with our leading journalists
Already have an account? sign in
Join our new commenting forum
Join thought-provoking conversations, follow other Independent readers and see their replies