Manchester United frustrated as Paulo Dybala hands Juventus victory on Cristiano Ronaldo's return
Manchester United 0-1 Juventus: Cristiano Ronaldo enjoyed his return to Old Trafford as he played his part in the Paulo Dybala's decisive first-half strike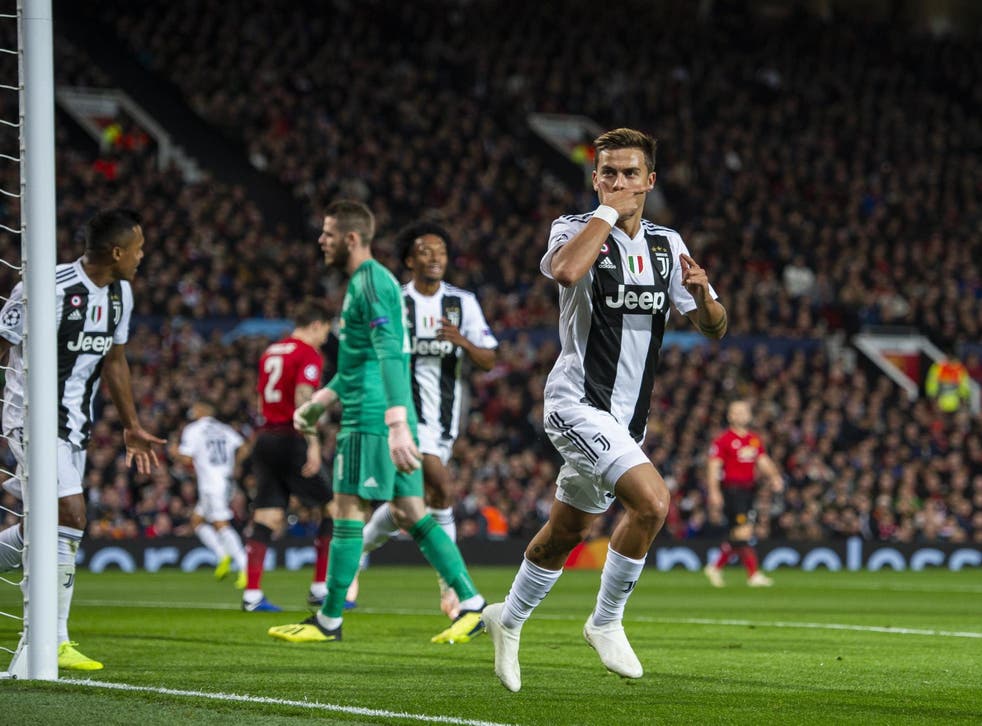 Another miserable European night at Old Trafford. Far from one of those magic-filled games this fixture has fired in the past, this was instead much more like the game in 1996-97 where Juventus were on another level to Manchester United, and another troublingly passive display to go with the general pattern of this season. The returning Cristiano Ronaldo – who arrived to questions about the sexual assault claims he faces – wasn't given the kind of raucous welcome back he was in 2013 with Real Madrid, but then it didn't matter that he wasn't much more than quiet himself. The Portuguese only offered the odd moment of quality, including the cross that indirectly led to Paulo Dybala's decisive strike. That, however, was enough. The 1-0 lead was enough. This accomplished Juventus never looked like giving up the lead, against a team utterly unable to lay a glove on them.
It meant this was often chastening and occasionally embarrassing for United, even if only 1-0.
Juve's evident superiority meant there was this time no emotional rally or response from United to going behind, unlike the recent matches against the much poorer defences of Newcastle United and Chelsea, or even the defeat here to Juventus that followed that long night of the soul in Turin back in 1996-97. Under Sir Alex Ferguson then, United at least offered the spirit to go with occasions like this at this stadium. They lost those matches because Juventus were then so much wealthier they were buying the best players in the world, while Ferguson's young side were on such a learning curve in Europe.
Those gaps don't exist now, when United earn so much more as a club than the Italians, so what is the lesson?
Player ratings: Manchester United vs Juventus

Show all 22
You wouldn't learn much about attacking shape or co-ordination watching this Jose Mourinho side, anyway.
One of many other differences between the teams early on was not of star power but basic structure. While Juventus' assured organisation made United's lack of true attacking co-ordination all the more pronounced, the erratic nature of the home backline was so easy to pick holes in.
Dybala had early on spotted a big one, but United didn't even notice until way too late. The brilliant attacking playmaker had repeatedly made the same run in the opening few minutes, right through the centre of Mourinho's defence. It almost brought a goal when one break was spotted by Juan Cuadrado, but the cross was a bit too high. The warning wasn't heeded.
From the same crossing position, and the same run, Juventus went ahead. Some of the roles were switched as it was this time Ronaldo who supplied the cross. Cuadrado couldn't quite connect, but that just left a completely unmarked Dybala to run in and tap in.
If the source of danger had by then become so obvious to as to be depressingly predictable, it also made the culprits obvious.
Shaw was so easily beaten by a Ronaldo cross that wasn't actually that dangerously delivered, and Nemanja Matic had left an entire tranche of the midfield uncovered.
The Serbian, one of Mourinho's main lieutenants and apparently undroppable, was playing like he was testing that status. It as was if – like more than a few Premier League teams now – Juventus were targeting him and putting Matic under pressure. That led to a lot of passes given away but, worse, a lot of necessary defensive runs not made.
That was what was most inexplicable about the midfielder's display, but it was entirely in synch with United's general passiveness.
Juventus weren't even that intense, only really raising it when opportunities were presented to do so, because they knew it would bring a lot of danger. David De Gea was of course forced into so many fine saves, that prevented the scoreline being as bad as the general performance.
It just raised the question of what exactly United were trying to do. Just sit back and try and nick something? Really? In a fixture that evokes as much history as this, on a stage like this?
And where was the ineffective Paul Pogba on such a stage? United bought him back from Juventus in such a trumpeted triumphant deal but – for all the oscillations since then – you could only really say the Italians have properly improved from that point.
Along the same lines, it was a game that eroded some of the positives of the last two comebacks against Newcastle United and Chelsea. It suggested that they only really happened because of personal pride and circumstance rather than any kind of broader gameplan.
This Juventus defence were never going to be as susceptible to sudden surges or chaos as either Newcastle or Chelsea, nor were they ever going to allow the match to get so open.
When Anthony Martial seemed to finally break free just after half-time, Leo Bonucci was of course right in with a perfect tackle to take away the chance any life from the United attack.
Not that there was much of the latter. This poverty of movement was personified by Romelu Lukaku, who has recently become a bit of problem.
He misses a lot of big chances for someone who generally has big numbers regarding goals, but worse here was the complete lack of movement, the lumbering performance. There was one moment in the second half when United seemed like they were finally about to get an attack going, only for the striker – of course – to play the ball too slowly and too far behind Juan Mata.
It was just, with Alexis Sanchez apparently injured after international duty, he wasn't even on the bench.
United meanwhile just weren't on the same level as Juventus.
They couldn't rise to the level, and means all those questions resurface up again.
This was a night that evoked history alright, but not in the way the home team would have wanted.
Join our new commenting forum
Join thought-provoking conversations, follow other Independent readers and see their replies