Manchester United news: Angry Jose Mourinho takes part in chaotic pitchside press conference in Beijing
Half the squad were already re-routed to an airport 160 miles outside of Beijing with the flight from Shanghai diverted as a result of adverse weather in the Chinese capital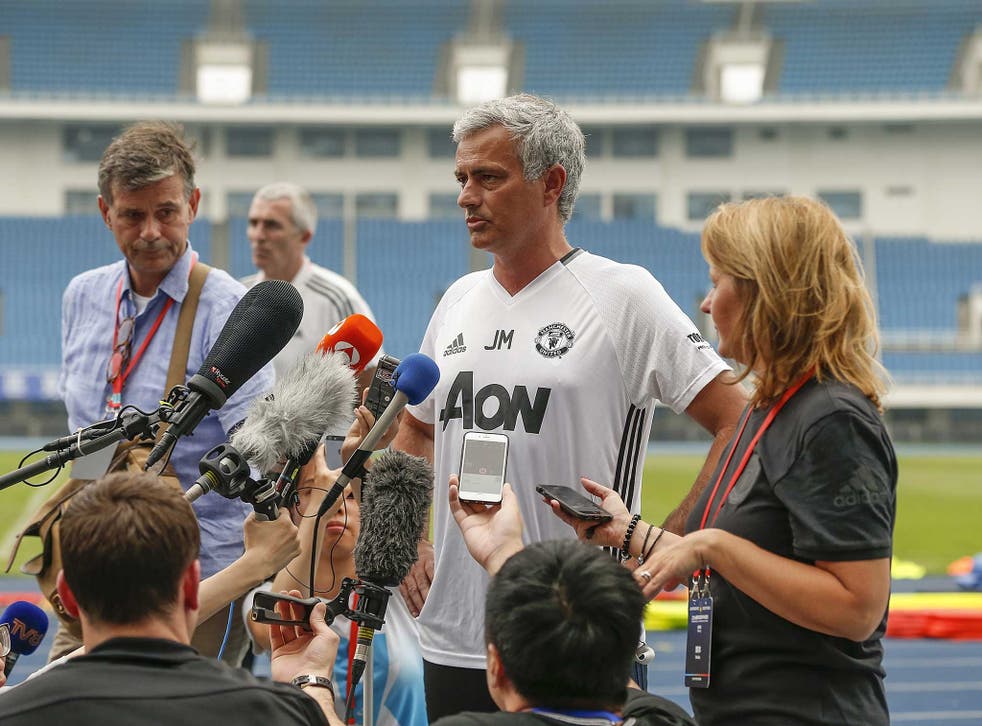 Manchester United's tour of China descended into chaos on Sunday with Jose Mourinho forced to hold a pre-match press briefing on the side of the stadium pitch due to stifling conditions inside the conference room.
Hours earlier, Manchester City manager Pep Guardiola was handed a towel to wipe his brow as temperatures reached unbearable levels inside the Olympic Sports Centre.
That venue had already been hastily arranged after both teams were told they could not train on the pitch at the Bird's Nest Stadium.
Mourinho timeline - How the Special One made it to Manchester United
But with United's security team vetoing the cramped press room due to the heat and overcrowding, Mourinho spoke to a bank of journalists by the side of the pitch moments before training in Beijing.
The incident capped a chaotic 24 hours for United, with half the squad re-routed to an airport 160 miles outside of Beijing with the flight from Shanghai diverted as a result of adverse weather in the Chinese capital.
And United and City are now both anxiously waiting to discover if Monday's friendly clash in Beijing will go ahead due to pitch concerns at the Bird's Nest.
Groundstaff are working overnight to repair the pitch, which faces a further battering from torrential downpours forecast for the next 24 hours.
Join our new commenting forum
Join thought-provoking conversations, follow other Independent readers and see their replies