Marcelo Bielsa is just the latest part of the Lille revolution - and confirms them as a club to watch in 2017
The eccentric Argentinean coach is the latest piece in a jigsaw that contains some already intriguing pieces
Jack Pitt-Brooke
Friday 24 February 2017 12:06 Comments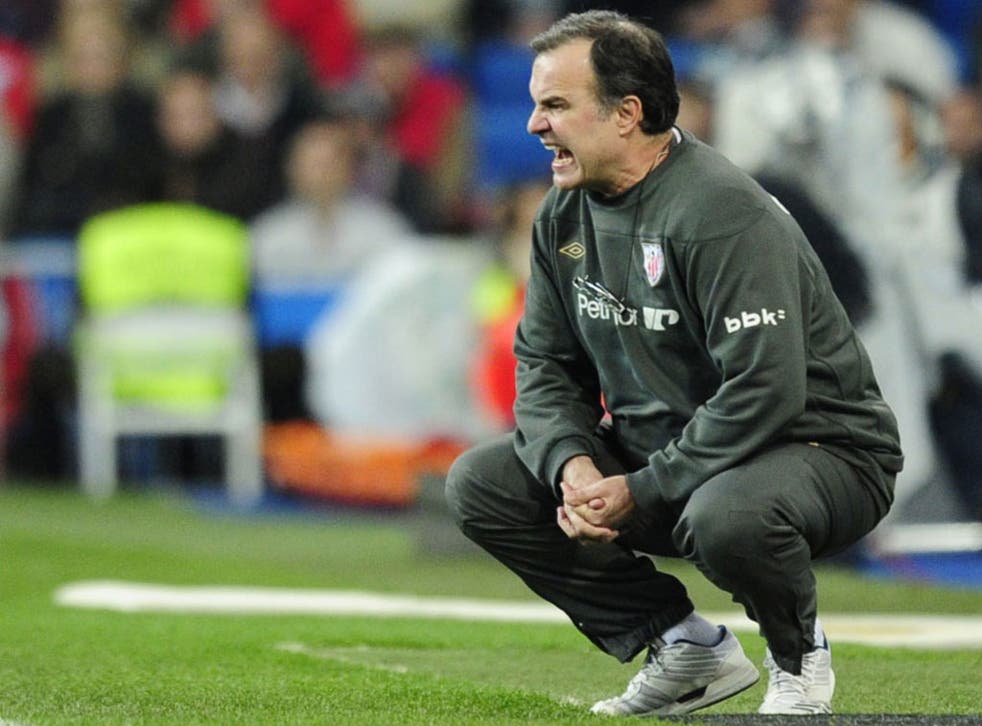 It was not the obvious next destination for the legendary manager whose last three club jobs were Athletic Bilbao, Marseille and, for two strange days last summer, Lazio. But Marcelo Bielsa, the man hailed this week by Pep Guardiola as the "best coach in the world", will be managing next season at Lille.
It is a surprising move for Bielsa but he is a coach who has always embraced a challenge. And from this summer he will take charge of what could be the next exciting project in European football. Last month Lille were bought by Gerard Lopez, the venture capitalist who made his money investing in Skype and then spent it to buy the Lotus Formula One team.
Lopez has taken over from veteran owner Michel Seydoux, the film producer who had been president since 2002 but whose interest and money was dwindling. His Lille team, inspired by Eden Hazard, won the French double in 2010-11 but then they sold their best players and, over time, started to drop down Ligue 1.
But Lille hope all of that will change this summer. Lopez has big money and, just as importantly, good contacts. He has brought in two top executives to help him sign players.
First, Luis Campos, Lille's new sporting director. Campos was technical director of Monaco from 2013 to 2016, joining having been a scout for Jose Mourinho at Real Madrid beforehand. Campos is close to Jorge Mendes and at Monaco he used that relationship, as well as Dmitry Rybolovlev's money, to help to bring Radamel Falcao, Joao Moutinho, James Rodriguez and Bernardo Silva to the club.
Campos is not just a Mendes associate, though, he is a very highly rated scout who also helped to recruit the young generation of French players, Tiemoue Bakayoko, Djibril Sidibe and Benjamin Mendy, who have been just as impressive. He was just about to get a job at Marseille before Lopez called with a better salary offer. His job is to do what he did at Monaco, finding cheap players who will become expensive, a project in the model of FC Porto.
Even more important than Campos is the new general manager of the club, Marc Ingla. He is a former business partner of Lopez from Mangrove Capital, Lopez's old venture capital firm. What Ingla is most famous for is his work at FC Barcelona, where he was vice-chairman from 2003 to 2008, overseeing the deals with Nike and Unicef. Ingla worked closely alongside Ferran Sorriano and Txiki Begiristain, who appointed Pep Guardiola as coach in 2008, with historic results.
In 2010 Ingla stood for the presidency of Barcelona, as the pro-Guardiola pro-Johan Cruyff candidate. He was well beaten by Sandro Rosell but he is still close to Guardiola and his brother Pere, an influential agent.
Between Campos and Ingla, Lille now have two of the best-connected football executives in Europe, exactly the right people to put Lopez's money to good use this summer. They are going to go hard in the transfer market. One of their first targets is William Carvalho, the Sporting Lisbon and Portugal midfielder who has just signed a deal with Pere Guardiola. If Lopez can match Carvalho's salary demands it would be a good start.
On top of this new structure, Lopez wanted a coach with a clear way of playing who would bring spectacular football to the Stade Pierre-Mauroy. He also wanted a man who would improve the young players that Campos will find, for the good of their team and for their eventual sale. So he went for Bielsa, out of work since his farcical Lazio spell, and got him.
Bielsa's old assistant from Marseille, Franck Passi, has already joined Lille to prepare the players for their new manager. Everything is being put precisely into place.
Register for free to continue reading
Registration is a free and easy way to support our truly independent journalism
By registering, you will also enjoy limited access to Premium articles, exclusive newsletters, commenting, and virtual events with our leading journalists
Already have an account? sign in
Join our new commenting forum
Join thought-provoking conversations, follow other Independent readers and see their replies