Marian Pahars on depression, getting advice from Pep Guardiola and his dream to manage Southampton
Exclusive interview: The Saints cult hero opens up about the loneliness that hit him when he arrived on the south coast, and how he would snap up any chance to return to the UK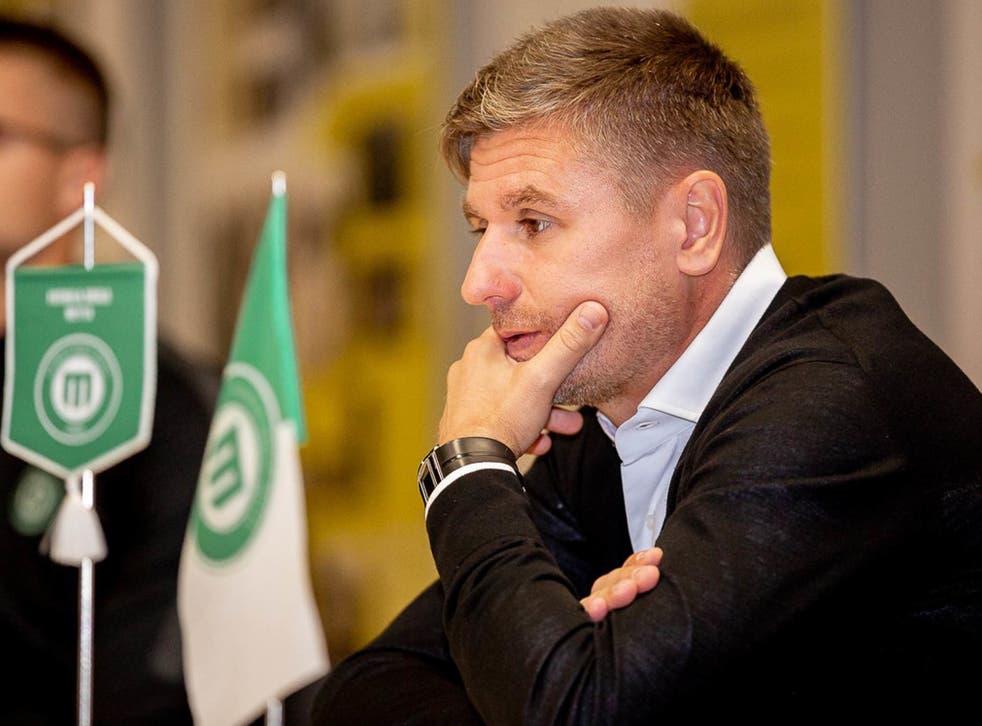 In a few months it'll be 20 years since Marian Pahars first landed in England, where he began a journey to cult hero status at Southampton, and is still a name that echoes across the terraces at St Mary's today.
Sinking back into a chair 1,300 miles away in a sub-urban Riga cafe, the man once dubbed "the Latvian Michael Owen" embarks on a wide-ranging two-hour conversation with The Independent about his career, from experiencing depression on the sidelines, to visiting Pep Guardiola to ask for coaching advice, and his zealous desire to one day manage Saints.
Although the 42-year-old proudly calls Southampton his second home, he has spent the last decade, and the entirety of his managerial career thus far, in the Latvian capital – including a four-year spell at the helm of the national team – and is now in charge of mid-table regulars, Jelgava.
But despite a convivial expression and leisurely tone, Pahars starts with an uncomfortable admission. When he arrived on the south coast in 1999, he struggled so much to fit in that he almost immediately considered heading back to Eastern Europe. His lack of English meant he could barely say hello to the likes of Matt Le Tissier and James Beattie whenever they attempted a friendly chat with him in the club canteen. The language barrier led him to feeling overwhelmingly isolated.
"I was stuck in my corner, and at some point they stopped coming to me," he says, "I was sitting there on my own, it was very difficult. I remember I came to the hotel with my wife – we hadn't moved to the house yet. She was pregnant at the time, and I said 'I'm not going to training tomorrow. I'm just alone, it's impossible, I'm just not social'. It was very difficult. But slowly, I took the lessons, I scored my first goals. That really helped. And eventually I integrated."
During his seven seasons at the Saints he worked under the likes of Glenn Hoddle and Gordan Strachan, but it's his first boss Dave Jones that the Latvian has the biggest admiration for. Prior to Pahars' arrival, it was Jones who saw potential in the then 22-year-old. In a reserve game against Oxford United he demonstrated his aptitude with a perfect hat-trick, paving the way to a contract.
"I'm so grateful for him to give me that chance, because he always had an eye on the players. Not everyone has this. You can be an amazing coach, fantastic at tactics, but just don't have that feeling, you know? He had that ability to talk to the players, to praise them, or sometimes to be tough with them. And it did work. It didn't need tactics with that. We just wanted to give him maximum."
Working with Jones brought some of the proudest moments of the forward's career, such as scoring a brace in the final game of his first season to keep Southampton in the Premier League. He still keeps in touch with his former boss today. But after the Liverpudlian departed on the turn of the millennium, he was unable to be there for when injury struck Pahars two years later, with mental health problems taking their toll as he failed to find form again.
"I wasn't playing for a whole year at one point, and it's very difficult to accept that," he says, his jovial smile transitioning into a serious focus as he ponders over his past. "Slowly I realised my leg was not the same anymore. And that was the biggest problem, because if I knew in three months' time I was going to be fine, then okay, I'd be feeling alright. I'd work hard these three months and be fine. But then I felt I was never going to get back to that level, and that happened eventually. So that put me into the depression, because that was the end of my career. It was the end of football. Of course something you do all your life and at some point it ends, so it was difficult for me. I didn't know what I was going to do, and how my life was going to change. It wasn't easy."
Such is the way with football, Pahars was ousted by manager George Burley despite his desire to see out his career at St Mary's. "I needed time to get fit, to come back. But he didn't give it to me. He didn't give me any option, and he was like ignoring me, and all he was saying was 'we are not renewing your contract, goodbye.' So I was really sad, I left and never shook his hand. Of course, now I would react a different way, but you know it all comes with experience."
Transitioning from the receiving end of austere management to the other side of the touchline, Pahars now fully understands why Burley acted this way, and he says it has helped his career. Now, when he has to tell a player his services are no longer required, it's an added advantage having headed despondently for the exit door in their shoes.
When he did eventually leave Southampton, the striker decided he needed cut ties with the UK completely, rejecting a move to Mickey Adams' Coventry City. "I couldn't imagine myself at a different club after so many years in Southampton, after the special relationship with the fans. I know it's not going to be right."
Settling back into his home town, Pahars was encouraged into management, and offered the job at Skonto Riga, the club that started everything for him. But when he took charge in 2011, Pahars knew something wasn't right.
Owner Guntis Indriksons, referred to as the "unofficial king of Latvia", was running out of money, and unlike in England's top flight, where potential owners are lurking behind every corner, there was no one on hand to step in and keep the club afloat. Bankruptcy hit five years later and Skonto was eventually pushed out of existence.
"We didn't receive salaries for seven months," Pahars says. "That was the situation. Nobody at the club [was being paid], it was very, very bad. We were losing players during the season. The situation was very bad, not just in terms of money, but the treating of people."
He refers to an unforgettable moment when Skonto faced a mid-summer Europa League qualifier with Hajduk Split, but couldn't afford to pay for their flights to Croatia. Hat in hand, the young boss had to beg his own wife's grandfather for the money. "I think they gave it back to him after we received money for playing the game," he says, laughing at the absurdity. "So, that was reality, for one of the best teams in the country at the time!"
Following in the footsteps of Aleksandrs Starkovs, who Pahars took over from at Skonto, the national team job was soon on offer. But before he stepped up to take on such a big role, Pahars wanted to be sure he was ready. He continued studying the styles of different coaches, and even went further ashore to speak to various experienced managers. The most notable of all these meetings was a private audience with Pep Guardiola, while the Catalan was at Bayern Munich.
One thing that remained in Pahars' mind was how engaging Guardiola came across; the sincerity in his words, and how that reflected in his coaching. He took a lot away from their "priceless" encounter. "His eyes are shining. That means when he speaks to the players, they believe him. And the most important part of our job is for the players to believe us. If they don't believe something you're saying to them, then there's no chance.
"I was asking him stuff like how he deals with the players, the stars. What kind of coach he is and how he motivates the players. Normal stuff. Not only one, I went to a lot of clubs to follow, to see the attendances, the training styles and stuff like this. But at the end of the day you cannot copy anybody, it's impossible. You have your own character and you react your way, and it should be your way."
Pahars probably won't go back to international management – he's learned his satisfaction lies in watching players develop throughout a season – and his time at the helm of the Latvian team brought with it pressure like nothing else. Football isn't Latvia's most popular sport. For some it falls third in line, behind basketball and ice hockey. And yet, like in England, the expectation from the stands to the back pages doesn't relent while in charge of a national side. It's something Pahars admits he eventually gave in to. "We started to believe the rubbish they were saying. We start to change a lot of things… It takes just a couple of games to have so much negativity and hate, and it's difficult. It's why at one point I just said 'enough'."
With the season coming to an end earlier this month at Jelgava – it runs from February to November in Latvia – Pahars will pick up the pieces of his current club's campaign, where they narrowly avoided relegation and finished 21 points behind the closest team above. He may come to realise in his assessment - though he's too modest to admit it - he's better than this.
When asking him what was next, and whether he'd ever be tempted by a move back to the UK, his eyes suddenly light up. He's been asked about this before, but admits he never previously felt ready to admit that it would be "a dream" to manage Southampton. Now, he's prepared for anything. He notes that when he saw Claudio Ranieri lift the Premier League with Leicester City, it inspired him enough to think anything was possible.
"One day if I can ever come back to Southampton, I would do everything to be successful there. The only thing is it's not so easy to get to the club where you were a cult hero… If I ever had a chance to manage in the UK, even in a lower league team, I would take this option with confidence and satisfaction, definitely."
Join our new commenting forum
Join thought-provoking conversations, follow other Independent readers and see their replies