Is Mario Mandzukic's goal the best ever in a Champions League final?
Zinedine Zidane, who watched on from the touchline in Cardiff, volleyed in an all-time great final goal way back in 2002 - but how does Mandzukic's stand up?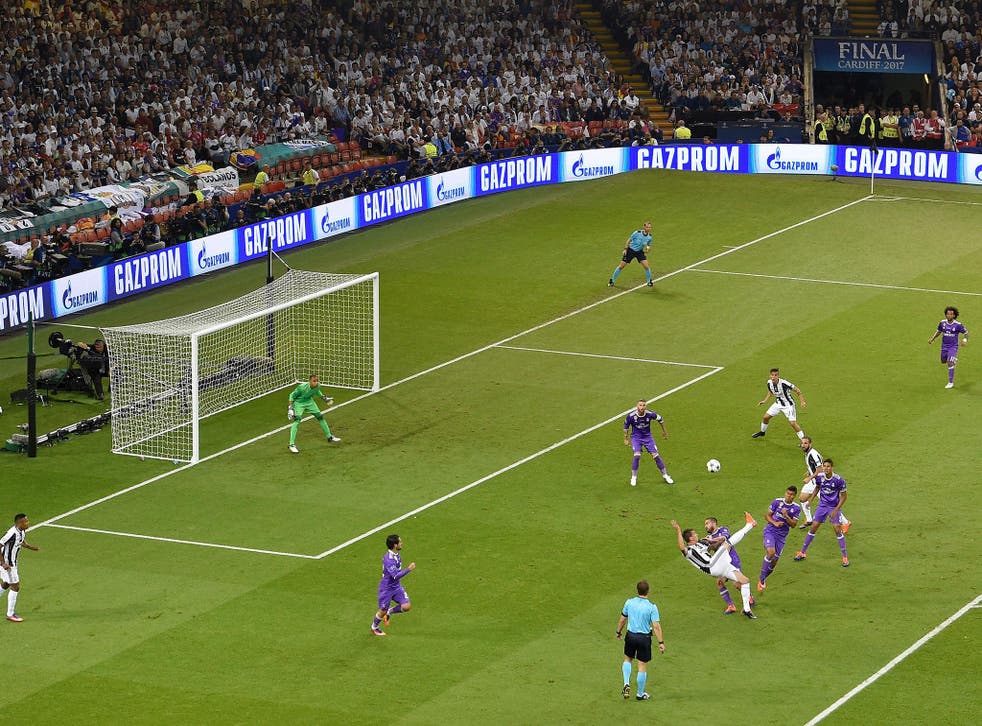 Great games are often graced by great moments but few, if any, have seen a goal as good as Mario Mandzukic's against Real Madrid.
After Cristiano Ronaldo had given the Spanish champions the lead early Juventus were dragged back on level terms by a goal of supreme quality from Croatian Mandzukic.
After a cross-field ball to Alex Sandro was crossed back into Gonzalo Higuain whose chested pass was brought down with precision before being fired, over his shoulder into the net by Mandzukic leaving Keylor Navas in the Real goal with no chance.
Zinedine Zidane, who watched on from the touchline in Cardiff, volleyed in an all-time great final goal way back in 2002 while Lionel Messi's 2011 effort was another spectacular piece of individual brilliance.
So where does Mandzukic's effort rank? Our writers have their say:
Miguel Delaney
A goal made in the air, and above it only sky? This was a level above in so many ways. It was also fitting that Mario Mandzukic's 27th-minute goal came against Zinedine Zidane, because the instant question was whether it betters the Real Madrid manager's famous strike from 2002 against Bayer Leverkesen.
It was that good, and has that kind of claim.
One way it was certainly better than Zidane's was in the build-up. While that 2002 volley came from a deflected cross, this was from the most supreme and vaunted game of heads and volleys that has ever been seen. Leo Bonucci pinged the ball to Alex Sandro, he sent it across for Gonzalo Higuain, who chested it and teed it up for Mandzukic. Three players, four touches, and not a single touch of the ground until the ball hit the net.
As regards how it got to the net, Mandzukic's arched overhead was exquisite, but probably didn't quite have the purity of strike of Zidane's volley, that was technically harder to pull off and keep down. It is also open to debate whether Keylor Navas - or simply a taller goalkeeper, like say David De Gea - should have saved it.
So, while this was a better team goal, Zidane's was maybe a better single strike.
From there, it comes down to preference.
Ed Malyon
Start with Leo Bonucci's raking ball, and Alex Sandro volleying it back across. Gonzalo Higuain had lots of work to do, but he chested it, keeping it close, and he looped it into the path of Mario Mandzukic. Mario, formerly of Atletico Madrid, then executed a bicycle kick of ludicrous technical excellence, looping over Keylor Navas and levelling the Champions League final.
Zinedine Zidane's volley was one hit. A sensational one but just one hit. This was a move where the ball didn't even bounce in Real Madrid's half. It was a team goal of barely believable touch and technique. It was exquisite. It was the best.
Luke Brown
Zinedine Zidane's goal against Bayer Leverkusen in the 2002 final was world-class, but he had so much time to adjust his body position and wait for the ball to drop, with Leverkusen's defence nowhere to be seen by the time he had volleyed the ball into the back of the net. Mandzukic didn't have that luxury. With two defenders bearing down on him, and with his body awkwardly twisted away from goal, his was a purely instinctive finish. And then there was the build-up play leading up to the finish: Bonucci's fine long-ball forward, Alex Sandro's perfectly weighted cutback, Higuain's control under pressure… An outrageous goal that will be remembered for years to come.
Ben Burrows
Cometh the hour, cometh the man and I won't argue strongly that Mandzukic's sublime effort here isn't the best goal we've ever seen on such a stage. To control the ball, have the sixth sense of where the goal is, and then to volley it over the shoulder into the one place the goalkeeper couldn't reach was truly majestic. But give me Zidane, just. That volley is one for the ages, a hit so clean you wouldn't match it in a million attempts in your back garden. It was the crowning moment of a truly great player's truly great career. So I'll go with that, but only just.
Join our new commenting forum
Join thought-provoking conversations, follow other Independent readers and see their replies