Napoli president hits out at Maurizio Sarri again and admits Chelsea-linked boss could leave in the summer
Reports suggest Sarri could replace Antonio Conte at Stamford Bridge this summer following a disappointing title defence from the Blues
Peter Rutzler
Saturday 05 May 2018 16:00 Comments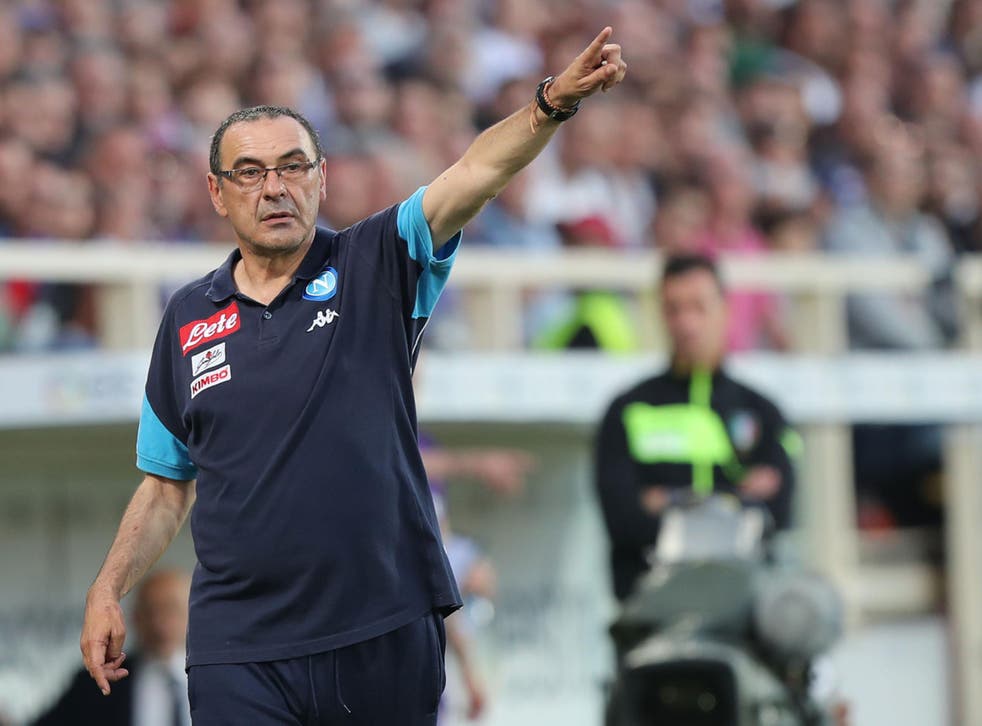 Napoli President Aurelio de Laurentiis has once again hit-out at manager Maurizio Sarri by criticising his lack of squad rotation as the Italian manager veers ever closer to the exit door.
Reports suggest Sarri could replace Antonio Conte at Stamford Bridge this summer following a disappointing title defence from the Blues. It is widely believed that Conte does not feel he has been sufficiently backed in the transfer market, and he has made his grievances public in recent times.
Sarri has led an unlikely title charge in Serie A with Napoli, taking the Partnopei to within touching distance of perennial champions Juventus, although last weekend's 3-0 defeat by Fiorentina has left them four points adrift of the summit.
President De Laurentiis has voiced his desire to keep hold of his manager, who has been widely praised for the exhilarating football his side play - including from Manchester City boss Pep Guardiola.
But he has also laced his praise with subtle criticisms. Following their defeat in Florence last week, De Laurentiis sniped at Sarri's lack of rotation, telling Il Mattino that it was 'inevitable' that Napoli's players would run out of steam at the end of the season 'if we always use the same players'.
In an interview with La Gazzetta dello Sport this morning, he has reiterated that sentiment.
"People reproach me for not doing much on the market, but the fans don't see how the players are trained and used on a daily basis," he said.
"We had to give Emanuele Giaccherini away because he was never taken into consideration and the same went for Nikola Maksimovic.
"Roberto Inglese could've come, but would he have played? He reached double figures for Chievo.
"Verdi didn't want to come, and yet we had made an incredible offer. He was afraid of never getting to play."
Sarri has managed a number of clubs in Italy, including Verona, Perugia and Empoli before joining Napoli in 2015.
The 59-year-old reportedly has a £7m release clause in his contract, and De Laurentiis conceded that Sarri could leave even if that clause is not met.
"With or without, it depends on him," he added. "It doesn't seem right now to insist. Let him work quietly.
"Since January I have talked to him several times. If he finally wants to stay, for me it will be a great pleasure. If someone then had to pay the release clause, at that point I couldn't do anything. But if he wanted to leave regardless, it would mean he has no more motivation and I will have to take note of this."
Register for free to continue reading
Registration is a free and easy way to support our truly independent journalism
By registering, you will also enjoy limited access to Premium articles, exclusive newsletters, commenting, and virtual events with our leading journalists
Already have an account? sign in
Register for free to continue reading
Registration is a free and easy way to support our truly independent journalism
By registering, you will also enjoy limited access to Premium articles, exclusive newsletters, commenting, and virtual events with our leading journalists
Already have an account? sign in
Join our new commenting forum
Join thought-provoking conversations, follow other Independent readers and see their replies