Mourinho: Ronaldo is 'the best player in the universe'
Real Madrid coach says Portuguese winger's achievements exceed those of rival Messi
Gordon Tynan
Friday 12 October 2012 23:14 Comments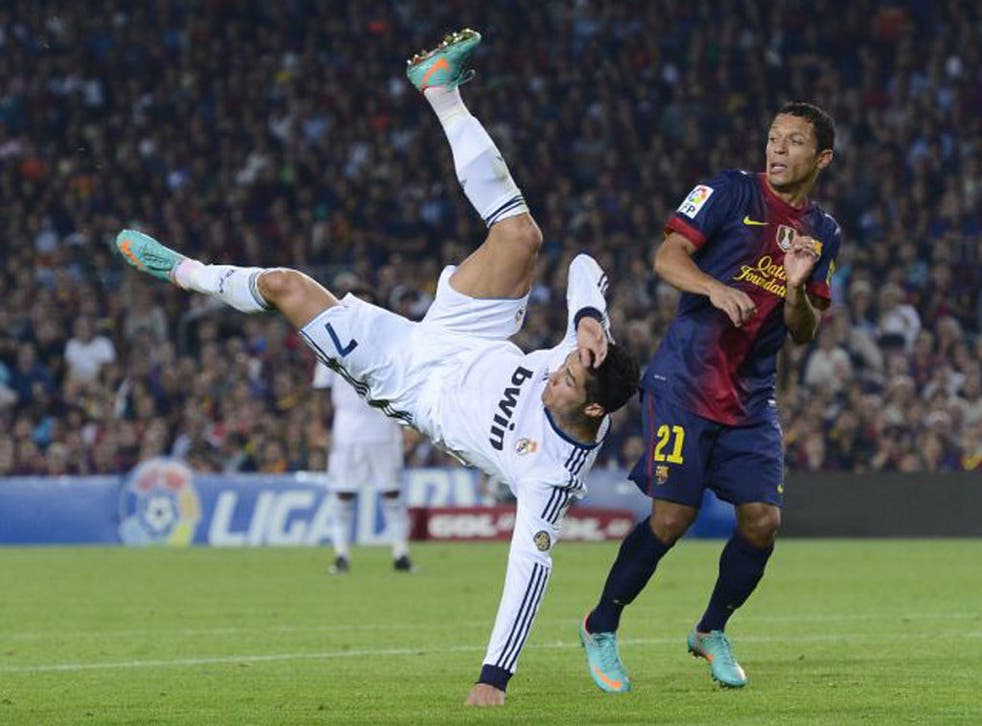 It would be a crime if Cristiano Ronaldo lost out to Lionel Messi for the 2012 Ballon d'Or, his Real Madrid coach Jose Mourinho said yesterday.
Mourinho hit back at remarks by Barcelona's coach, Tito Vilanova, last weekend that Messi, who has won the award for the past three years in a row, was "the best player in the world by a long way".
"When someone with the same responsibility as me comes out and says: 'Mine is the best on the planet' then I have to say: mine was not born in Madeira, he was born on Mars; he is not from planet Earth, he is the best in the universe," Mourinho told Portuguese daily A Bola. "If Messi is the best on the planet, Ronaldo is the best in the universe. It would be a crime if Ronaldo did not win the Ballon d'Or."
Ronaldo won the award in 2008 and Mourinho said it was time to recognise him again. "If you are going to give out the Ballon d'Or because a player is the best, give it to Cristiano or Messi. But I ask: if the two are on the same level, is it normal that one wins four and the other one? It is not."
In last Sunday's 2-2 Primera Liga draw at the Nou Camp, Ronaldo became the first player to score in six consecutive Clasicos with his ninth and 10th strikes on his 16th appearance against Barça. Mourinho said a player needed to win big titles to deserve the Ballon d'Or.
"How can you win the Ballon d'Or without collecting titles, without winning anything important? Don't come to me telling me about the Intercontinental Cup or the Super Cup, this is small stuff. Tell me about fat titles," Mourinho said.
The Portuguese coach said Ronaldo had had a tougher career than his Argentinian rival. "It is harder to be Cristiano than Messi. Messi grew up in the team where he plays, with the players with whom he plays. Not Cristiano. He was in England, then they put him here in a losing team. He had to grow over the last two years with this team which has been forming," Mourinho said.
"One [Messi] plays as a [number] nine and roams around in those 50 square metres where the distance to goal is smaller and defence less intense."
"The other [Ronaldo] plays as a winger. How does a winger score as many goals as a No 9? Besides, Ronaldo is a player who is not protected by anyone."
The Ballon d'Or, which merged with the World Player of the Year award in 2010, will be awarded on 7 January in Zurich.
Mourinho's successor as Chelsea manager, Carlo Ancelotti – now the manager at big-spending Paris Saint-Germain – yesterday came under fire from the Palermo president Maurizio Zamperini, who said Ancelotti knows nothing about football.
The outspoken Zamperini, who has a reputation for the outrageous and for sacking managers on a whim, was responding to suggestions during an interview that he had unloaded a flop on PSG when he sold them the Argentine midfielder Javier Pastore for €40m.
He quickly turned his ire on the Champions League-winning Ancelotti. "Pastore is not a flop, Pastore is a phenomenon. Ancelotti does not know anything about football," said Zamperini, who was four weeks into a self-imposed six-month media blackout when he made the outburst.
"And do you know what I say? I'm glad that they lost in the Champions League [1-0 away at Porto], and that hopefully he'll learn not to play Nene in place of Pastore. I don't rate him as a manager.
"Pastore is still a young lad of 23 years who has found himself surrounded by the wrong people, but he remains a phenomenon."
Ancelotti is a four-times winner of the European Cup, having won it twice as a Milan player and twice as the club's manager.
He has also won the Serie A title with Milan and, during his two-year spell with the European champions Chelsea, won the Premier League and FA Cup double before being sacked at the end of the second, trophyless, season at Stamford Bridge.
Zamperini's volatile relationship with coaches has earned him the nickname "Manager-eater" and he has fired 41 coaches since moving into football 26 years ago.
Register for free to continue reading
Registration is a free and easy way to support our truly independent journalism
By registering, you will also enjoy limited access to Premium articles, exclusive newsletters, commenting, and virtual events with our leading journalists
Already have an account? sign in
Join our new commenting forum
Join thought-provoking conversations, follow other Independent readers and see their replies