Mr Valencia sad it's him or his old mate Mata going out
David Albelda tells Pete Jenson he warned the Chelsea midfielder not to let it get to this – but now it's do-or-die he aims to use all his experience to help his team into the next round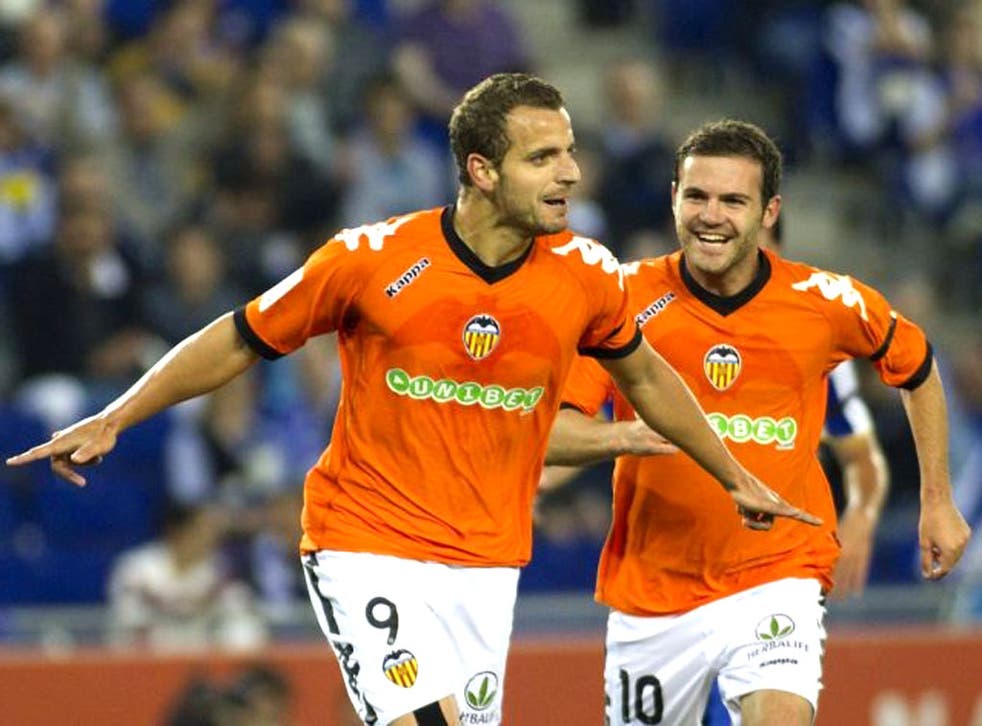 It should never have come to this. When Valencia captain David Albelda spoke to former team-mate Juan Mata earlier in their respective Champions League campaigns he told him – only half in jest – to make sure Chelsea beat Bayer Leverkusen to help send both teams through.
Chelsea slipped and now it's do or die in the last game in their group. Mata – whose Chelsea team-mates have nicknamed him Johnny Kills (a literal translation of his name) – must fall, if his friend Albelda is to pass.
According to the latter, it's a minor miracle that Valencia are even in this sort of company given all that has happened to them in recent years.
They are the survivor club and Albelda – a servant of 15 seasons – is king of the survivors. The irony will not be lost on him if Mata crashes out tonight and David Silva goes the same way tomorrow while the stone-broke side forced to sell both stars goes through.
"We spoke earlier in the tournament," he says of his friendship with Mata. "I was saying to him, 'See if you can beat those Germans and do us all a favour.' Unfortunately it wasn't to be and now we have to compete against each other."
Albelda, who last summer believed right until the deal went through that Mata would stay at Valencia, is not surprised by the incredible success of his former team-mate in London.
"When a club like Chelsea pays that kind of money, it is because the player is already proving what a top player he is. We are well aware of his quality."
The same goes for Silva, who Valencia sold the season before they were forced to let Mata go. "For me right now, Silva is the best player in the Premier League. He is a very professional lad who works very hard. I knew he would find it easy to adapt to the English league because as well as being extremely talented he has the physical power and the attitude to succeed there.
"He has even surprised some of the defenders because they look at him and see that he is not very big and they think they can kick him but he is very strong – he is physically stronger than Mata but Mata is maybe capable of scoring more goals."
Mata's goal threat will be a problem for Albelda tonight. Albelda is the man who protects Valencia's back four, the player about whom Pep Guardiola once commented: "When Valencia attack he is already thinking about defending."
Albelda almost joined Chelsea in January 2008 when a dispute with coach Ronald Koeman saw him go six months without playing. "When I had those problems at Valencia, Chelsea had the African Nations Cup coming up with John Obi Mikel and Michael Essien, and the proposal was for me to go there for a few months," he says.
"I decided not to go and the fact that it was such a short-term offer was one of the reasons for that. I would have enjoyed the experience – from a distance I always admired the English league with its full stadiums – it's a healthy atmosphere."
Healthy is not a word that can be used to describe Valencia. On the way to the club's out-of-town training ground you pass the unfinished new stadium, a concrete bowl that resembles their current stadium – the one they can't sell. The club's problems stem from the reign of previous president Juan Soler, and local boy Albelda has always been vocal about that – dissent which led, in part, to him being ostracised under Koeman. "I was a marked man because I wouldn't sit down with them" he says of the men he believes bled the club dry.
The situation has eased under the presidency of Manuel Llorente and the sales of David Villa, Silva and Mata, but Albelda knows striker Roberto Soldado, who is the top-scoring Spaniard in La Liga could be the next to leave. He threatens not just Chelsea tonight but also the place of their misfiring striker Fernando Torres in the Spain squad.
"He is not thinking of making it into the national team in order to take Torres out of it. Players never look at it like that. They never think to themselves 'he's the guy that is in my place'," says Albelda, playing down their duel. And he believes that despite Soldado being the form player, the Spain coach Vicente del Bosque has to some extent closed ranks around those already in the squad.
"It's very hard for a player to understand when he is not in the squad when he is playing at the kind of level that Soldado is playing at right now, and it is even harder for a striker who lives by scoring and is scoring lots of goals to understand his exclusion. He is bound to think, 'What more do I have to do?' But right now the Spanish national team has a way of working which from the outside looks like a squad that is more or less closed and it's not a case of the players who are playing the best at a specific time going to join the national team. It's more that he [Del Bosque] likes to have a certain group of players around him as you would do at a club."
Albelda's time as an international has passed. He would have been in the group that won the 2008 European Championship had Koeman not sidelined him that season, leaving Luis Aragones no option but to leave him out.
Now 34, he bears no grudges, suggesting that a refusal to be bitter contributes to his longevity as a player. He prefers to focus instead on the good times – two league titles and a Uefa Cup win under Rafa Benitez. His time at Valencia was interrupted twice in his first three seasons by loan spells at neighbours Villarreal. Does he believe they can do Manchester City a favour tomorrow night and take a point from Napoli?
"The possibility exists," he says. "I think they get €800,000 [£687,000] for winning but that is money for the club not the players so it doesn't make any real difference. They are a capable team and at home they can get a point from Napoli but they are in a situation where they don't even have the chance to get into the Europa League so that means it is complicated. The only thing left is the pride of not finishing without a single point."
Pride will be something Valencia have intact whatever happens tonight but nobody wants a brave failure having thrashed Genk 7-0 in the last game. "If you had given us a series of options, the last thing we would have chosen would be to have to go to London in the last game and play for our lives with them [Chelsea] having to win as well. It's unusual for a Champions League group to go down to the final game and for you to find yourself in a position in which it is practically a knockout.
"We played that penultimate game with one eye on the Chelsea match. We saw that [Didier] Drogba had scored and we were aware of the fact that the best result for both teams was a Chelsea win. But that did not happen so now we have to go there and fight. We know how it is – one team will go through and the other will be out."
Register for free to continue reading
Registration is a free and easy way to support our truly independent journalism
By registering, you will also enjoy limited access to Premium articles, exclusive newsletters, commenting, and virtual events with our leading journalists
Already have an account? sign in
Register for free to continue reading
Registration is a free and easy way to support our truly independent journalism
By registering, you will also enjoy limited access to Premium articles, exclusive newsletters, commenting, and virtual events with our leading journalists
Already have an account? sign in
Join our new commenting forum
Join thought-provoking conversations, follow other Independent readers and see their replies