Oxlade-Chamberlain shows glimpses of Wayne's world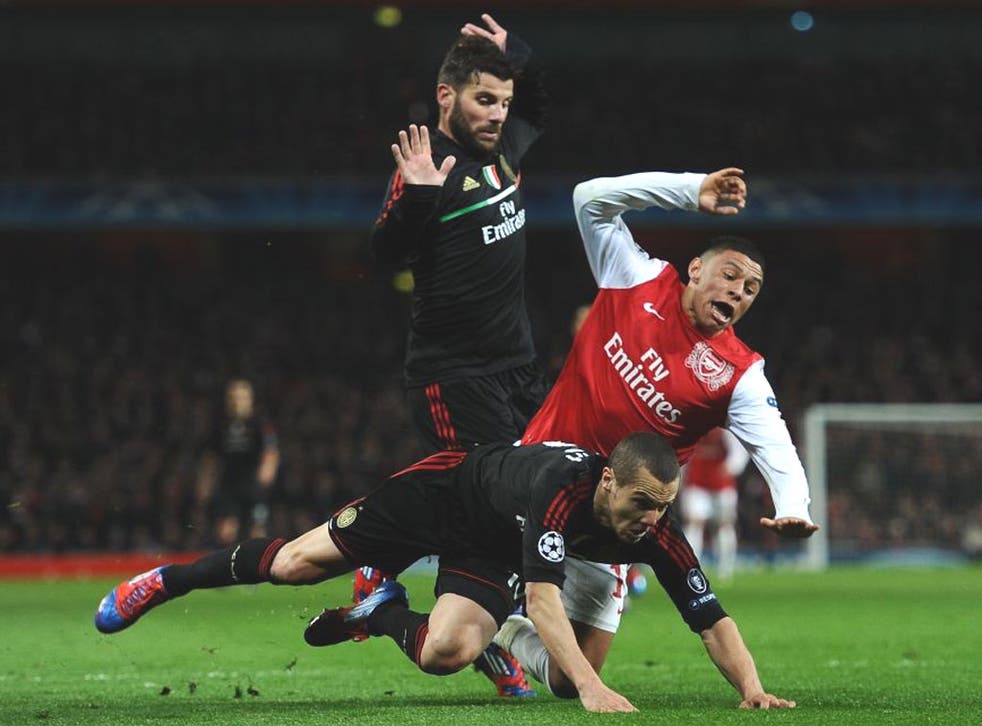 On a night when Arsenal needed to play without fear, no-one could stir them better than a teenager. A teenager, that is, ill with flu and out of position.
Arsenal did not score their implausible four goals last night but they were never daunted; thanks largely to Alex Oxlade-Chamberlain's running, hassling and prompting in midfield. He could not deliver them to the quarter-finals of the Champions League, but crafting one of the great Emirates nights is an acceptable return.
Arsène Wenger said before the game that his lack of midfielders might force a change in approach. Mikel Arteta, Yossi Benayoun, Aaron Ramsey, Jack Wilshere and Abou Diaby were all unavailable.
The response was typically Wenger. Oxlade-Chamberlain, the boy of the moment, certainly, but a boy nonetheless, was brought into central midfield. No matter his age – 18, his inexperience – this was his fourth Champions League game, or the fact that he has played almost entirely on the wing for Arsenal so far.
And he nearly didn't make it. "He was sick last night and we were not sure he could play," Wenger revealed afterwards. "He had flu. In the end we decided to check him in the warm up."
The switch made sense. For all the easy comparisons made with Theo Walcott, Oxlade-Chamberlain's gifts are much more suited to the battle. Because it is not Walcott whom he best mirrors but Wayne Rooney.
Oxlade-Chamberlain has something close to Rooney's first touch, but also matches his fearlessness, his swagger, his spatial awareness, his upper-body strength, his hints that were he not such a gifted ball-player he might have made a useful welterweight boxer.
It certainly worked. "He was outstanding," Wenger observed. "For him a guy who has never played at the top level in central midfield. He starts straight away in a decisive Champions League game, and has done well."
His first contribution was for the first goal His whipped ball at a corner in the sixth minute was met with shocking ease by Laurent Koscielny at the near post. Arsenal had their first.
Tempo was the key as Wenger's side tried to overwhelm the visitors. And Oxlade-Chamberlain was at the heart of it, both on and off the ball, relentlessly mixing defence and attack. He would always show for a pass and happily receive, even in tight spaces, before moving it on with as few touches as possible. "When he got the ball you always think something can happen as there is some class there," Wenger said. "He can play all the places across the pitch, he has the class to be in there."
The defensive work, too, was excellent. In shrugging off Robinho in the centre-circle Oxlade-Chamberlain stopped one attack and nearly started another. This hard midfield work did not come at the expense of his old skills, though. The third Arsenal goal came after some conventional wing-play. Noticing left-back Djamel Mesbah's lack of pace, and bursting between him and Antonio Nocerino, he was brought down.
Wenger admitted the teenager "tired early in the second half". He was taken off, afforded a thrilled and grateful reception, and could only watch as the game ended in the most proud European Cup exit for years. Oxlade-Chamberlain need not worry, he will perform on this stage again.
Register for free to continue reading
Registration is a free and easy way to support our truly independent journalism
By registering, you will also enjoy limited access to Premium articles, exclusive newsletters, commenting, and virtual events with our leading journalists
Already have an account? sign in
Register for free to continue reading
Registration is a free and easy way to support our truly independent journalism
By registering, you will also enjoy limited access to Premium articles, exclusive newsletters, commenting, and virtual events with our leading journalists
Already have an account? sign in
Join our new commenting forum
Join thought-provoking conversations, follow other Independent readers and see their replies