Park pours energy into atoning for disappointments of previous finals
Dropped in 2008 and defeated in 2009, the in-form Korean is eager to make amends at Wembley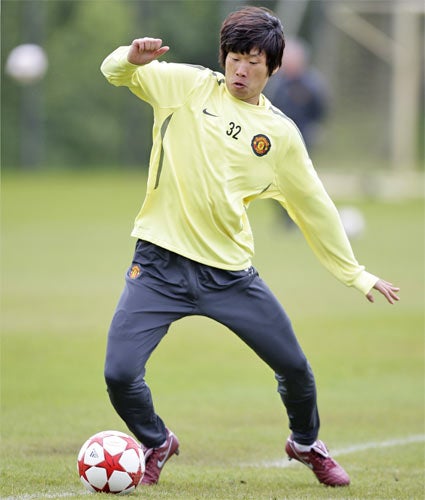 Sir Alex Ferguson has described leaving Park Ji-sung out of the 2008 Champions League final as the hardest decision of his career. The robotically tireless midfielder did not even make Ferguson's 18-man squad. Park channelled the rejection into a commitment to improve, and played in the 2009 final– but missed United's best chance. On Saturday he has a third chance to impose himself on football's highest stage, and is desperate to do so.
He will surely get the chance. Park has been a necessary player in United's springtime resurgence, excellent since his return at Upton Park in early April after a three-month absence. Park had not played since Boxing Day but, as Ferguson has perfected his hand to play for the highest stakes, the South Korean is increasingly called upon. His utility and team play has proved more attractive to the manager than the frippery of Nani, despite the Portuguese's individual excellence. For all Nani's early numbers, he is now back in the chorus line behind Park.
The apex of Park's season, or possibly of his time at United so far, came against Chelsea at Old Trafford in the second leg of the Champions League quarter-final. Park was so energetic as to appear to be playing in triplicate. From the left wing, he covered Patrice Evra's surges forward, contributed to the midfield battle and broke into the Chelsea box. From one such run, after 77 minutes, that would have exhausted weaker players, he gave United a 3-1 aggregate lead that assured their progress.
That height is the new baseline for Park, who hopes to play even better at Wembley. "I'll have to perform as well as I did in that game and improve in the final as well," Park said of that night. "I guess that was as good as I have played, especially in the first half that was a good moment for me. Hopefully, I can play like that on Saturday, not for me but for the team."
Park knows that his multifunctional role is necessary to his inclusion in the side. "My position is that I have to attack as well, not only run a lot but when I get chances I should finish. I try to do my best at that as well. My first priority is to win the game and that means I have to score, assist and do everything I can for us to win the game."
Should United beat Barcelona on Saturday, they will certainly need Park to reach into the furthest recesses of his own resources. He will presumably be deployed again as a defensive left-midfielder, to balance the more traditional wing play of Antonio Valencia on the opposite side. Park's long list of labours will include restraining Dani Alves, the world's best wide player and Barcelona's nominal right-back.
It was on the right flank that Park was deployed in the 2009 final with Barcelona. He was largely on the fringe of the game except for an incident in its second minute: he arrived first at a Cristiano Ronaldo free-kick parried by Victor Valdes, but his six-yard finish was blocked by Gerard Pique. United never had a better chance, and lost 2-0.
Park has been trying to avoid the memory of that miss. "It was two years ago so I have to forget bad things," he said. "If I score I always think of that but I didn't and we lost the game so I don't think of that. If that chance had gone in maybe it would have been a different result, but it didn't and it wasn't. Then we conceded a goal after that but it changed the game and we lost concentration so it's difficult to come back from that."
After that defeat in Rome, the whole club is keen to atone at Wembley. But for Park it matters more than for most. Having not played in Moscow in 2008, he is yet to win a European Cup on the pitch. Should he play in a United win, he said it would be the "best moment" of his career. The enthusiasm is understandable after the disappointment of three years ago. "It was very disappointing for me," Park recalled. "It was a very hard time for me but it was the manager's decision and he was looking to take care of the team and trying to win the game. I had to follow that and I had to prove myself and I knew if I wanted to play in a final, then I'd have to improve.
"Managers make hard decisions and he had many great players," he said of Ferguson. "If I had been capable of playing in the final, he would have put me in the squad so it meant that I had to improve."
Despite his own frustration at one final missed and another lost, Park is hugely famous at home. "I get a lot of parcels coming over from South Korea," he said. "They send me everything from food, clothes, sweets." Idolisation, though, is not without its drawbacks. "It's difficult to deal with being stopped in the street," he said of trips home.
Park speaks contentedly of being able to "walk around more easily" in Manchester. Should he make up for the disappointments of 2008 and 2009 on Saturday, be picked, stifle Dani Alves, and score one of his crucial goals, he may not even be able to do that.
Join our commenting forum
Join thought-provoking conversations, follow other Independent readers and see their replies