Lazio defender Patric facing lengthy ban after biting Lecce's Guilio Donato
Incident happened as Lazio's Serie A hopes fell apart in a 2-1 loss against the relegation-threatened side and could result in a hefty ban given the current risks surrounding coronavirus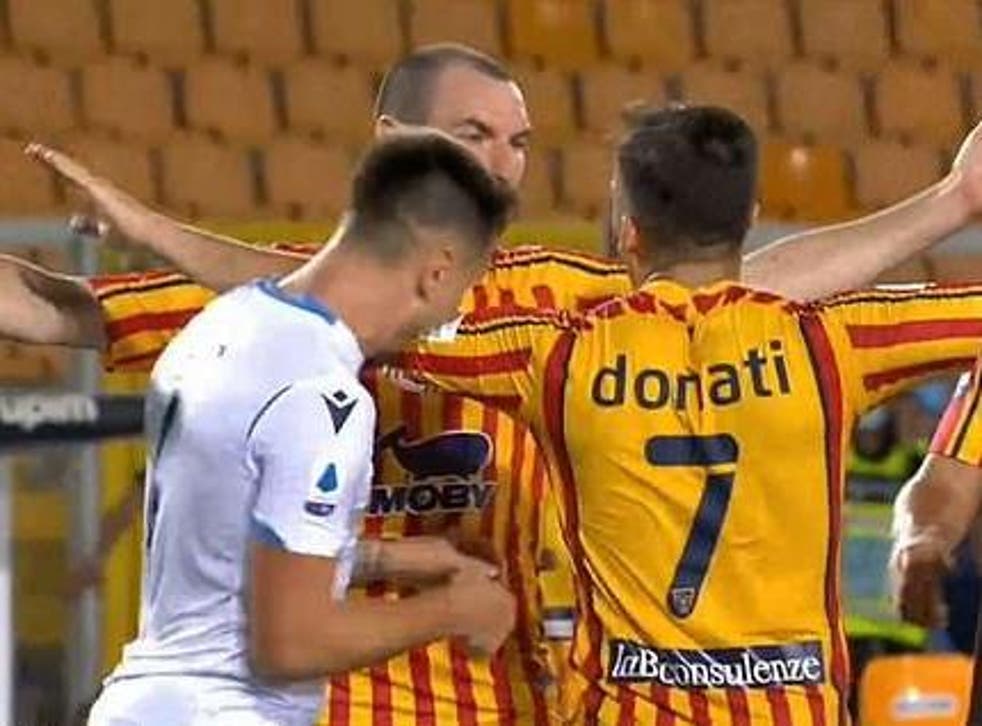 Lazio defender Patric could be facing a lengthy ban after being sent off for biting an opponent.
The incident happened in stoppage time of Lazio's 2-1 loss at relegation-threatened Lecce on Tuesday.
With Lazio's title chances all but evaporating and players getting into an argument, the 27-year-old Patric suddenly dipped his head and bit Lecce defender Giulio Donati on the left arm.
The incident could be seen as even more serious because of the effects of the coronavirus pandemic, with football having resumed under strict regulations which even discourage hugging in celebration after a goal.
Luis Suarez was banned for 10 matches by the English FA in 2013 for biting an opponent when he played for Liverpool. The Uruguay forward was also suspended for nine international matches for biting Italy defender Giorgio Chiellini at the 2014 World Cup.
Meanwhile, AC Milan scored three times in five astonishing second-half minutes as they hit back from two goals down to beat visiting Serie A leaders Juventus 4-2 on Tuesday, the first points dropped by the Turin side since the season restarted last month.
Juve appeared to be cruising to another win when Adrien Rabiot put them ahead with a solo goal two minutes after the break and Cristiano Ronaldo added a second with a typical effort, his 26th league goal of the season.
Yet Zlatan Ibrahimovic pulled one back from a penalty in the 62nd minute, Franck Kessie equalised four minutes later and Rafael Leao put them ahead one minute after that as Juve astonishingly collapsed. Ante Rebic completed the scoring.
Despite the defeat, Juve, on 75 points, stayed seven clear of Lazio with seven matches to play. Milan climbed to fifth with 49 points although they are still 14 points adrift of the top four.
It completed a remarkable four days for Milan who beat Lazio 3-0 away on Saturday and were widely reported on Monday to have agreed terms for German coach Ralf Rangnick to replace Stefano Pioli next season.
"I'm not thinking about August, I'm thinking about the next game against Napoli," said Pioli. "I like being with my team and whatever will be, will be. I'm not worried about my future, I just want to finish the season well."
After a relatively uneventful first half, Juve broke through in style as Rabiot collected the ball just inside his own half, powered through the Milan midfield and fired past Gianluigi Donnarumma.
In the next attack, Juan Cuadrado launched a long ball upfield and it flew over two Milan defenders who collided to leave Ronaldo with a free run on goal, and the Portuguese duly placed his shot past Donnarumma.
Yet it all changed after Milan were awarded a penalty with the help of a VAR review after the ball hit Leonardo Bonucci's elbow and 38-year-old Ibrahimovic converted.
A quick exchange of passes on the edge of the Juve area finished with Kessie sidestepping Bonucci to slot the ball past Wojciech Szczesny, then Leao collected a loose ball and found a gap between the Polish goalkeeper and the near post for Milan's third.
Juve were denied an equaliser when Donnarumma made a one-handed save from Daniele Rugani's header before Rebic fired Milan's fourth to complete a remarkable win.
AP and Reuters
Join our new commenting forum
Join thought-provoking conversations, follow other Independent readers and see their replies