Paulo Dybala: Is Juventus striker poised to join Lionel Messi and Cristiano Ronaldo among the game's elite?
The young Argentinian is being tipped to emulate the world's best
Peter Coates
Friday 22 January 2016 11:56 Comments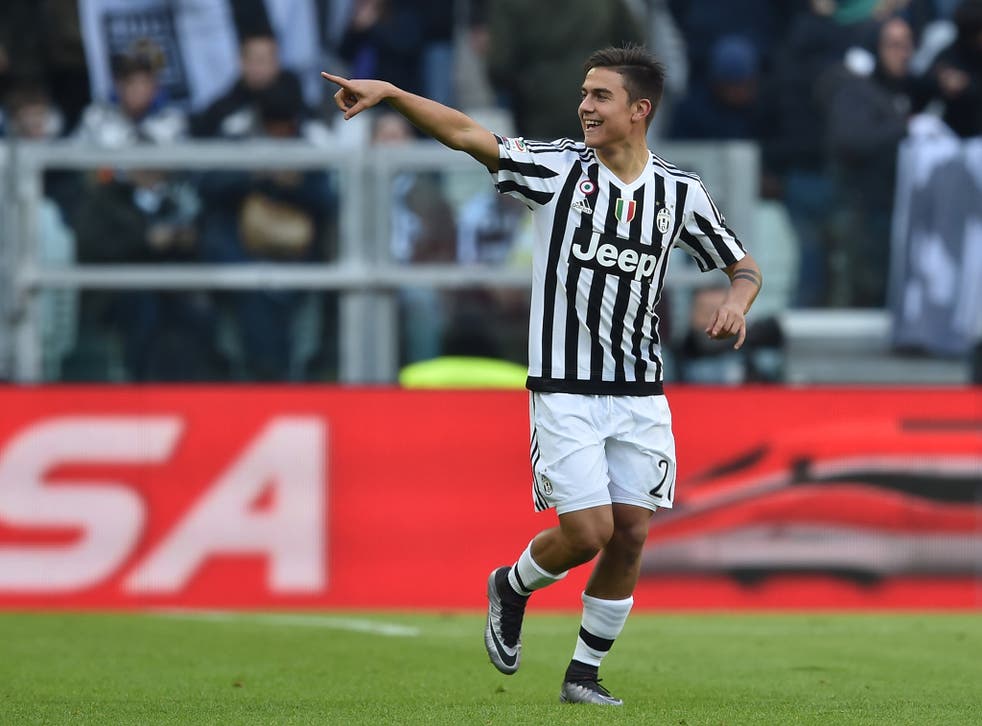 "He will become like Messi," declared the Italian newspaper Corriere dello Sport after Paulo Dybala produced another virtuoso performance to help Juventus record a tenth consecutive Serie A victory on Sunday. A devilishly whipped free-kick courtesy of his wand-like left foot, an emphatically struck penalty and a couple of assists all before the referee had even blown for half-time had left Udinese shell-shocked and provided only further proof that the Bianconeri's fifth title defence was very much on.
The early season gloom has shifted in Turin and aside from scudetto talk, supporters of the Old Lady can gloat over what appears to be a €32million summer bargain.
Such a bold conclusion can be made of very few similarly exorbitant transfer fees and when Juve slumped to a fourth league defeat from their opening ten Serie A fixtures, against comparative minnows Sassuolo in October, not only did the scudetto look a long way off but the losses of Carlos Tevez, Andrea Pirlo and Arturo Vidal appeared fatal.
Up until this point, Juventus manager Massimiliano Allegri had used Dybala rather sparingly despite the expense and, while the Italian coach rationalised this with talk of easing in the 22-year-old and the need for 'growth,' many supporters were growing impatient. Outspoken Palermo president Maurizio Zamparini, who brought Dybala to Italian football from Instituto in 2012, went one further in his vitriolic attack on Allegri: "Allegri is on track to ruin Dybala. Dybala is football, but Allegri is not. Dybala should be given the freedom to roam from the right wing and do his own thing, just like Lionel Messi."
The word of the often maniacal Zamparini is perhaps to be taken with a shovelful of salt but the fact remained that Juventus' attack was faltering. Without the impact of Tevez, Pirlo, Vidal and Fernando Llorente, who together had contributed more than half of Juve's goals in the previous season, the Bianconeri had hit the net only 12 times in the opening ten fixtures – an average of just 1.2 goals per game.
The improvement since that defeat to Sassuolo is startling and although there are other factors, such as Paul Pogba rediscovering his best form, central to the revitalised Juve has been Dybala. Twenty-six goals from the next 10 victories has seen the average goals per game shoot up to 2.6 as Allegri's scudetto holders have closed to within two points of the Seria A summit and Dybala's personal statistics are no less impressive. In his last nine outings, La Joya has scored seven and created five, taking his overall tally to eleven goals and seven assists and, while his goalscoring record is exactly the same as Tevez after 20 matches, Dybala's role as creator is even more pronounced.
Dybala has made no secret of his admiration for the compatriot that he replaced and when asked about the comparisons between the two after netting in the victory against Atalanta, the 22-year-old responded: "I played like Tevez, you say? Well, OK, almost as a trequartista, between the lines. But the truth is that I have been studying him for a year. I watched almost all of his games last season, and when we train together with the national team, I try to take as much as possible from him."
However, while Tevez's strength is his physicality and unerring desire to win, there is a greater grace and precision to Dybala's game; El Apache struck 27 times in Serie A and the Champions League respectively but his record of eight assists is already within touching distance.
It is also worth noting that Tevez arrived in Turin, a 29-year-old Copa Libertadores, three-time Premier League and Champions League winner. At the peak of his powers, Juventus knew exactly what they were signing; Dybala arrived full of promise but yet to realise his full potential.
A left-footed bundle of energy, who scores and creates goals and is now part of Gerardo Martino's Argentina squad it is all too easy to make comparisons with Lionel Messi. Maurizio Zamparini's prophecy that Dybala, "is going to be better than Cristiano Ronaldo, [Lionel] Messi and [Zlatan] Ibrahimovic," correctly remains in the future tense and, while any prediction of matching the feats of a player destined to go down as best of all-time seem destined to fail, there is no reason why Dybala could not be an elite level - future Ballon d'Or winner.
Certainly his recent stats are comparable to any player as he trails only Gonzalo Higuaín in the scoring stakes in Serie A, and tops the assists. With an average of 2.4 key passes per match and a pass completion percentage of 84.4 oer cent, Dybala's outstanding passing and presence as a creative hub in the usually congested final third of the pitch is evident.
Almost two years Dybala's senior, Barcelona and Brazil forward, Neymar has now established himself among the world's best and took the podium in last week's Ballon d'Or ceremony. Dybala must now maintain his current level whilst continuing to develop his potential if he is to be included in the same exalted group. What often separates the good from the great is this ability to be virtually exempt from dips in form. The high level that a truly world class player sets is simply that player's level.
A good player can have an outstanding six months, maybe even a season, but a great player maintains this and this is what Dybala must now prove. Recent years have been dominated by the individual battle for superiority between Messi and Ronaldo, it is not beyond the realms of possibility that Dybala and Neymar could bring a new rivalry to world football in a few years.
Register for free to continue reading
Registration is a free and easy way to support our truly independent journalism
By registering, you will also enjoy limited access to Premium articles, exclusive newsletters, commenting, and virtual events with our leading journalists
Already have an account? sign in
Join our new commenting forum
Join thought-provoking conversations, follow other Independent readers and see their replies