Pep Guardiola can win the Champions League; Real Madrid produce at the right time; Man City and PSG finally meet
Seven things to look out for the in Champions League this week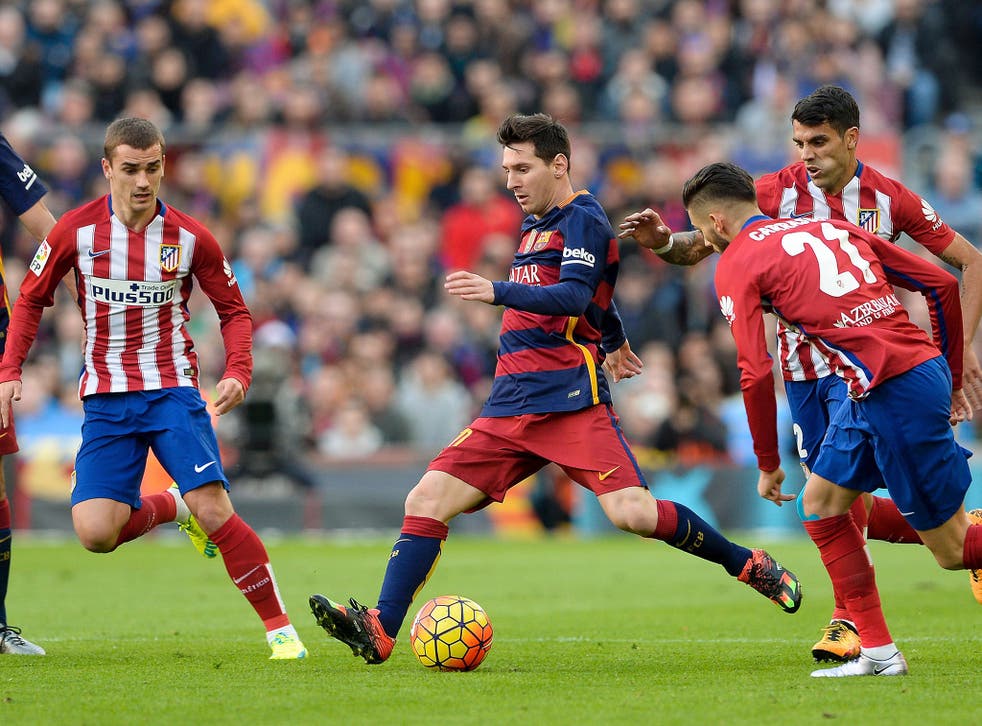 1) Real Madrid rise at the right time
Saturday night's El Clasico win at the Nou Camp was not just the best Real Madrid performance under Zinedine Zidane but their best – and most important – win since they won the Champions League back in 2014. Cristiano Ronaldo, Gareth Bale and Karim Benzema were all excellent and by the end the 2-1 scoreline underestimated their superiority. That was just one game but if they can play like that on Wednesday night they will comfortably deal with Wolfsburg and put at least one foot into the semi-finals. And from there anything is possible.
2) Griezmann has the star to power Atletico
Atletico Madrid will have a difficult task at the Nou Camp, a ground where their record is very poor. And yet for all their ferocious hard work and organisation, they do have one star of their own. Antoine Griezmann has been the best La Liga player outside Barcelona this season. He has scored seven goals in his last six league games, and 26 in all competitions for the season. He is clever, skilful and quick and gives Atletico a cutting edge they would otherwise lack. If anyone can steal a crucial away goal, it is him.
3) No reason Guardiola cannot finally deliver at Bayern
Bayern Munich were staring down the barrel in the last round, 4-2 down on aggregate with 17 minutes left in the tie. The Bayern fans had registered their frustration with Pep Guardiola and, had the team gone out, it might have made for an uncomfortable last few months for his time in Bavaria. But four late goals won the tie for Bayern and saved their season. It was a reminder that their top level is still close to the very top of the European game. Guardiola needs to win the Champions League at Bayern and, if his team continue in the same vein, there is no reason that they cannot this year.
El Clasico ratings

Show all 22
4) Casemiro the perfect balance for Los Blancos
Real Madrid's brilliant counter-attacking performance on Saturday was built on the foundation of Casemiro, the 24-year-old Brazilian enforcer who is finally shining three years after his arrival from Sao Paulo. He provides the perfect platform for Bale, Benzema and Cristiano as well as tactical balance to a team which has lacked it ever since Xabi Alonso was allowed to leave in 2014. He will be needed again on Wednesday, to shut down Julian Draxler and Wolfsburg's dangerous forwards, to give Real's big names the support that they need.
5) Mangala and Otamendi not a recipe for success
Manuel Pellegrini may have over-extended himself on Saturday night when he said that "every time [Eliaquim] Mangala plays, then we win". In reality Manchester City have won 11 of the 16 games that Mangala has played this season, but none of those have been as hard as Paris Saint-Germain away on Wednesday night. City will be without Vincent Kompany, too, meaning that Mangala will play alongside Nicolas Otamendi, two aggressive ball-winners and an unbalanced pair. If PSG are clever they can pick City off and win the tie this week.
6) Will Turan have rather been on the pitch?
When Barcelona bought Arda Turan from Atletico Madrid last year, it felt unnecessary, not least because Barcelona were under a transfer ban forcing Turan to sit on the bench until January. In the last three months he has not looked especially settled in the Barcelona system, and when he replaced Ivan Rakitic on Saturday night it ceded control to Real Madrid to win the game. The 29-year-old may watch Tuesday's quarter-final against his former side from the bench, wondering if he made the right move.
7) Cash rich Man City and PSG finally meet
Manchester City and ParisSaint-Germain have always been measured against each other. City were bought by Abu Dhabi in 2008, PSG by Qatar in 2011. Since then they have both been on a mission to win the Champions League and while this will be the modern PSG's third time in the quarter-finals, it is City's debut there. PSG, it must be said, have better players, but they are also tested at an elite level less often, as proven by the fact they have already won Ligue 1. They have the class, as they showed over two legs against Chelsea. But, as favourites, can they cope with the new expectation?
Join our new commenting forum
Join thought-provoking conversations, follow other Independent readers and see their replies