Pete Jenson: David De Gea has finally come of age and looks the future for both Spain and Manchester United
A DIFFERENT LEAGUE
Pete Jenson
Friday 17 October 2014 14:40 Comments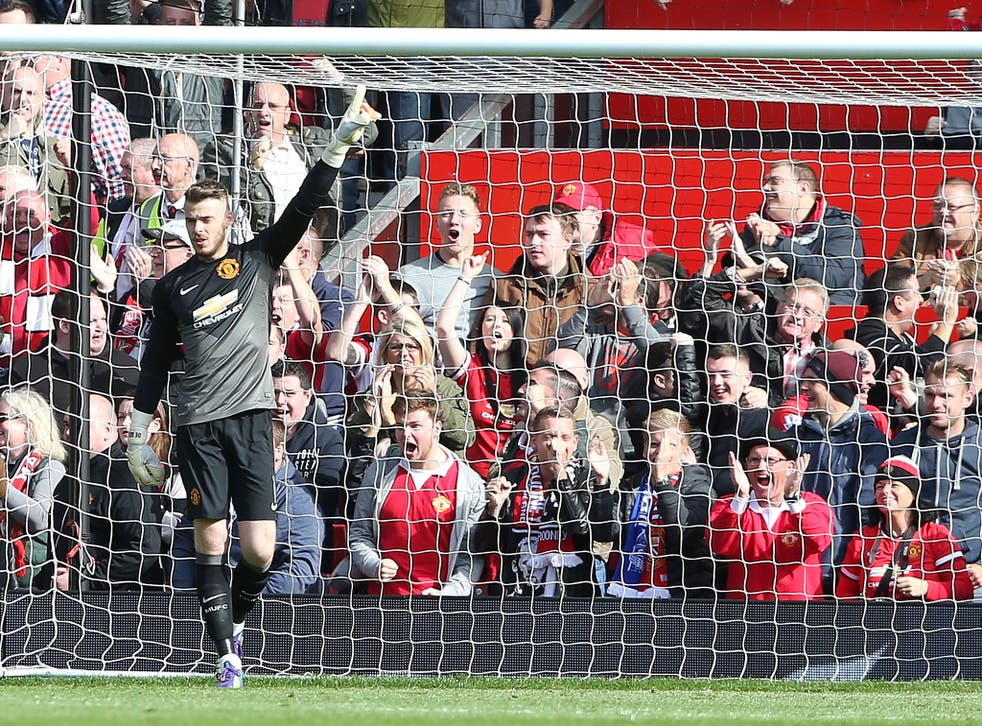 Too many eras have ended at once at Manchester United, and the same can be said of the Spain national team. David de Gea this week made both club and country feel like a new and very considerable one had just begun.
His performance against Everton 12 days ago and his selection ahead of Iker Casillas for the Euro 2016 qualifier against Luxembourg on Sunday served to underline the sense that although for a while it seemed United had not spent the £17.8m he cost wisely, they had in fact bought Spain's No 1 goalkeeper for the next decade.
"We have seen his talent before but now we are starting to see his confidence too," said Roberto Martinez, whose team had been on the wrong end of De Gea's best performance for United yet.
The Everton manager was never one of those who needed to be converted. He wanted to bring De Gea to Wigan when he was an 18-year-old Atletico Madrid B team keeper, only for a last-minute rethink from the Spanish club to block the loan move to the DW Stadium.
Instead they fast-tracked him into their own first team, where he was soon encouraging Sir Alex Ferguson to make what was perhaps his last great signing.
"He made the team win that game [against us]. And if a goalkeeper is winning games for the team at that age it's not something to be taken lightly," Martinez said. "He will dominate an era not just for Manchester United but also for Spain."
It did not start well for De Gea as he appeared from behind a large white sheet that Carrington officials held up in a bizarre attempt to hide his steps from car to United medical back in 2011.
He had played less than 100 games for Atletico, he was 20, and looked even younger behind the defensive behemoths Nemanja Vidic and Rio Ferdinand. When he was accused of leaving a supermarket without paying for a doughnut he had eaten inside the store it raised further doubts, although it was at least a sign he might soon be gaining weight. He soon bulked out and started making the saves that first attracted Martinez and then Ferguson.
Those who knew De Gea, knew never to doubt that it would work out. "He has the most important thing you need to succeed in England – a self-belief and an inner calm in his own ability that will mean he does not let one mistake ruin him," the former Atletico coach Abel Resino told me when he signed for United.
The man who gave De Gea his debut against Real Zaragoza in 2009 added: "That ability to put any mistake you make on the pitch past you immediately is priceless for a keeper and he has that. He is replacing a very good goalkeeper but he can become even better than Edwin van der Sar in time."
A former Atletico goalkeeper himself, Resino once held the record for consecutive minutes without conceding, eventually broken by Van der Sar. The comparisons between De Gea and the Dutchman seemed exaggerated then, but not any more.
There were predictable stories this week that De Gea is on Real Madrid's radar and United risk losing him if they do not improve his contract. And Real will not mind the rumours after weeks of speculation that they would lose Cristiano Ronaldo to Old Trafford.
Real have Keylor Navas waiting to replace Casillas and could also exercise an £8m buy-back clause on talented Espanyol keeper Kiko Casilla next summer – so a move for De Gea seems unlikely.
De Gea will replace Casillas but at international level only. He will be 24 next month and has quietly come of age in unsettling times at Old Trafford. Martinez even believes the club's recent turmoil may have helped him.
He added: "Living through this period at Manchester United has given him the experience that most goalkeepers don't have until they are 26, 27 or 28 years old."
Register for free to continue reading
Registration is a free and easy way to support our truly independent journalism
By registering, you will also enjoy limited access to Premium articles, exclusive newsletters, commenting, and virtual events with our leading journalists
Already have an account? sign in
Join our new commenting forum
Join thought-provoking conversations, follow other Independent readers and see their replies