PFL Ludogorets Razgrad vs Steaua Bucharest: Cosmin Moti's late penalty heroics delight little Ludogorets
Defender stands in after goalkeeper is dismissed and saves two spot-kicks... after opening the scoring in the shootout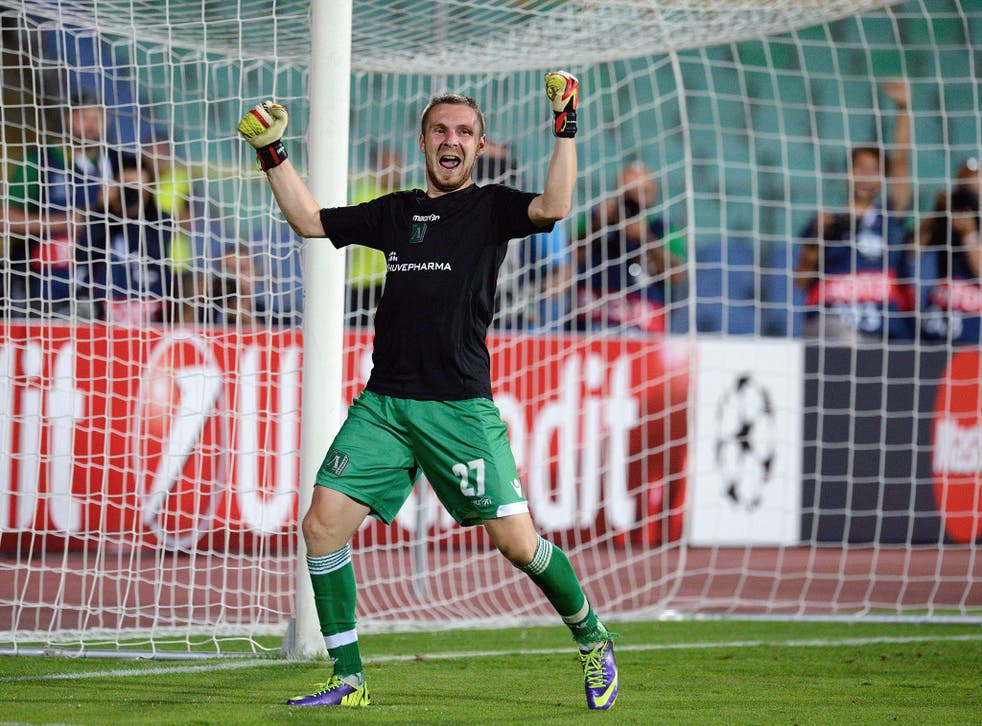 If that tidal wave of Romanian immigrants ever does arrive, it's a shame that Cosmin Moti probably will not be among them, as his is precisely the kind of skillset our country desperately needs.
Most footballers, England's certainly included, would consider penalty shoot-out victory an unlikely possibility when your goalkeeper is sent off a minute before the end of extra time and with no substitutes remaining.
Not Moti. Instead he casually pulled on the reserve keeper's shirt and pulled off one of the great heroic cameos in all of football history.
On Wednesday night, at the 8,000-seat Ludogorets Arena, PFL Ludogorets Razgrad were a minute away from a penalty shoot-out with the comparatively mighty Steaua Bucharest for a place in that Valhalla of European club football, the Champions League group stage, when their keeper Vladislav Stoyanov was sent off.
Having used all his substitutes, all the manager could throw on was the spare black shirt of reserve goalkeeper Ivan Cvorovic. It was slightly too big for Moti, who was once linked with Everton and Lazio, and it hung untucked round his waist, as he buried the first spot-kick of the night, then took his place between the posts to save two more and send Ludogorets into rapturous celebrations, and moreover, to the Champions League group stage for the very first time.
The main draw landed them in the same group as Europe's football aristocrats Real Madrid and Liverpool, who will probably come to tiny Ludogorets a tiny bit excited to be in the spot where Moti did his extraordinary deeds. The club itself is a mere 13 years old.
History will probably not recall that, for the crucial spot-kick, he was at least a foot off his line as Steaua's Cornel Rapa failed to pass him to his right before he rushed past the corner flag in celebration.
Moti has only made himself even more of a hero to one half of Bucharest. He played for Steaua's bitter enemies Dynamo Bucharest for many seasons. He has never played a match outside of the eastern European leagues, with those touted moves to England and Italy never becoming a reality. He has played only a handful of matches for Romania. Now his usefulness come the dreaded penalty shoot-out has been laid bare, that might change.
He also flies almost to the very top of an illustrious leader board of outfield players forced to go in goal, comfortably surpassing the likes of Pele, whose five minutes between the sticks for Santos in 1963 ended without incident, and Bobby Moore, who – with Gordon Banks in goal at the other end – dived well to his right to keep out a Stoke penalty in the 1972 League Cup final, but was powerless to stop Mike Bernard crashing in the rebound.
In 1991 Niall Quinn, having already scored up the other end, saved a penalty for Manchester City against Derby County, preserving a 2-1 win. Two years ago, Galatasaray's Felipe Melo kept out a stoppage time penalty and potential equaliser against Elazigispor.
The only player to surpass Moti? Gaucho of Palmeiras in Brazil, a striker also forced to go in goal through a sending-off in 1988 kept out two penalties to knock out Zico's Flamengo. The difference – he did it without gloves.
Register for free to continue reading
Registration is a free and easy way to support our truly independent journalism
By registering, you will also enjoy limited access to Premium articles, exclusive newsletters, commenting, and virtual events with our leading journalists
Already have an account? sign in
Join our new commenting forum
Join thought-provoking conversations, follow other Independent readers and see their replies