Philippe Coutinho, salvation and just how close he came to playing for Real Madrid in this weekend's clásico
While Barcelona's title procession will be galling enough for Real, there may also be cause for a tinge of wistful one-who-got-away-ism, too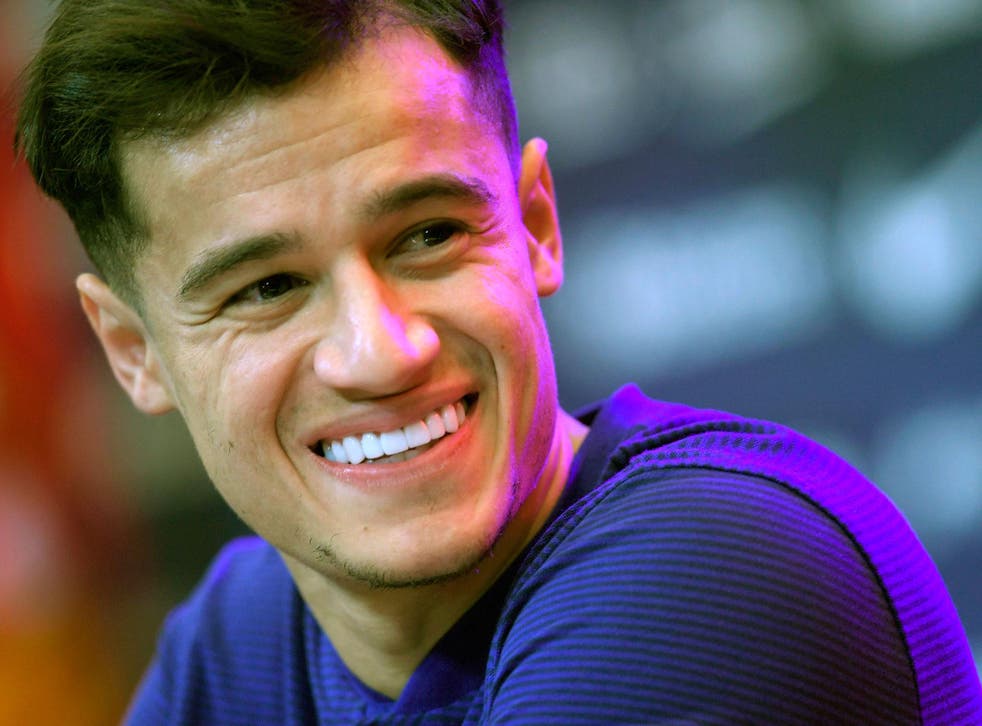 Eurico Miranda is not one to bite his tongue when something has irked him, and this passed his irritation threshold with plenty to spare.
"Real Madrid sought out the player's family, making offers that were too good to turn down," seethed Vasco da Gama's blowhard president. "But they were illegal. We want to make clear that this is no way to act."
He called it a "crime of seduction" and reported Los Merengues to Uefa and Fifa. A month later, at his behest, Brazil's football federation issued a rebuke to its Spanish equivalent, claiming "harassment" of an under-age player. There was an element of theatre to it all – of irony, too, given Miranda's notoriously patchy moral record – but his resolve was true: he would not be selling his prized asset on the cheap. Well, not to Madrid, anyway.
10 years have passed since Vasco's death dance with the Bernabéu juggernaut, and while tales of tapping-up have long since lost their power to shock, this particular tangle does provide a nice alternative backstory to this weekend's Clásico. For while Barcelona's title procession will be galling enough for Real, there may also be cause for a tinge of wistful one-who-got-away-ism, too.
Because Philippe Coutinho, who, as a 15-year-old, seemed to be within Madrid's grasp before Miranda's intervention, will line up on the Catalan side of La Liga's great divide this Sunday.
Coutinho arrived at Vasco at the age of seven, initially impressing on the futsal court before helping the Gigante da Colina to local youth titles at under-12, under-13 and under-14 level. A call-up to Brazil's under-15 side followed, and with it wider attention: the playmaker starred in two youth tournaments in Spain and helped the Seleção win the South American Championship in 2007.
Scouts from Europe took note and he made his first appearance in the Madrid press later that year, Marca crediting Real with an interest. When Coutinho, along with good friend Neymar, earmarked the Bernabéu as a possible destination in a subsequent interview – the accompanying photo of the pair, goofily clasping hands over an orange juice, is a reminder that these were really just children – the die appeared to be cast.
Miranda, though, had other ideas, and Coutinho, just five days after his 16th birthday, agreed to join Internazionale for €3.8million. Madrid had been gazumped.
Coutinho would remain in Rio until he turned 18, joining the senior squad in 2009 and embarking on a quick-fire apprenticeship that laid the foundations for the player we know today. And while he was far from a dominant force – I was in the stadium for his second game, against Bragantino, and he could have passed for a nine-year-old – his quality on the ball shone through.
"I arrived at the club in 2009 and everyone was talking about Coutinho," former Vasco goalkeeper Fernando Prass told The Independent. "When he made the step up to the first team, you could see he had real quality. The way he treated the ball, the way he'd hit it, the vision he had of the game, the things he saw... he stood out. He had this ability to put team-mates in on goal, to do something different. He was really good, even at that young age. Technically, he was always a level above the rest."
Coutinho's maturity also stood out. "From the outside, you can't know whether someone is going to be a great player or not at that age – principally because of the mental side of things," Prass continued. "But when you got to know him, you saw that he wasn't someone who would get carried away, like so many youngsters.
"When I arrived, he'd already been sold by Eurico Miranda. He coped well because he'd been dealing with that visibility since a young age. He and Neymar were the biggest names of his generation, so he always had the attention of the big clubs. He had the personality to deal with it; he never let himself get caught up. I never noticed any change in him at all.
"In Brazil, there are countless kids who have exceptional technical ability but don't make it because they don't know how to cope with the pressure. Coutinho wasn't like that: he was always very calm, very centred. He's still like that today."
Coutinho's stint in the Vasco side may only have lasted 13 months, but circumstances leant themselves to his making an impression. Vasco had suffered the indignity of relegation in 2008, so when his debut came, it was in a pressure-cooker environment; "Promotion is an obligation" read one of the more pointed banners at the club's home games in Série B. Coutinho's contributions came mainly from the bench, but he was a ray of light in a dark period for the club.
It is a role that he reprised earlier this year: Vasco were among the beneficiaries of Coutinho's move to the Camp Nou, receiving around €4million through FIFA's solidarity mechanism for their part in his development. That windfall helped the club cover a wage bill that had gone unpaid at the end of 2017, and was described as "salvation" by one board member, further cementing his position as one of the club's most beloved sons.
Not that he enjoys trading in that kind of status for its own sake. Prass mentioned Coutinho's shyness as a youngster – "not exactly timid, but no extrovert like Neymar" – and there is a story from the player's last visit to Vasco that underlines that trait neatly. Coutinho appeared at a packed São Januário ahead of the derby against Flamengo last July, holding up his old No.10 shirt and grinning bashfully as fans chanted his name, just like they had a decade earlier.
Away from the glare of the cameras, though, he was annoyed: he had been hoping that Souza, another Vasco youth product who now plays for Fenerbahçe, would also turn up for the occasion. He wanted someone else there to deflect some of the spotlight.
There will be no hiding place in his maiden Clásico, but that is unlikely to be an issue for a player who has taken the transition from the Premier League to La Liga in his stride in recent months. At the Camp Nou on Sunday night, there will be plenty of scope for Madrid to think back to the events of 2008 and wonder what might have been.
"It's hard to know how a 16-year-old is going to develop, but the potential to play at one of those big clubs – Real Madrid, Barcelona, Manchester United, Bayern – was obvious," Prass concluded. "Coutinho experienced difficult periods at Inter and at Espanyol, so maybe be took a bit of time to reach his level, but if you look at him now, he has achieved the goals he had at Vasco and lived up to expectations.
"At the time, everyone thought the €3.8million fee was well below what Coutinho was worth. He's matured and now he's one of the best players in the world."
Register for free to continue reading
Registration is a free and easy way to support our truly independent journalism
By registering, you will also enjoy limited access to Premium articles, exclusive newsletters, commenting, and virtual events with our leading journalists
Already have an account? sign in
Join our new commenting forum
Join thought-provoking conversations, follow other Independent readers and see their replies