'Pray for them': US international Jozy Altidore suffers racist abuse in Dutch Cup game
American praised for dignified and eloquent response to racial abuse
Majid Mohamed
Wednesday 30 January 2013 12:43 Comments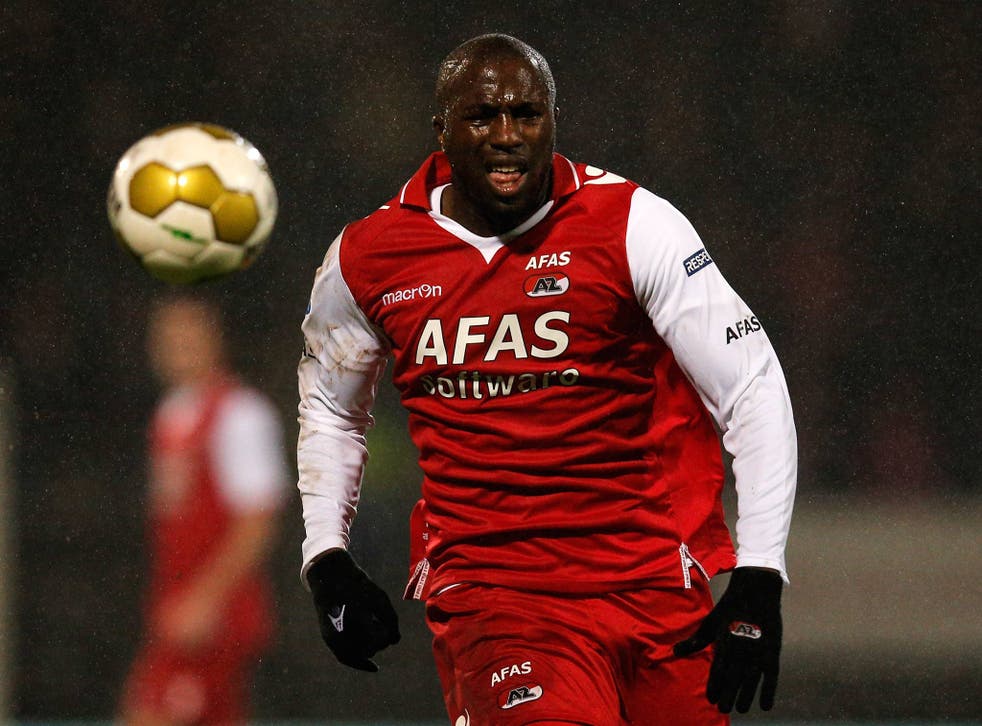 AZ and US international striker Jozy Altidore was subjected to racist abuse during a Dutch Cup game last night but remarkably insisted the match should continue after the referee halted the fixture.
AZ reached the KNVB Beker (Dutch Cup) semi-finals with a 5-0 thrashing of nine-man Den Bosch at Stadion De Vliert but the match was marred by the racist abuse towards the 23-year-old American.
Altidore said he would "pray" for those who taunted him with monkey chants. His dignified and composed post-match interview following the ugly scenes has been praised by teammates and football officials.
Click HERE to see Jozy Altidore's post-match interview
According to AZ's official twitter feed, referee Reinold Wiedemeijer initially wanted to stop the match in the first-half but Altidore, showing incredible restraint, asked for it to be continued.
Wiedemeijer instructed Den Bosch to put a message over the public address system but the match was halted in the second-half after fans ignored warnings to stop the racist chanting aimed at Altidore. The game was stopped due to crowd trouble including some throwing snowballs and ice at a linesman.
Earlier this month, AC Milan midfielder Kevin-Prince Boateng walked out of a friendly after he was subjected to racist chants by fans of Italian lower division club Pro Patria.
The incident casts a dark shadow over Dutch football once again following the death of a linesman who was allegedly attacked by players after an amateur match between two youth teams near Amsterdam in December.
Midfielder Viktor Elm told AZ's official website: "The fans that misbehaved towards Altidore should be ashamed.
"I, like everybody else, am really disappointed in these supporters. It is a bad time for professional football. It is not something I have experienced in my career before."
AZ technical director and former US international Earnie Stewart, also uttered his disgust on Dutch television at half-time: "It is terribly sad that this can happen for those involved and for lovers of football in the Netherlands.
"You hear that and wonder what on earth is going on."
Speaking after the match to eredivisie.nl, Altidore explained the professional manner of his response and refusal to stop the match: "It's a bit disappointing that these things still happen in this time that we're in but what are you going to do?
"You just hope that these people can improve themselves. You can only pray for them."
Asked if he got emotional during the game, he said: "I feel like I have an obligation as a football player, to my club, to my family, to not react to things like this and to show that the club stands better than that, that I was raised better than to respond to such ridiculous behaviour.
"It's a bit disappointing because you would hope that we as humanity we can grow from these kind of times but at the end of the day, it's still alive, racism. All we can do now is try to educate ourselves, and try to raise young kids to be better than that."
The US international striker, who has played in several European countries with spells in Spain, Turkey and England, said he has not faced similar abuse.
"I don't think so, in a match like this," he said. "There's nothing I can do about it. All I can do is pray for them and hope they become better people. What do you expect me to do? I'm not going to fight them. They just have some issues and they need some help that's all."
Asked why he did not want the match stopped, he added: "We were in a good rhythm. It was important for us to keep going. We've started the new year right. You have to look at the bigger picture and that's getting the second half of the season strong. Looking forward to Groningen on Saturday [next league game]."
AZ cruised to victory in the match, with Altidore amongst the scorers, as Den Bosch finished with just nine men.
Register for free to continue reading
Registration is a free and easy way to support our truly independent journalism
By registering, you will also enjoy limited access to Premium articles, exclusive newsletters, commenting, and virtual events with our leading journalists
Already have an account? sign in
Join our new commenting forum
Join thought-provoking conversations, follow other Independent readers and see their replies