PSG 2 Manchester City 2: Five things we learned from Champions League quarter-final at Parc des Princes
Have Manuel Pellegrini's side found their new talisman?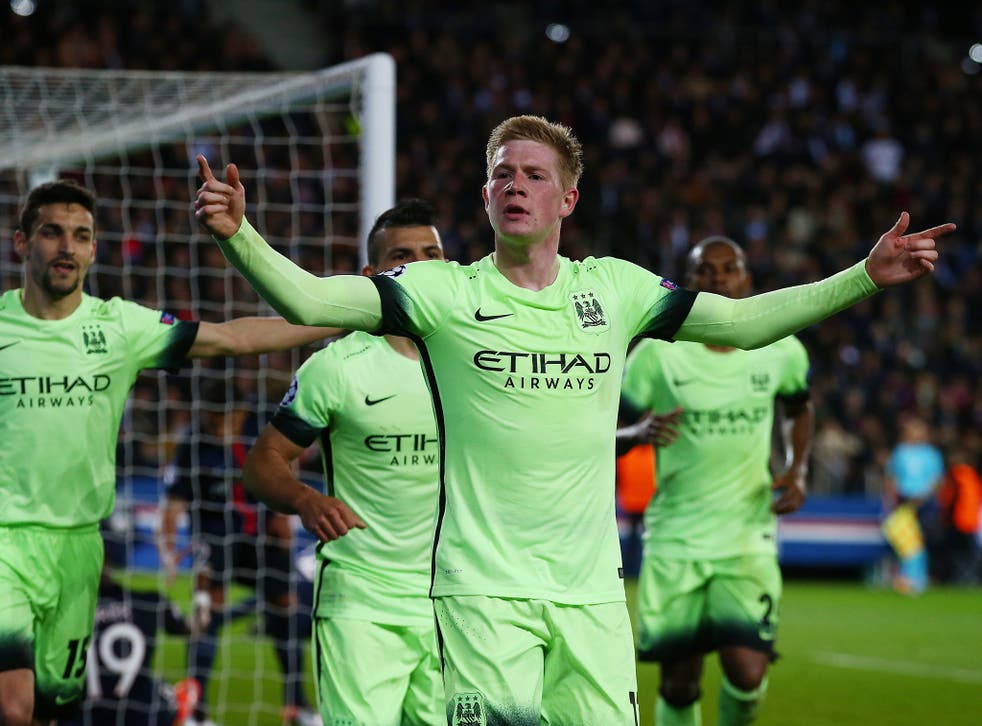 De Bruyne is main man now
For almost six years, David Silva has provided the creativity in Manchester City's midfield, and Yaya Touré the power and goals. This year that has changed with the arrival of Kevin De Bruyne, who can do both. This was just the Belgian's second game back after a two-month absence with a knee injury, but he was trusted in the No 10 role while Silva was pushed wide. He rewarded Manuel Pellegrini with a surging run and away goal in the first half.
Fernando's aberration so costly
Whatever Fernando achieves in the rest of his Manchester City career, short of scoring a winner in the Champions League final in Milan, he will always be the man who gifted PSG their equaliser in the quarter-final. Fernando has brought important midfield solidity in games like this, but he switched off when it mattered most and that may yet cost City a place in their first Champions League semi-final.
PSG always liable to self-destruct
Paris Saint-Germain have already won Ligue 1 at a canter, and while that allows them to remain fully refreshed for Europe, they did look like a team unfamiliar with serious opposition. Manchester City were nowhere near their best last night but PSG made the sort of lazy errors they can afford against Troyes but not against a top team. David Luiz and Serge Aurier both simply switched off for City's crucial two away goals.
PSG vs Manchester City player ratings

Show all 22
Neither team will win competition
All season the Champions League has looked like a Barcelona procession to the final on 28 May, given their domination of world football last year. But that has changed since Barça lost to Real Madrid on Saturday and could have lost against Atletico Madrid on Tuesday. Suddenly this competition looks wide open, but on this evidence neither of these two young pretenders look ready to seize the crown, with too many mistakes and obvious holes on both sides. It was a good night for Bayern Munich.
Pellegrini's tactics spot-on
Manchester City's Premier League campaign has been poor this year but, in his third and final season as manager, Pellegrini seems to have found the right balance for Champions League games away from the Etihad Stadium. This was of a piece with City's famous wins at Sevilla in the group stage and against Dynamo Kiev in the last round. It was not a perfect performance, and they had some breaks, but it was almost a dream result. Yet finding the balance at home is a different question.
Join our new commenting forum
Join thought-provoking conversations, follow other Independent readers and see their replies