PSG vs Man City: Neymar would have won three more Champions Leagues with Barcelona, says Pep Guardiola
Guardiola joked he is losing sleep over the quality of PSG's attack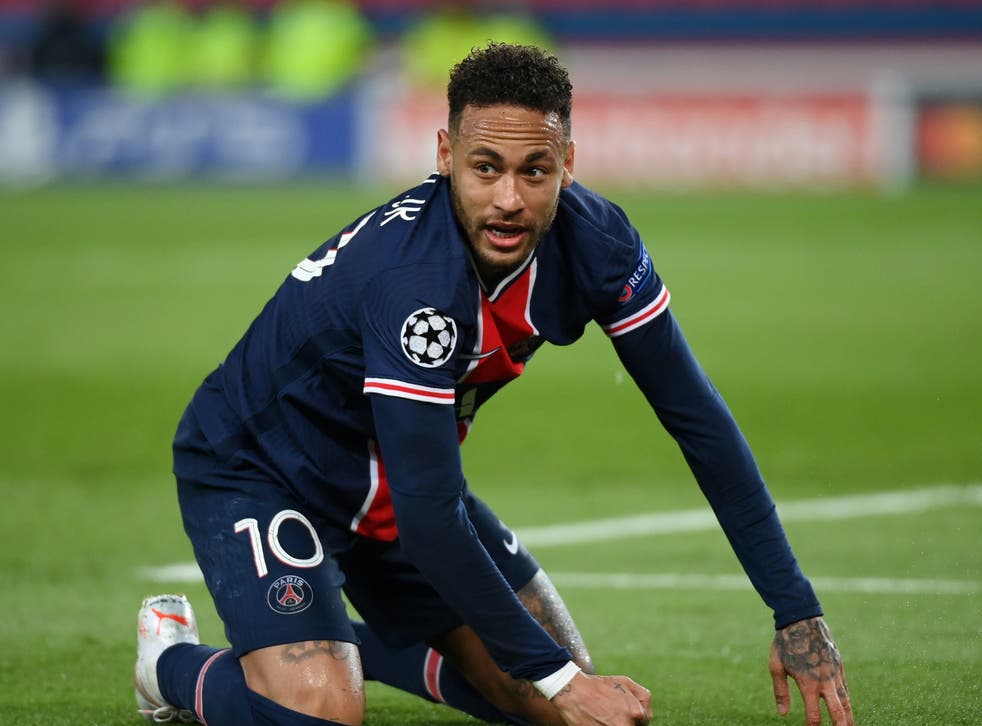 Barcelona would have won the Champions League another two or three times had Neymar stayed at Camp Nou, according to Pep Guardiola, and admitted that the Paris Saint-Germain attack has been keeping him up at night.
Guardiola is preparing to face Neymar in the semi-finals of Europe's elite club competition on Wednesday night, as Manchester City travel to play their first leg at the Parc des Princes.
Neymar joined PSG in a staggering €222m (£198m) deal in 2017 - for a fee that was more than twice the previous world record - after the Ligue 1 club triggered the Brazilian's release clause.
Guardiola and Neymar's paths first crossed at the 2011 Club World Cup, when his Barcelona side played Santos, and the City manager instantly became an admirer of the player's talents.
"I remember against Santos, I showed some clips of Neymar. I told them this was the king of Santos and all the players were open mouthed, saying: 'Oh my god, what a player.'
"He's a joy to watch. As a spectator, I enjoy it a lot every time. He has Brazil on his shoulders. The No 10 for Brazil, it's not easy to wear. And I'm pretty sure if he'd stayed in Barcelona, Barcelona would've won two or three Champions Leagues more.
"I faced the Barcelona with Luis Enrique - Neymar, [Lionel] Messi, Luis Suarez - the best three unstoppable guys I've seen in my life. If he had stayed they would have achieved more in that situation, but he decided to go to Paris.
"I'd say it's not a bad decision. It looks like a nice city, nice club. I've not been there but it looks like it from outside.
"What I want is for him to have stability, no injuries, play in a regular way, as the last few seasons he has not done it. But I'm a big admirer because he helps to make our football better and it's a pleasure for me to play against them and him."
Guardiola not only has Neymar to contend with over the course of this first Champions League semi-final with City but also Kylian Mbappé, the 22-year-old World Cup winner rated by many as the heir to Messi's title as the best player in the world.
PSG's attack poses such a threat that Guardiola believes it would be unwise to change the game plan which has brought City to the brink of the Premier League title and he will instead not compromise on their style.
"Always I believe that with the amount of quality that these players have, there are not defensive strategies to stop them," Guardiola admitted.
"They are too good. I try to sleep well last night and I slept well when I was not thinking of them. That is the reality.
"They are incredibly top top players, that is why they play in that team with the quality they have. We are going to try to stop them and the way we are going to do that is to defend well altogether as a team and play good football as a team and try to score goals.
"Of course we have to adjust something when you play against those players a little bit but at the same time we will have no sense… we fought arriving in these stages for just the second time in our history these players for four or five years not to be who we are.
"We have to adjust something, like we did against Tottenham for example, like we will do against [Wilfried] Zaha against Palace.
"This is normal. But we will try to impose, to be what we have done in these five years together. I am sure we will try to be ourselves and get the result we need for the second leg."
Join our new commenting forum
Join thought-provoking conversations, follow other Independent readers and see their replies