Ángel Di Maria's Top Five PSG Goals
Uefa Champions League: PSG, Real Madrid and the very real importance of club colours
Given how much else changes in the modern game a club's colours are sometimes the only constant. Football's continued embrace of extreme capitalism threatens to take them too
One of the easy lines from Parc des Princes on Tuesday was that Paris Saint-Germain were made to look like Real Madrid, but that does raise a more complicated question for the game.
What exactly is the point of club colours? What is the point of heritage?
Why were a club famous for their all-white kits made to play in the dark blue, which just happened to be the primary colour of their opponents, because they were playing in all white?
This may seem a trivial matter, and the sort of thing younger fans fixate on, but it is really central to the issue of a club's history and historic identity. It is, after all, what literally identifies them. It is what they are.
It is sometimes all they are, beyond the actual supporters who wear the kits, given how much else changes.
Player ratings: PSG vs Real

Show all 23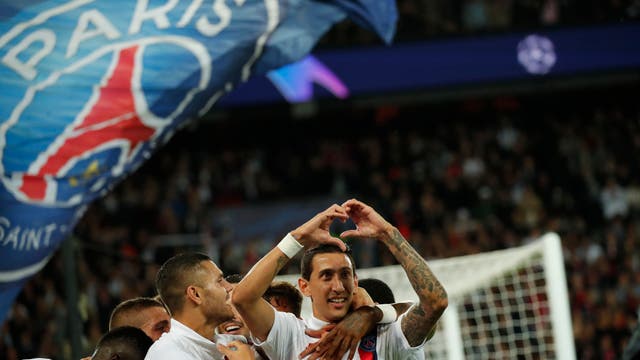 "It's different guys every year," Jerry Seinfeld once wryly observed. "You're rooting for clothes, when you get right down to it."
And this goes even deeper. There are countless stories of the game's greatest figures becoming enchanted in their youth by the mere colours of a team, and the magic that represented.
Even men as hard-bitten as Bill Shankly and Sir Matt Busby waxed about the wonder of Madrid's kits. Many players in the modern game still get that thrill when they first put on the shirt of their great new club.
Young players - like Eden Hazard once, like Cristiano Ronaldo once - grow up dreaming of wearing Madrid's white.
They don't grow up dreaming of wearing Manchester United's experimental grey kit from the 1995-96 season, or that Madrid shirt that had a dragon on it.
This isn't to say a club's colours shouldn't be given reconsideration. Liverpool wear all red because Shankly felt it would be more imposing than white shorts. Leeds United wear all white because Don Revie was inspired by Real Madrid, and wanted his team to inspire the same awe.
Occasional change, too, can be necessary and freshen a club. They can still add to identity. Some of the most cherished kits - like Arsenal's "bruised banana" jersey, or Everton's white-topped NEC jersey - came from the will to do something a bit different. The very identity of clubs will also evolve, and incorporate more elements, more colours.
But that's the point. Such reconsiderations should be made for the right reasons, in-keeping with the heritage and identity of a club… of what they want to be.
They shouldn't be solely made to make money. They shouldn't just be because of contractual terms that the kit must be changed each season. That has logically led to some of the worst kits, because of the pressure to do something different, to alternate from the previous year. It lends itself to unnecessary tinkering with vintage designs, to odd splashes.
If a club had something appealingly simple one season, like Chelsea in 2017-18, it means they have to go a different direction literally just to be different.
It similarly means that individual kits themselves can't accumulate the same history, the same meaning.
PSG did admittedly change their shirt for this game because it has been part of French football culture for the last 20 years to have different European kits, and this very design was actually their own old home jersey, with these colours ceremonially acknowledging that. A club as traditionalist as Bayern Munich have meanwhile had a variety of different designs and colours over that time. But PSG have still spent more of their history in dark blue than white, having only been founded in 1970, and more arbitrary changes are now creeping into areas of the game where there was no such culture.
How many clubs this season will strategically time the release of their third kit, or a mere "cup kit"? There are just more and more changes, because of something in football that doesn't change: how it has embraced extreme capitalism more than almost any other area of society.
It is thereby just another element of the game - and a very elementary part of the game - parcelled off and sold off, to an increasingly greater degree.
To borrow a line from another US TV show, there was a similar traditionalist - if an admittedly capitalistic sociopath in his own way - in Phil Leotardo in the Sopranos.
"Either it has meaning or no meaning."
These days, it seems a lot more towards the latter. In so many matches, many clubs no longer look like themselves.
Join our new commenting forum
Join thought-provoking conversations, follow other Independent readers and see their replies