Ramos replaces Schuster at Madrid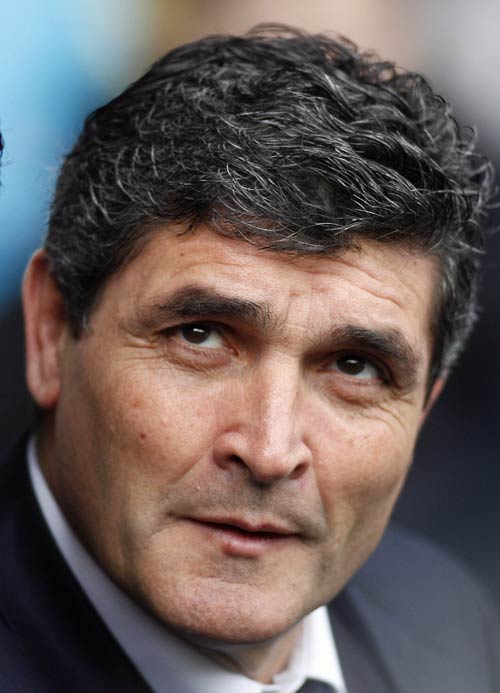 Bernd Schuster left Real Madrid today by mutual consent with former Sevilla and Tottenham boss Juande Ramos named as his replacement on a six-month contract.
Schuster departs having overseen a run of indifferent form for the defending Spanish champions with Madrid currently in fifth place in the Primera Liga, nine points behind arch-rivals Barcelona.
They were also knocked out of the Copa del Rey by minnows Real Union.
Madrid director of sport, Pedja Mijatovic, told a press conference: "We spoke to Schuster this morning about all the difficulties over the past few months.
"We came to the mutual agreement to take this decision. He took the the decision well.
"I have to take the opportunity to thank Bernd Schuster for the work he did at Real Madrid. He did an excellent job last season to win the title and the Spanish Supercopa."
A dejected Schuster seemed to have thrown in the towel following Sunday's 4-3 defeat at home to Sevilla when he admitted his side were incapable of winning El Clasico at Barcelona on Saturday.
"Right now it's not possible to win at the Nou Camp," he said.
Although the club have struggled this season, Schuster enjoyed a wonderful first year at the Bernabeu, retaining the Primera Liga crown his predecessor Fabio Capello claimed in 2007.
But attempts to win it for a third time have floundered due to Barca's resurgence under new boss Pep Guardiola and a spate of injuries.
Mali international Mahamadou Diarra yesterday became the latest Madrid player to be struck down after it emerged he will miss between six and nine months with a knee injury.
He joins Ruud van Nistelrooy, Gabriel Heinze, Pepe, Wesley Sneijder, Miguel Torres and Ruben de la Red in the treatment room.
Madrid goalkeeper Iker Casillas also gave an insight into the negativity surrounding the club today when he admitted they were not capable of challenging for the league title on current form.
He told radio programme El mirador de Punto Radio: "At the moment the team isn't capable of winning trophies because Barcelona lead us by nine points and it's true that they're playing well."
Casillas, who is rated as one of the world's best goalkeepers, was quick to put his hand up and take his share of responsibility for Madrid's dismal campaign.
"We are going through a bad run," he added. "Defensively we are vulnerable, and I'm the first (to blame).
"At the moment it seems that our opponents will have three chances and score three goals and it's clear that we are all to blame.
"I have been 10 seasons in the Primera Liga and this, for now, is the worst start I have had."
Mijatovic added that Schuster's declaration that his side could not beat Barca on Saturday had nothing to do with his departure.
"We can't pinpoint one specific moment that made us reach this decision," he said. "Making a decision like this isn't easy and we had to make a very deep analysis of the situation of the team.
"Schuster's declaration the other day hasn't had any influence on our decision.
"Two weeks ago I said that we don't make difficult decisions like this easily."
Ramos was introduced to the assembled media at the press conference.
He said: "I would like to thank the board for their confidence - I face this job with excitement. It's everybody's dream.
"I hope I don't let anyone down and that I achieve the successes that this club has set for this season.
Ramos added that both he and the club had the option to extend their association beyond the end of the season.
"In most of my previous jobs I have had short contracts," he continued. "We came to a quick agreement and I'm delighted. If I'm happy at the end of the season then I might extend the contract.
"Both sides are free to see what happens."
The former Sevilla coach's first task will be to face in-form Barca at the weekend, but he insists the match should be treated like any other.
"You have to confront every game with the will to win. They are one of the biggest clubs in the world. Barca are playing excellent football and doing well, but Real Madrid have the character and prestige to face any club in any stadium in the world."
Join our commenting forum
Join thought-provoking conversations, follow other Independent readers and see their replies