Raul Meireles late show for Chelsea finally ends Benfica resistance
Chelsea 2 Benfica 1 (Chelsea win 3-1 on aggregate)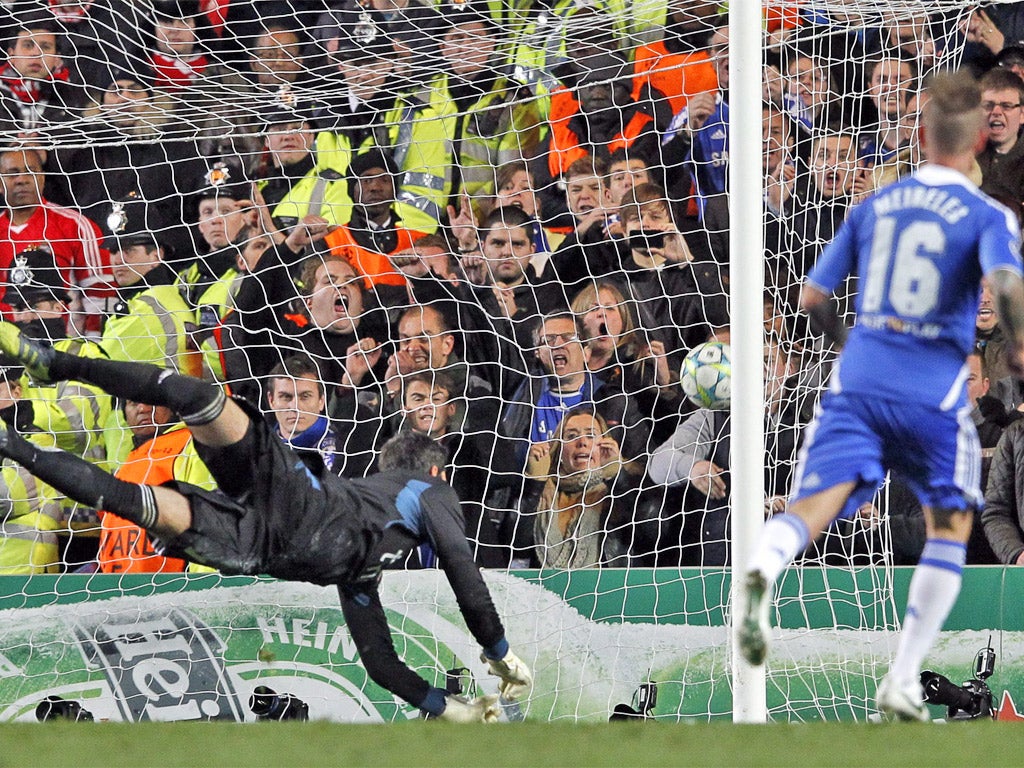 Ten minutes after the final whistle Roman Abramovich embarked on his customary walk across the Stamford Bridge pitch from his executive suite in the West Stand to the tunnel that takes him to the home dressing room. With a spring in his step and his entourage in tow he was off to see the Chelsea players who are just 180 minutes from a Champions League final.
So near and yet, for now, Chelsea feel so very far from the possibility of a second final of the Abramovich years. Standing in the way in the semi-finals is a familiar enemy and one that seems to discover new and devastating ways to break the hearts of their opponents with every game that they win. This is Barcelona in 2012. This is the biggest test any team of this generation will face.
What shape are Chelsea in for the most exacting examination of their powers? It would be fair to say that last night typified their season. It was not all bad, in fact they defended well at times, and Petr Cech was superb. But there were times when the home support had to watch through their fingers as, against Benfica's 10 men, Chelsea almost conspired to throw the whole damn thing away.
In the end, Raul Meireles' late winning goal lifted the tension and allowed Stamford Bridge to forget how ropey their team had been at times last night. They are in the sixth Champions League semi-final of the last nine years, a remarkable record, especially when you consider that this was the season no-one expected them to do anything in the competition. Yet, there is no point denying there is a sense of foreboding about what lies ahead.
If Chelsea approach their semi-final with the defending champions in the same careless fashion as they stumbled through some of last night's tie, they could find themselves embarrassed. But there is no guaranteeing what kind of performance you will get from this team. With the pressure off, and no expectations Chelsea could be a different side altogether. Warning: it requires a leap of faith to believe that.
This semi-final against Barcelona, starting with the home leg in 13 days' time, will be billed as the re-match for that semi-final elimination in 2009 when, justifiably, Chelsea felt harshly treated by the referee Tom Henning Ovrebo. Since then, Barcelona have won the Champions League twice and Chelsea have changed their manager three times. One club is playing the best football some say has ever been played. The other does not have a permanent manager.
If they are to reach the final in Munich on 19 May, and potentially another meeting with Jose Mourinho, then Chelsea must find a way of stopping Lionel Messi. It was not that long ago that they could not stop Gareth McAuley.
For the time being, however, it is only be fair to note that Roberto Di Matteo has not done a bad job of turning around a very unpromising situation. From 3-1 down to Napoli in the first leg of the previous round, when he took over from Andre Villas-Boas, his team is in the last four of the biggest club competition in Europe in a dismal Champions League for the rest of the Premier League's elite.
This will be a chaotic end to the season now with at least 11 games in 40 days including last night and possibly one more within that timeframe if Chelsea beat Tottenham in the FA Cup semi-finals a week on Sunday. The Benfica coach, Jorge Jesus, said yesterday that his team had made Chelsea look "ordinary" and it was difficult to argue with that assessment.
The dismissal of Maxi Pereira before half-time had given Chelsea the kind of advantage that, at this level, is so often decisive. They were already leading through Frank Lampard's penalty and yet they could not close out the game despite an array of chances at the start of the second half. Slowly Benfica's confidence crept back.
In the first half, the Slovenian referee Damir Skomina, the man who so enraged Arsène Wenger in Arsenal's second-leg win over Milan, dished out eight yellow cards, six of them to Benfica and two for Pereira. As Pereira headed off, he appeared to take Benfica's hope with him.
Until Benfica conceded that crucial penalty to Chelsea in the 21st minute they had looked much more dangerous than the predictable, risk-adverse side that Di Matteo's team had beaten last week in Lisbon.
Then Ashley Cole was released into the Benfica penalty area, running into the left channel and controlling the ball with a nifty first touch that took it past Javi Garcia. The Spanish midfielder, co-opted to play centre-back because of Benfica's defensive injury crisis, could not stop himself colliding with the left-back. Lampard tucked away the penalty.
Benfica had chances. Oscar Cardozo had a shot kicked off the line by John Terry who later went off with what the club fear are two fractured ribs sustained in the first leg last week. In his absence, Chelsea looked much more vulnerable. Before then Pereira's red card came for his second bookable offence – a silly tackle on John Obi Mikel – that swung the tie in Chelsea's favour.
As the visitors were stretched after the break, so the opportunities came for Chelsea to put their opponents away. Salomon Kalou hit the post in the 49th minute and Ramires could not force the ball over the line. Juan Mata had a couple of shots saved. Fernando Torres turned Emerson on the edge of the area but his strike was deflected wide.
With the lively substitute Yannick Djalo on the pitch, there was greater purpose about Benfica. He headed wide before the Portuguese side equalised. It came from a corner from the excellent Pablo Aimar on 84 minutes. In the centre David Luiz lost Garcia, who was given a free jump at Aimar's corner, scored and the tie was back in the balance.
Breaking free from a Benfica attack, Meireles carried the ball a long way and just when it seemed like he would play in Ramires, he struck a fierce shot past goalkeeper Artur. Only then did the home support feel confident enough to turn their minds to Barcelona — and that brings a whole new set of problems.
Man of the match Mata.
Match rating 6/10.
Referee D Skomina (Sloven).
Attendance 37,264.
The semi-finals
Bayern Munich v Real Madrid Tuesday 17 April (Allianz Arena); Wednesday 25 April (Bernabeu)
Chelsea v Barcelona Wednesday 18 April (Stamford Bridge); Tuesday 24 April (Nou Camp)
Join our commenting forum
Join thought-provoking conversations, follow other Independent readers and see their replies