'The most hated club in Germany': The problem with RB Leipzig
RB Leipzig, controversially formed just 11 years ago by energy drink empire Red Bull, go against the idea of what it means to be a football club in Germany, writes Miguel Delaney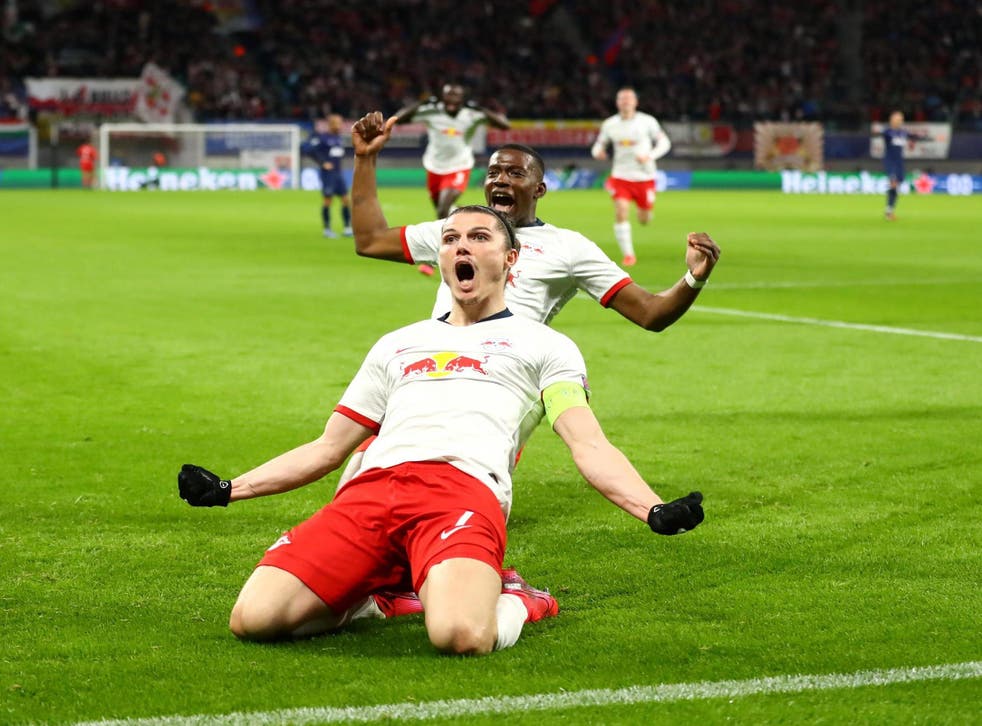 It is a comment that sums up RB Leipzig's entire approach, but from an account that illustrates the complications around the club. Back in 2015, some of their ultras – for they do exist – attempted to put up a banner protesting against the far-right group Legida. They were blocked from entering Red Bull Arena, and some were given banning orders on probation. This was for an act that is considered a core part of German football culture. It was evidently not going to be a core part of RB's intended culture.
A while later, club CEO Oliver Mintzlaff came out with the following: "We will not approve banners with political messages. That is not what a stadium and a football game are for."
The last part of that quote is probably far more loaded than Mintzlaff realised.
What exactly a football game is for is one of the central questions surrounding the whole RB project, and why it is so controversial ahead of Tuesday's landmark Champions League semi-final. That match will not just be Paris Saint-Germain against RB Leipzig. It will be Qatar against Red Bull, a bout between two side-projects where football is not the primary purpose. It is a state vehicle against a drinks franchise.
Because that, inescapably, is what their owners see these clubs as for. Much is by now known about Qatar's sportswashing intentions with PSG. The Independent has meanwhile been told of one early meeting at RB Leipzig, when Red Bull owner Dietrich Mateschitz was asked about the project. "Oh, it is a commercial enterprise," Mateschitz said. "I won't sell one extra can through this, but we will create a lot of brand awareness."
A phrase as corporate as "brand awareness" isn't what most of us got into football for. And while it's true the purpose is not as consequential as soft power or sportswashing, it is questionable, and provokes a lot of debate about the direction of the game and its role.
That difference over what the game is supposed to be for fosters the central tension around RB Leipzig.
While figures like Mateschitz see it is a vehicle for commerce, German football culture sees it as about community representation, and much more than the match. It is a communal experience, where they have agency. This is a viewpoint that was most aggressively articulated by magazine 11Freunde this week, who announced they are refusing to cover Tuesday's semi-final. "RB Leipzig isn't a football club, but an imitation… it never intended on just playing football."
Many supporters of other clubs have long taken the same view, refusing to attend away games in Red Bull Arena. Since 40,000 match-going fans do regularly watch them play football, however, that is one of the strands that starts to complicate the picture. Robert Claus, a German academic on fan culture, sees RB Leipzig as almost singularly representative of a range of other problems.
"There is a long history of fan protest over the last 30 years," Claus tells The Independent. "You can see it against police violence, seats, private TV, the split of match-days, and I think it all culminates in the debate over RB Leipzig. They don't have a long tradition, they don't have a broad membership, the fans call them an artificial product. No other club symbolises the very hardcore commercialisation of German football, and breaking of rules, like RB Leipzig does."
That eventual problem was hardwired into them from the very start. The whole project started when Red Bull bought fifth-tier club SVV Markranstädt and changed almost everything about them. A club, however modest, had become a giant advertisement.
It should not be forgotten here that some of football's most cherished social institutions had controversial, almost artificial, beginnings.
Liverpool were founded because of a rent dispute between Everton and Anfield owner John Houlding, the latter then needing a new club to play in the stadium. Chelsea were established to make money out of Stamford Bridge when Fulham didn't want to play there. In Germany, Bayer Leverkusen were long considered outsiders because they were one of only a few clubs directly connected to a commercial enterprise.
All of these debates get lost in time, as clubs become integrated into their communities, and generations attach themselves. "That might happen with RB Leipzig over the next decade," Claus says. "But I think it needs way more action from the club."
That's where it gets even more complicated, at least as regards the action it allows the community. While Leipzig have signed up to Germany's famous 50+1 rule, where members hold a majority of voting rights, the criticism is they have "gone against its spirit" by cynically exploiting its gaps. While a membership at most clubs costs less than €100 a year, it starts at €1,000 with Leipzig, and that still doesn't give you a vote. Only 19 people at the club can elect the chairman. Clubs like Borussia Dortmund and Schalke by contrast have over 100,000 paying members each, who get a vote on issues right up to ticket prices.
"At Leipzig, there is no possibility of participation in the club," Claus says. "That's an important thing to German fan culture. It's not only about cheering for a club. It's about participating."
This is why the problems with RB Leipzig go beyond the fact they are primarily a marketing tool, and why it's too simplistic to say it's just another form of capitalism in the game.
"It's a threat to democracy in football when young fans are not allowed into the democratic experience," Claus argues. It is also why a lot of this discussion is almost alien to British football culture, given the lack of agency.
RB Leipzig go against the idea of what it means to be a football club in Germany. They are a core of the community, and the community becomes a core of the club. Even the super-clubs, for all their grotesque modern mutations, grew out of people. Even Bayer Leverkusen grew out of employees just wanting to play football.
It is that local context that makes Red Bull pushing a soft drink worse, say, than the Glazers turning Old Trafford into a cash machine.
If any of the owners of Manchester United, Manchester City or Chelsea left tomorrow, there would remain a proud club with a highly defined identity. If Red Bull left Leipzig, the whole thing would disband.
And whatever about that potential future, many in Germany fear the greater problem with RB Leipzig is that they have set a precedent that could change what clubs are.
This is where many would say the model is broken. It has been argued on these very pages that football's embrace of hypercapitalism is eroding what the game is. It is this situation, and the way clubs like Bayern have used their influence in that, that has actually made the interest of groups like Red Bull in football utterly inevitable.
What's more, they've managed it in quite a progressive way. Their entire team will cost less than half of Neymar's fee, and just over a half of Kylian Mbappe's. They are as refreshing a new face in the Champions League semi-finals as they are at the top of the Bundesliga.
While that has increased the competitive balance, the issue is that is also increasing the problem in another way. It is just more capitalism, actually narrowing the game further, rather than bringing the redistribution it actually needs. It is also a corporate capitalism that has greater consequences for the planet.
One fact that is unavoidable is that Leipzig have increased the geographical distribution of Bundesliga clubs. The city was for a long time the most populous without a team in the top three divisions. Leipzig also marked a badly needed resurgence for football in the old East Germany, out of a system that many felt favoured the wealthier west.
Alexander Zorniger was the manager that achieved RB Leipzig's first initial promotions through the lower divisions, and could see the effect on the town.
"The German federation was founded in Leipzig, so it's a historical old football city, but it disappeared from the German football map," he tells The Independent. "In the fourth tier, we had 7,500, and this in a World Cup stadium, so it looked a bit empty. But in the third tier, it went to 15,000, then almost sold out with 40,000 when we had the chance to go up to the Bundesliga. So we almost doubled the average spectators every year.
"You could see the colours in the city, and club buttons on cars. At the beginning, I remember people didn't want to show their colours, because there were other clubs, and they were afraid of being punished."
It is that last point that counters the argument about the old German Democratic Republic. It is also why Claus sees it as patronising to just think this is welcomed by everybody in the region.
"It is, because the club is not rooted in East Germany's history at all. Secondly, it's not like RB Leipzig is creating thousands of jobs in the region and engaging socially. Of course they have their small programmes, modern enterprises do now, but it's not like they're overwhelmingly engaging in local structures or the community.
"You couldn't describe RB Leipzig as a social institution in that way. There are other clubs in Leipzig which would definitely be described in that way, but they play fourth league, Lokomotiv and BSG Chemie."
Fans of those clubs, as well as others from the old GDR, have behaved with most hostility towards RB Leipzig for precisely that reason.
Union Berlin stayed silent from kick-off in a match against them earlier this season to protest their model, while Dynamo Dresden supporters three years ago threw a severed bull's head onto the pitch. The latter have brought 35,000 fans to away games, reflecting the richness of football tradition in the area. That's why there is real animosity to this deviation from tradition.
"It was hate from the first game we were playing, especially from the east," Zorniger says. "I remember our first game against Hallescher, they threw stones at our bus. There is no doubt they are the most hated club – but there is also respect."
There's certainly respect within the game. That shows the value of a blank canvas in football. Leipzig are not burdened by anything. They can just do what is best practice.
One football figure who has worked with a range of top clubs across Europe told The Independent that "if you were starting a club now, Leipzig would be the model to follow".
"Their recruitment is exceptional. They consistently find players at a young age and develop them, before reinvesting any profits. That's what every club should do."
They're also an effective coaching school, bringing young managers through principles set by Ralf Rangnick that are always being monitored and updated, to influence the modern game. You only have to look at figures like Marco Rose, Ralph Hasenhuttl, Bayern's Danny Rohl and Julian Nagelsmann.
As with everything else, though, there are also complications to this. RB Leipzig's own academy has not yet produced a player that has played a single minute in the Bundesliga. Their graduates are instead farmed out to a network of Red Bull franchise clubs. A total of 18 players have moved from Salzburg to Leipzig, including current semi-finalists Dayot Upamecano and Marcel Sabitzer.
There's then the football itself, what we're all here for. Entertaining and modern as it is, it's another part of the sell.
"It fits with the brand Red Bull," Zorniger says. "It gives you wings and all these things. You aren't entertaining people if you watch a game, go to the toilet and miss the only interesting thing in the whole game. That is not entertaining football. In this philosophy, you have so many actions."
It is other aspects of that philosophy, though, that remains under question. One source says that the club don't see the matchday as anything other than a cosmetic, "politically and socially neutral" experience which doesn't involve anything other than the game itself, wrapped in marketing. "That's in contrast to literally every other ground in Germany. It's as corporate as you can get."
It's football as a sterile object of consumption, as opposed to a lived experience.
Claus adds a coda.
"I don't think anybody is saying RB Leipzig is the only capitalist club in German football. That would be ridiculous. But it's bringing all the political and financial developments over the last 30 years to a head."
They are challenging what football is supposed to be for.
Join our new commenting forum
Join thought-provoking conversations, follow other Independent readers and see their replies