Five things we learned as Real Madrid thumped Barcelona over two legs to win the Spanish Super Cup
Real Madrid 2 (5) Barcelona 0 (1): Marco Asensio is the real deal, what does the future hold for Gareth Bale and Barcelona desperately need to make some signings
Luke Brown
Thursday 17 August 2017 12:49 Comments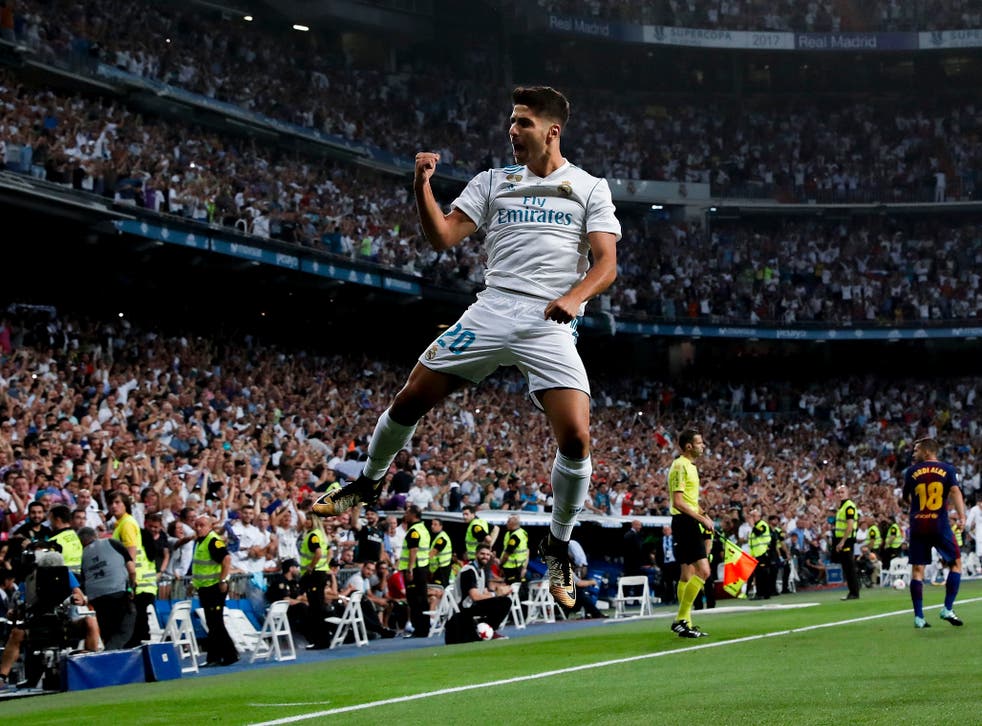 Real Madrid beat bitter rivals Barcelona 2-0 at the Santiago Bernabéu on Wednesday night to win the Spanish Super Cup 5-1 on aggregate.
Zinedine Zidane's side were without the suspended Cristiano Ronaldo while Gareth Bale was left on the bench, but it took them just four minutes to open the scoring.
21-year-old Marco Asensio, widely tipped as a future superstar of the game, let rip from thirty-yards with a wonderful curling effort which flew past Barcelona's goalkeeper Marc-Andre ter Stegen.
Real dominated from then on, with Karim Benzema doubling the score shortly before half-time, when he cutely flicked the ball around defender Samuel Umtiti and finished from close-range.
Barcelona marginally improved in the second-half – with both Lionel Messi and Luis Suarez hitting the woodwork – but they looked a shadow of their former title-winning selves and missed Neymar, recently sold to Paris Saint-Germain for a world-record fee.
Here are five things we learned from the match.
Asensio is the real deal
All eyes were on Asensio in the second-leg of the Super Cup final, with Real Madrid fans wondering whether the 21-year-old was ready to lead the team's attack in the absence of Cristiano Ronaldo and Gareth Bale.
You bet he was. It took the youngster just four minutes to make his mark, curling home a superb strike to put Real 1-0 up on the night and in complete control of the final.
Barcelona desperately need to make some signings
This was a truly abject performance from Barcelona. Lionel Messi and Luis Suarez may well be world-class players, but behind them Barca looked exceptionally weak, with Real running amok in midfield. They lack strength in depth, too.
Clearly, Barcelona urgently need some reinforcements before the transfer window closes. Paulinho will be officially unveiled by the club on Thursday, but they still look short of a true superstar, and they desperately need to sign somebody with the quality of Philippe Coutinho or Christian Eriksen to raise spirits at the club.
The title looks as though it's staying in Madrid
On this form, Barcelona supporters will be genuinely worried as to whether their team can even mount a significant title challenge this season.
Once again, Real Madrid will start the campaign as favourites, and if their star players can stay fit they're going to be very tough to beat. Their city rivals Atletico will also be in the hunt, having kept the vast majority of their team together -- Theo Hernández excluded.
And if they can snap up Diego Costa in the winter, they may be better placed to challenge than Barca.
Not the night for Pique
The experienced Barcelona defender had a real night to forget.
He was taunted mercilessly by Real Madrid's fans, who repeatedly lambasted him with cries of 'se Queda' – or 'he stays' – in reference to his now infamous tweet about Neymar's future at the club.
And he was then hauled off by his manager just five minutes into the second-half, as Barcelona tried in vain to chase the game.
And what next for Bale?
Madrid looked irresistible in this second-leg, with Asensio and Lucas Hernández in fine fettle playing alongside target man Karim Benzema, who got on the scoresheet shortly before half-time with a close-range finish.
Zidane elected to leave Bale on the bench and with Real in this kind of form, it's difficult to see how the Welshman really fits in. Asensio simply looks like the more exciting and dynamic option right now.
Register for free to continue reading
Registration is a free and easy way to support our truly independent journalism
By registering, you will also enjoy limited access to Premium articles, exclusive newsletters, commenting, and virtual events with our leading journalists
Already have an account? sign in
Register for free to continue reading
Registration is a free and easy way to support our truly independent journalism
By registering, you will also enjoy limited access to Premium articles, exclusive newsletters, commenting, and virtual events with our leading journalists
Already have an account? sign in
Join our new commenting forum
Join thought-provoking conversations, follow other Independent readers and see their replies