Real Madrid 3 Barcelona 4 match report: Lionel Messi hat-trick out-guns Cristiano Ronaldo in seven-goal El Clasico thriller
Barcelona are back in the title race after thrilling victory at the Bernabeu
Pete Jenson
Monday 24 March 2014 07:58 Comments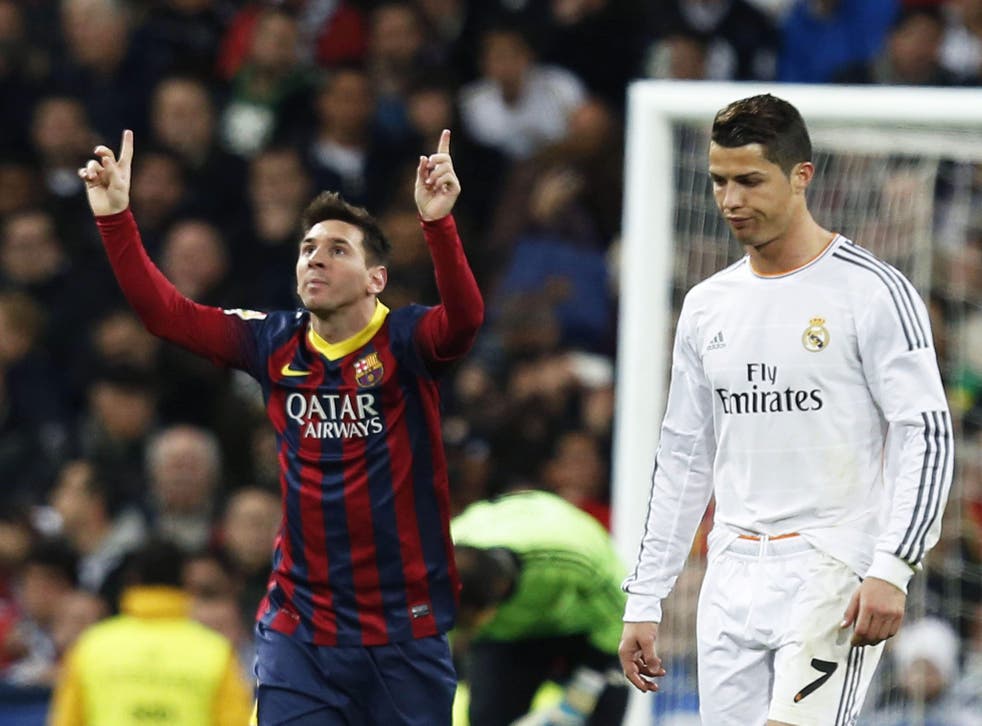 There were 80,000 white flags held aloft at the Santiago Bernabeu last night as Real Madrid supporters greeted their team. What there was no sign of, in one of the greatest Clasico's in recent memory, was the white flag from Barcelona.
They came from behind twice to win a seven-goal thriller with a Lionel Messi hat-trick.
The win means they close the gap on Real Madrid to just one point and the three goals meant Messi passed two more major milestones.
He has now scored 21 goals in Clasico fixtures beating Alfredo Di Stefano's previous record of 18 and he has 235 goals in the league taking him past Hugo Sanchez as the competition's second highest all-time goalscorer.
Who knows how many Di Stefano would have scored in those lightweight rainbow coloured boots. What is clear is that Messi would have been a record breaker in any era. He has apparently been off form this season – he now has 20 goals in his last 18 games.
Madrid's intention was immediate as Cristiano Ronaldo attacked Dani Alves in their first move but their early attacking play was chaotic and they were leaving space behind that Barcelona soon took advantage of with Messi releasing Neymar, who shot straight at Diego Lopez.
Messi was drifting deep and not being picked up and when he played in Andres Iniesta, the Spain midfielder blasted Barcelona in front, grateful to have been allowed so much room by Madrid right back Dani Carvajal.
Messi could have doubled the lead when sent clear by Cesc Fabregas but Madrid were beginning to impose themselves and Karim Benzema should have equalized but somehow blazed Angel Di Maria's cross over. There would be more gifts from the Argentine and he would not be so wasteful again.
Benzema has not always been the Bernabeu's favourite but Ronaldo urged the crowd to get behind the Frenchman and not on his back and the patience was rewarded.
Di Maria carved Barcelona open down the Madrid left and Benzema headed past Victor Valdes, who got a hand to the ball but in his last ever Clasico failed to keep it out.
Di Maria crossed again from the left moments later and when his centre sailed over Javier Mascherano's head Benzema controlled it and volleyed it home. The trick was nearly repeated for a third time but this time Pique cleared off the line after Di Maria's cross was again sent goalwards by Benzema.
Madrid were on top but Messi made sure they did not go down the tunnel at half-time on top. With brute force and close control in equal measure he cleared a path through Madrid's defence swapping passes with Neymar before shooting past Lopez. It was his 19th goal in a Clasico – no one, not even Alfredo Di Stefano who scored 18 goals in his 35 Barcelona-Madrid matches, has ever scored as many.
Fabregas than clashed with Pepe, who in the subsequent mêlée was pushed into the Barcelona midfielder. Both players were booked but this was proving to be one of the best Clasicos in recent years and no battle of the Bernabeu.
A storming run from Gareth Bale undid Barcelona at the restart but he looked on in disbelief as Benzema failed to score from his assist. It mattered less moments later as Ronaldo went over Alves' outstretched leg and the referee pointed to the spot. The man himself got to his feet and sent it past Valdes to put Real Madrid back in front at 3-2. Valdes then blocked Bale's shot as Madrid looked to finish off Barcelona.
But again Barcelona and Messi were not finished and the Argentine threaded the ball though to Neymar inside the penalty area. The Brazilian got the slightest touch from Ramos and spun to the ground. The referee pointed to the spot and gave Ramos the 19th red card of his career. Messi dispatched the penalty – goal No 20 in Clasicos and the strike that took him past Sanchez as the all-time second leading goal-scorer in the history of the Spanish League.
There was still time for Alves's shot to bounce back off Lopez as Barcleona appeared to run out of options but Xabi Alonso tripped Iniesta in the penalty area and Messi, fittingly, had the last word.
Goals. Real Madrid: Benzema 20, 24, Ronaldo pen 55
Barcelona: Iniesta 7, Messi 42, pen 65, pen 84
Register for free to continue reading
Registration is a free and easy way to support our truly independent journalism
By registering, you will also enjoy limited access to Premium articles, exclusive newsletters, commenting, and virtual events with our leading journalists
Already have an account? sign in
Join our new commenting forum
Join thought-provoking conversations, follow other Independent readers and see their replies