Real Madrid highlight gulf in class and wealth with Champions League victory over Atalanta
Real Madrid 3-1 Atalanta (4-1): Zinedine Zidane's side secured their place in the quarter-finals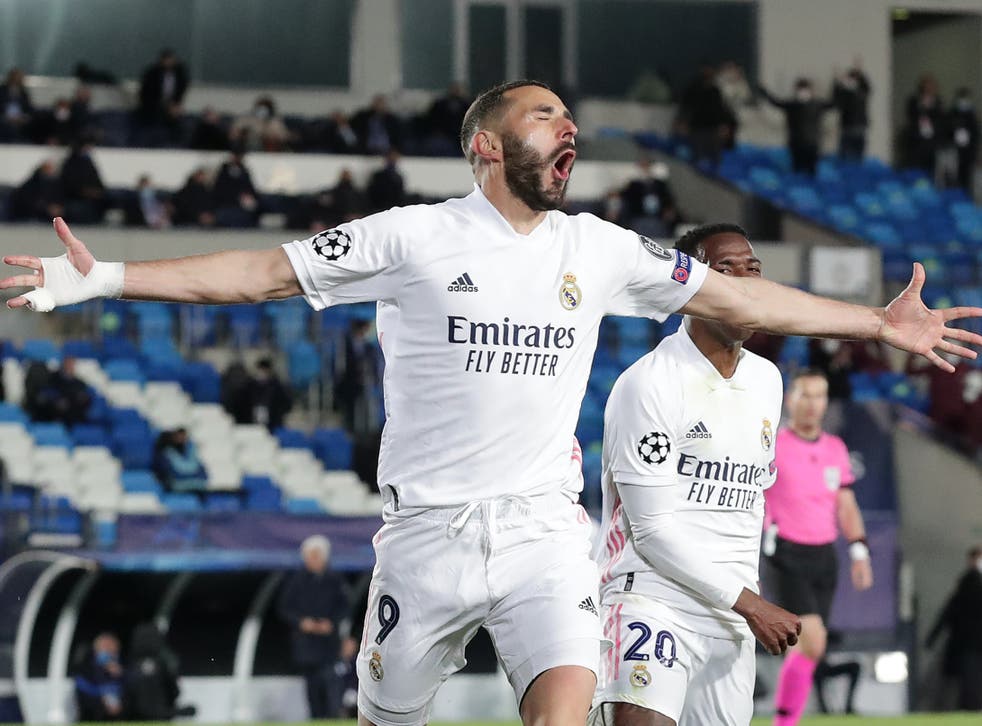 As exhilarating as the Champions League latter stages have been in the last few years, this easy Real Madrid win was a reminder of issues within the competition, and a potential sign of things to come.
A much wealthier team easily winning a match stripped of all tension in one moment is the sort of situation that is going to become even more likely if Andrea Agnelli's 'Swiss system' goes through. It has the potential for so many dead rubbers masquerading as meaningful games.
That was what was so depressingly dreary about this 3-1 win over Atalanta. Madrid are currently going through one of the biggest financial crises in their history, a reality that has prompted president Florentino Perez's backing for ideas like those fronted by Agnelli, as well as a super league.
It has also denied his club the kind of star signings that have been their lifeblood and made this team so comparatively dull.
And yet, despite all that, they still had far too much for Atalanta. This is the root of the current problems in the Champions League, and a consequence of it. The current system just fortifies the wealth gap, eroding the competitiveness of more and more games. Hence, any kind of "Swiss system" or change to the format only sidesteps the problem and arguably worsens it - rather than addressing what is actually required.
Here, that quality gap just ensured this was a non-event of a match from the moment that Marco Sportiello misplaced that pass. That's the problem with games like this, and the situation. Something has to go badly wrong for Madrid, while Atalanta have to get absolutely everything right - and more. The opposite happened. It all went wrong.
Any sense of suspense was undone by Sportiello's error in the 34th minute. The main surprise is from the fact that playing out from the back is something Atalanta are usually so good at, but this is always the risk of playing that way. A pass that is no more than poor can become cataclysmic.
Sportiello's ball was worse than poor. It was almost inexplicable. Luka Modric's control was still superb, mind, as he took the ball down with his heel before slipping it inside for Benzema. The striker had an easy finish.
Benzema has probably been one of Madrid's most under-appreciated players throughout the 2013-18 Champions League glory era, essentially doing all the work that allowed the more admired stars to burnish their reputations. And yet, much as he deserves all the praise coming his way, it is still a measure of Madrid's stagnation in terms of glamour that he has now become their most prominent player.
Read more
That, again, is not to do him down. It is just as well for Madrid that, as their level has dropped, his has remained the same. He is so utterly reliable - even if he should have done better with that 68th-minute header that hit the post.
It isn't all Benzema right now, though, even if he has very much become the focal point. Vinicius Junior sparked Madrid into life with one shot Sportiello did save well, and he almost scored one of the goals of the season with one brilliant run. He just couldn't match it with the finish. It was another run that brought the penalty from which Sergio Ramos really secured the win, before the illusion of excitement from Luis Muriel's excellent free-kick, and Marco Asensio's admittedly fine goal.
This was otherwise just more of what we expected, and what is likely to come. It is what the Champions League needs less of. Madrid meanwhile have the illusion they're still competitive at this level. They are becoming victims of the wider football situation themselves, which sums it up.
Join our new commenting forum
Join thought-provoking conversations, follow other Independent readers and see their replies