Real Madrid's Super Cup thrashing of Barcelona has Gerard Pique 'feeling inferior for the first time in nine years'
Madrid won 2-0 on Wednesday night to complete a 5-1 aggregate victory, with goals from Marco Asensio and Karim Benzema sealing the win
Thursday 17 August 2017 09:41 Comments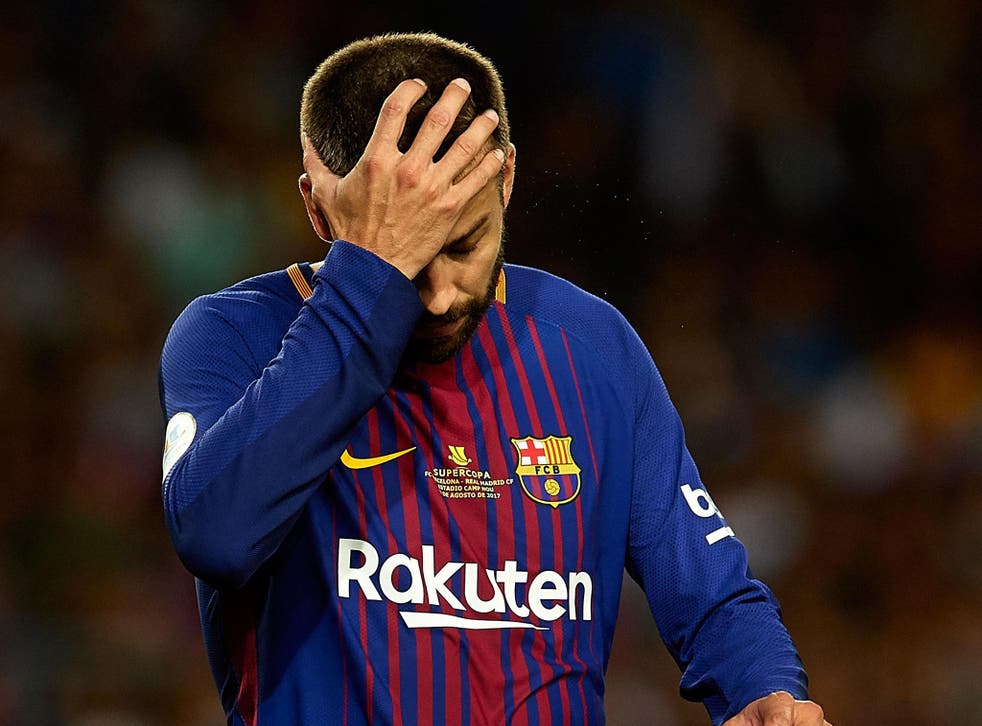 Gerard Pique admitted he felt "inferior" to Real Madrid for the first time after his Barcelona side were humbled by their arch-rivals in the Supercopa de Espana.
Madrid won 2-0 on Wednesday night to complete a 5-1 aggregate victory, with goals from Marco Asensio and Karim Benzema sealing the win as Zinedine Zidane was able to leave Gareth Bale and Isco on the bench despite the suspension of Cristiano Ronaldo.
Barca, still reeling from the shock departure of Neymar to Paris St Germain, were a long way from their best as they struggled to threaten Madrid - their only goal across the two legs coming from the penalty spot.
It has been a humbling experience for Barcelona, who are now hoping to sign Philippe Coutinho and Ousmane Dembele to restore their swagger.
"This a long process and there is room for improvement, but in the nine years that I have been here, it is the first time that I feel inferior to Madrid," Pique said. "We are not in the best moment, either as a team or as a club. We must stay as close as possible and keep moving forwards."
Coach Ernesto Valverde is still settling in to his new job but already has a major task on his hands.
"When you lose and you have the feeling that the opponent has, in some moments, been better, you have to analyse the technical aspects," he said. "We wanted to win, but it could not be. We have to recover psychologically. We have to adapt because things have changed."
Valverde said he did not know if or when Coutinho and Dembele might join after the club's general manager Pep Segura said their signings were "close".
While Barca are close to crisis mode, European and Spanish champions Madrid march on, with Zidane collecting his seventh trophy since taking charge of the team in January 2016.
"I'm pleased with how we're doing things, and in particular with how we're playing," the Frenchman said. "The first 15 or 20 minutes were spectacular in pressing high up and how we kept hold of the ball. It was a very good first half.
"In the second half we had to dig in a bit because this opposition can cause you problems, that's to be expected. We wanted to play just as we did and when things go to plan you're happy. The players were fantastic. We're not going to get euphoric, this is a long-run thing and we'll enjoy the moment".
Asensio's goal was a stunning strike from 30 yards, and was just part of an impressive display from the youngster.
"It's not just Asensio, everyone's doing a great job and working well," Zidane added. "They all do what's expected of them. Now we're starting over. We're going to have to show it again in LaLiga."
Register for free to continue reading
Registration is a free and easy way to support our truly independent journalism
By registering, you will also enjoy limited access to Premium articles, exclusive newsletters, commenting, and virtual events with our leading journalists
Already have an account? sign in
Join our new commenting forum
Join thought-provoking conversations, follow other Independent readers and see their replies