Real Madrid star Cristiano Ronaldo and Barcelona's Neymar both at risk of missing El Clasico
Neymar was sent off against Malaga and may be punished further for sarcastically applauding the referee, while Ronaldo is only one yellow card away from au automatic suspension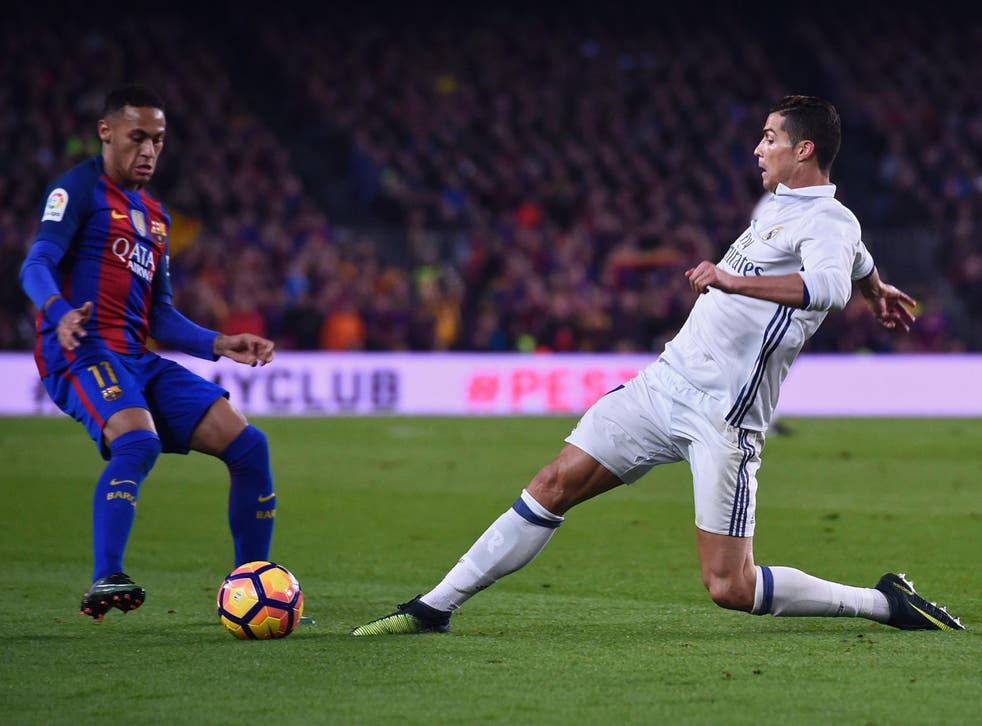 There is a strong chance Barcelona forward Neymar will be ruled out of this month's El Clásico – and Cristiano Ronaldo is at risk of joining him on the side-lines.
Neymar was handed a red-card card as Barcelona suffered a shock 2-0 defeat at Malaga on Saturday, a result which scuppered their hopes of going top of La Liga after Real were held to a 1-1 draw against Atlético.
Neymar was shown his second yellow card and sent-off midway through the second half, and his sarcastic applause of the referee could seem him receive more than the standard one-match ban.
Spanish league rules dictate that players receive longer suspension if they show 'clear contempt' for the match officials.
Real Madrid's greatest-ever XI

Show all 11
Unsurprisingly, Barcelona manager Luis Enrique refused to criticise Neymar, instead focusing on the number of Malaga fouls that went unpunished.
"It's curious that a team like us that doesn't usually kick people gets so many yellow cards in such an incomprehensible manner," Enrique said.
"There was some very ugly tackles from behind from their team, which didn't see them get booked and others committed by us which were given yellows.
"The rules are there to be interpreted, but equally for everyone. I don't understand certain fouls were not given to us, but we are used to it."€
To compound matters, Neymar is likely to see his one-match man extended by the authorities due to his furious reaction.
However, the Brazilian may not be the only high profile star to miss the highly anticipated Clásico, which will go a long way to deciding this year's La Liga winners.
Cristiano Ronaldo has picked up four yellow cards in La Liga this season and will be in line for a one match suspension if he is cautioned during Real's next league game, away to Sporting de Gijón.
Dani Carvajal was in a similar situation to Ronaldo but decided to make a cynical foul late on in the draw against Atletico, meaning he will miss the Sporting fixture and ensure his availability against Barcelona.
Ronaldo must however tread carefully at El Molinón, or risk joining Neymar in watching the season's second Clásico from the stands.
Real Madrid manager Zinedine Zidane has meanwhile spoken out on his future, after suggesting last week that he had not started to plan a pre-season because he does not know how much longer he will spend at the Bernabéu.
"You'd have to ask those above me about that," Zidane replied when quizzed on his future plans after the draw with Atlético.
"I train every day, with dedication, strength and excitement. I work hard with the thrill that this shirt and club inspires.
"I am not going to speculate, I take each day as it comes."
Register for free to continue reading
Registration is a free and easy way to support our truly independent journalism
By registering, you will also enjoy limited access to Premium articles, exclusive newsletters, commenting, and virtual events with our leading journalists
Already have an account? sign in
Register for free to continue reading
Registration is a free and easy way to support our truly independent journalism
By registering, you will also enjoy limited access to Premium articles, exclusive newsletters, commenting, and virtual events with our leading journalists
Already have an account? sign in
Join our new commenting forum
Join thought-provoking conversations, follow other Independent readers and see their replies