Real Madrid fans pine for Mesut Özil as Gareth Bale cannot stop first derby defeat since 1999
Ancelotti faces growing pressure after Barça open up five-point lead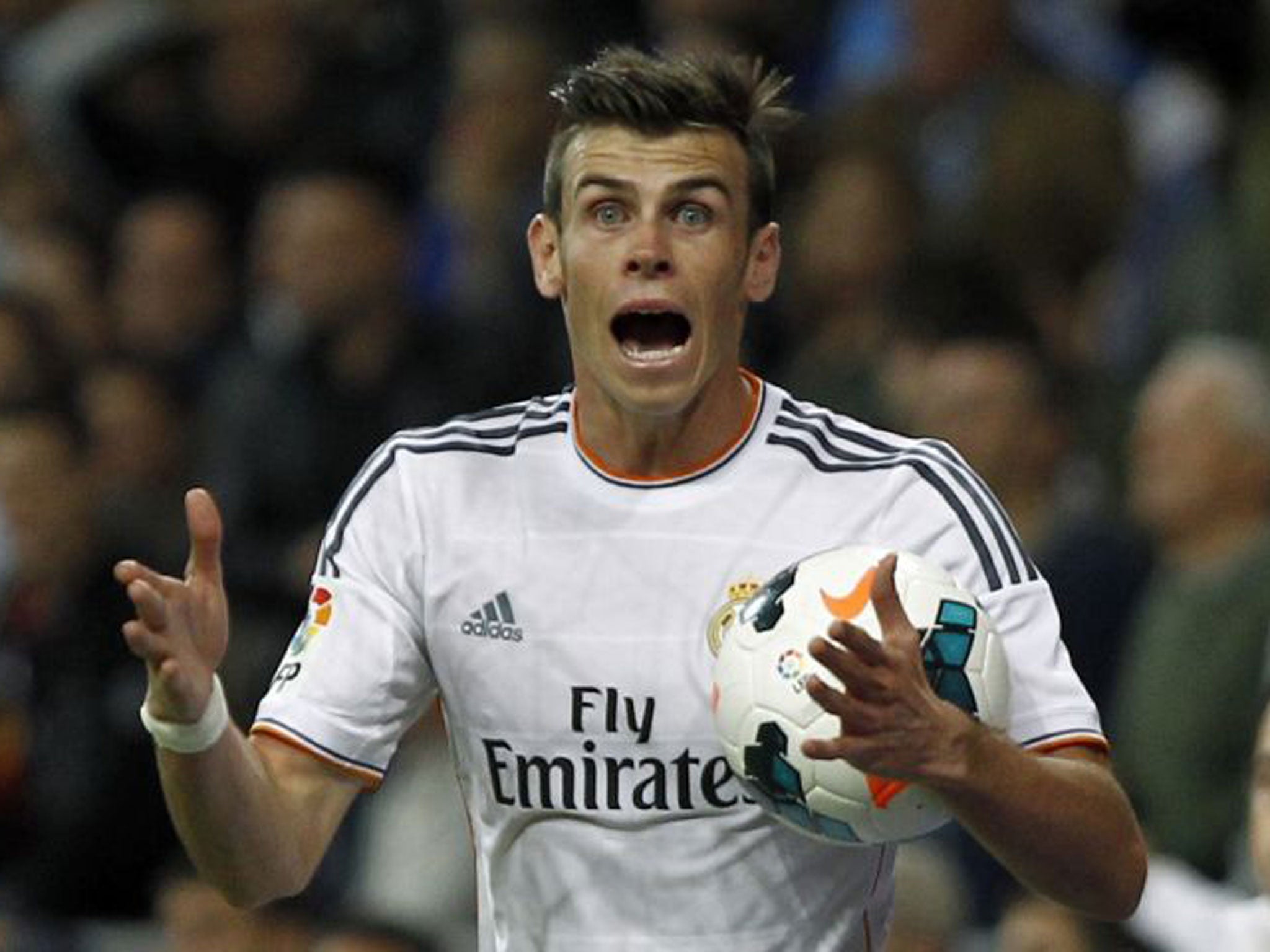 Gareth Bale would have heard plenty about Spain having a two-team league before he left Tottenham this summer. He will not have bargained on neither of those sides being Real Madrid.
Bale sat out Saturday's sluggish first half against Atletico Madrid coming on at half time but was unable to prevent Real's first league defeat at the hands of their neighbours in 14 years. Coach Carlo Ancelotti is now under pressure to start the world-record signing for the visit of Copenhagen on Wednesday and prevent Real's drama turning into a crisis.
There were isolated chants of "Jose Mourinho" outside the Bernabeu as home supporters filed away from a 1-0 defeat having seen their team slip five points behind both Atletico and Barcelona – five points in a league where the leaders win almost all their games is a sizeable gap to have allowed to open up after just seven matches.
There were also calls for president Florentino Perez to stand down and most of the postmortem centred on the player he had agreed to pack off to Arsenal in the summer – Mesut Özil. The Gunners' position on top of the Premier League with the German heading the assists list was lost on no one.
It was a measure of how under pressure Ancelotti was on Saturday night when Cristiano Ronaldo made a rare appearance in front of the post-match microphones and cameras to declare: "The manager is doing a great job; we have to stay united behind him. The fault lies with the players."
Ancelotti had been unconvincing moments earlier in his press conference. "We had the same problem as in the previous game," he said. "Our football was slow and we were not able to find any space. When you play against a team that defends well it is difficult if you play slowly."
The Italian has a confusing remit at the Bernabeu. He inherited a team from Mourinho set up to defend deep and hit opponents on the counter-attack. But he was then bought midfielders Asier Illarramendi and Isco and urged to play a more elaborate, passing style. Then, with the season already two weeks old, he was given Bale to incorporate.
Between the cut-throat direct football that favours Bale and Ronaldo and the smooth passing game being called for by the purists, Ancelotti is offering up a hotch-potch that resembles neither.
The good news for Bale is the last time Real lost to Atletico, they want on to win the Champions League at the end of the season.
The 6-1 demolition of a defensively fragile Galatasaray in the opening game in Group B has given them the perfect springboard and a good result against Copenhagen, who were beaten by Brondby at the weekend and who drew in their opening Champions League game to Juventus, would set them up for the double header with the Italians.
Anything less than a win and Bale will be calling David Beckham to ask for advice for how to navigate a Real Madrid crisis. Beckham went through six coaches and three presidents in his four seasons at the club.
Real were undone at the weekend by La Liga's joint top-scorer Diego Costa who, having been snubbed by Brazil coach Luiz Felipe Scolari, is now being watched by Spain's Vicente del Bosque. The 24-year-old Brazilian has a Spanish passport.
His goal on Saturday was his eighth of the season, keeping him level with Lionel Messi who scored in Barcelona's 2-0 win over Almeria. The Argentine came off injured and Barcelona doctors yesterday diagnosed a small tear in his left thigh that will rule him out for three weeks.
The Barça No 10 will miss his side's away fixture against Celtic tomorrow night, next weekend's home game with Real Valladolid and the subsequent round of international fixtures. With their victory against Almeria, Barça recorded their best ever start to a season, winning all seven of their first seven games.
Atletico have matched them point-for-point and so find themselves in the table looking down on Spain's third-force – Real Madrid.
Join our commenting forum
Join thought-provoking conversations, follow other Independent readers and see their replies